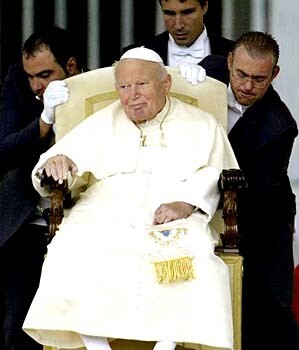 19 Images
Pope John Paul II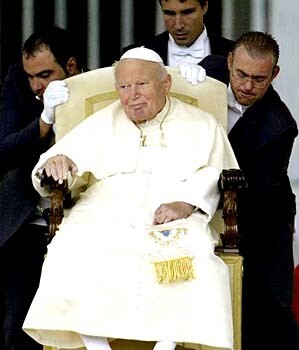 Pope John Paul II, 83, is helped into position Oct. 15, 2003, for his weekly address in St. Peter's Square in Rome.
(AFP)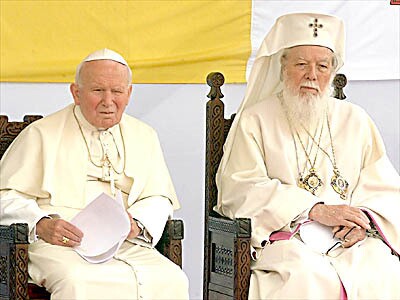 The Pope sought to mend relationships with Orthodox Christians. On the first papal visit to an Orthodox country since Christendom split into East and West nearly 1,000 years ago, Pope John Paul II (L) and Orthodox Romanian Patriarch Teoctist listen to Romanian President Emil Constantinescu.
(AFP)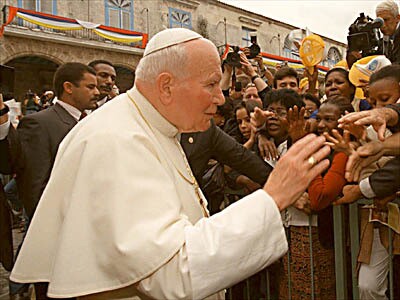 Travel was a cornerstone of John Paul II's papacy. He spoke eight languages and visited more than 115 countries. On some occasions, such as this visit to Havana, Cuba or his first trip to communist Poland after being elected pope, his visits served to push for greater freedom around the world.
(AP)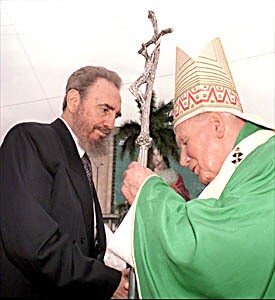 Cuban leader
Fidel Castro
set aside his olive fatigues and donned a suit to talk to Pope John Paul II after the Pope celebrated mass at the Plaza of the Revolution in Havana. The Pope criticised communism and called for greater religious freedom in Cuba.
(AP)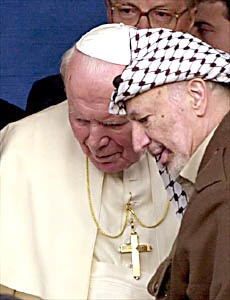 Treading the line between Israel and the Palestinians was a sensitive balance for Pope John Paul II as he talked with Palestinian leader
Yasser Arafat
in Bethlehem.
(AP)
Christian Syrians greet Pope John Paul II on his arrival in Damascus from Athens on May 5, 2001. Living out a lifelong dream, The Pope arrived in Syria on a four-day visit as part of his pilgrimage following the footsteps of St. Paul.
(AFP)
For the first time in history, a pope sets foot in a mosque. John Paul II talks with
Syria's
great Mufti Sheikh Ahmad Kuftaro at the Omayyad mosque compound in Damascus' old city where the tomb of John the Baptist is located.
(AP)
While traveling in Africa, John Paul II, seen here with Nigerian ruler Gen. Sani Abacha, urged military leaders to free prisoners and "guarantee respect for human life."
(AP)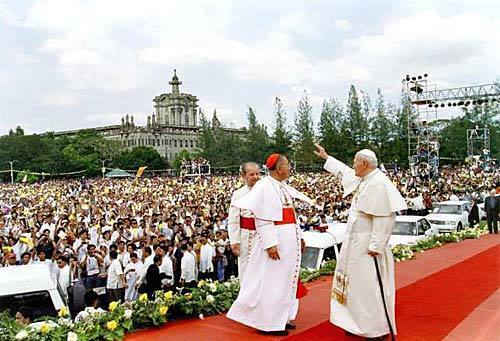 Pope John Paul II and Sin greet students at the University of Santo Tomas in Manila in January 1995. Sin was the head of the Manila Archdiocese for nearly 30 years and was known for his vocal stances on political and moral issues.
(Michel Gangne AFP/Getty Images)
President Clinton
applauds as Pope John Paul II waves to crowd.
(AFP)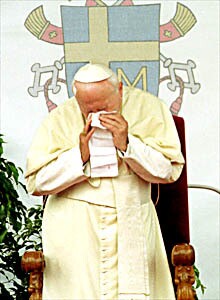 Pope John Paul II wipes away tears from his face during a farewell ceremony at the airport in Cracow, Poland, Thursday, June 17, 1999. The pope stretched out his Polish pilgrimage for a few hours of emotional visits with adoring faithful before flying off Thursday, blessing "my homeland,beloved country"
(AP)
Pope John Paul II kneels in prayer in the grotto of the Basilica of the Annunciation at the place where Christians say the Angel Gabriel told the Virgin Mary she would bear the Son of God as he continues his spiritual pilgrimage retracing the sites of Jesus' life in the Holy Land 25 March. The Pope held a mass in the Basilica for 2,000 worshippers.
(AFP)
Pope John Paul II
(R) looks at a book that Russian President Boris Yeltsin (L) gave to him as a present during their private audience at the Vatican, 10 February. Yeltsin last met Pope John Paul II for a private audience in 1991
(AFP)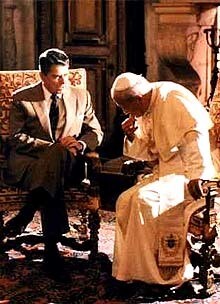 Reagan visits with Pope John Paul II in Miami on Sept. 10, 1987.
(Reagan Library)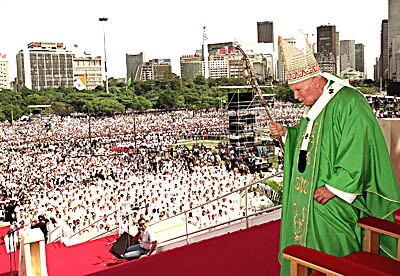 At a mass in Flamengo Park in Rio de Janeiro--a relaxed celebration with music, flag-waving and prayer--the Pope warned the crowd of one million against hedonism.
(AP)
Though not one to descend into pop culture celebrity
Pope John Paul II
enjoyed a resounding popularity. He even released a best-selling CD, "Abba Pater," which combines the Pontiff's speeches and chanted prayers with original contemporary musical forms composed with Pope's cooperation.
(AP)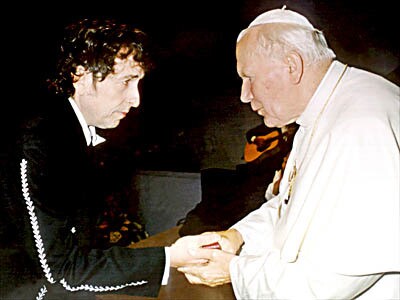 The Pope's celebrity rivaled the biggest names in show business. Here, Pope John Paul II greets singer
Bob Dylan
after Dylan performed a concert for a Catholic Youth rally in Bologna, Italy.
(AFP)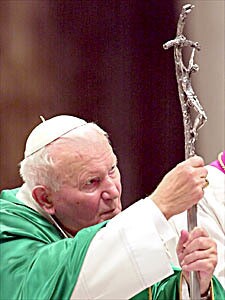 The Pope strongly denounced the terrorism of Sep. 11, urging frequent prayers to help save the world from the "vicious scourge" of terrorism and said justice goes hand-in-hand with peace.
(AP)
Pope John Paul II
greets Christian faithful gathered in St. Peter's Basilica for the Jubilee of the Serra International Lay movement at the Vatican Dec. 7, 2000. The Serra Movement was founded in 1935 in Seattle by Father J. Serra.
(AP/Plinio Lepri)