To Fairfax and on to Ethiopia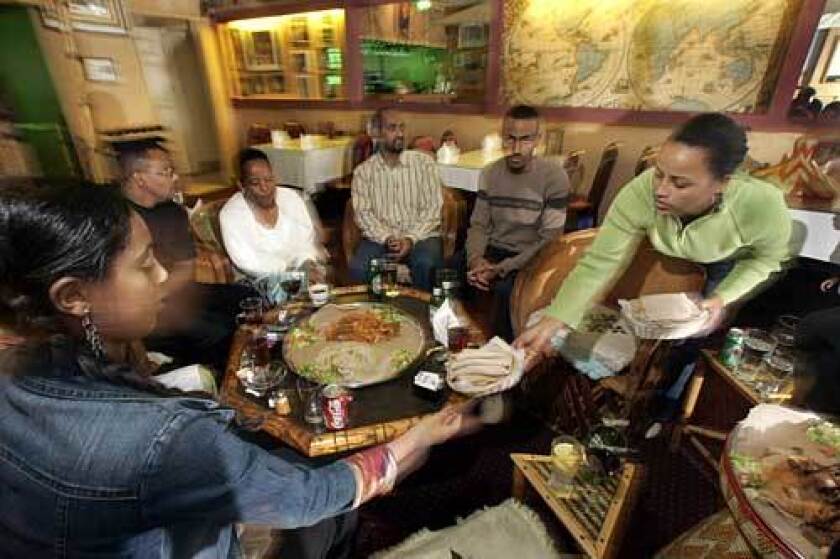 Times Staff Writer
There's a block-long section of South Fairfax Avenue that transports passersby to a distant land. In Little Ethiopia, the lively conversations are in Amharic and the pungent smells are from spices uncommon to most American palates. Be ready to pass the injera bread.

Beginnings

The Ethiopian exodus to the United States started in earnest after the U.S.-backed Emperor Haile Selassie lost power in 1974 in a military coup. Moses Gebre-Mariam, now a restaurateur, was a college student at the time. He had come to Los Angeles three years earlier to attend USC and wound up becoming stranded in this country.

In the years after the coup, political persecution, a crackdown on dissent, government instability, poverty, famine and war drove away thousands of Ethiopians, most of whom settled on the East Coast. Nearly 5,000 live in Los Angeles County, according to 2000 Census figures.

What's it about?

If you open, they will come. Restaurant-goers, that is.

In search of greater foot traffic, Gebre-Mariam moved his restaurant, Rosalind's, onto Fairfax south of Pico Boulevard in 1988. Then Bernahu Asfaw, head of the Ethiopian Business Assn., bought the second restaurant. Messob is also on the strip between Whitworth and Olympic.

Two became four, and four became more. Today, 15 Ethiopian businesses, including restaurants, markets, a clothing store, hair salon and a travel agency, line the busy street.

"Other Ethiopians came here when I was by myself," Gebre-Mariam said. "They saw that business was getting better, so they wanted to share in the pie."

The establishments thrived, weathered dips in business after the 1992 Los Angeles riots, and again after the 1994 Northridge earthquake, and persevered.

Five years ago, the Los Angeles City Council unanimously approved designating the area Little Ethiopia. Today, tour buses visit the street.

Good news, bad news:

"It's quite a bit of fresh air," said Patrick Hansen of Hansen's Cakes on South Fairfax. "I'm seventh-generation from the same family of bakers. I've been here 26 years." The Ethiopian wave has had a positive effect on the neighborhood, he said.

The Ethiopian restaurants and shops also have brought a hip crowd at night, Hansen said.

"It has brought more business to the bakery. It's brought more awareness to the street rather than having businesses that people didn't want to come to," Hansen said. "Now they come here and they window shop."

And the Ethiopian merchants welcome all of the strip's business owners. Hansen, and his rival Rosa Leung of Regal Cake Gallery, belong to the Ethiopian Business Assn., which works to improve the area.

So, what's bad? Parking can be problematic, although the metered spots — assuming you can find one — are free after 6 p.m.

The neighborhood

Most Ethiopians live in other sections of Los Angeles. They may not know what it's like to live near Little Ethiopia, but Beverly Ware does. A lawyer in the entertainment industry, she owns a home a couple of blocks away.

"It's fabulous to have nice restaurants that you can walk to," she said. "It's nice to have places nearby that you can go in and get a decent meal at a decent price." On a recent night, she enjoyed peppery beef tibs, little cubes of meat served in a special sauce, at Messob. On some weekends, Ethiopian poets and singers perform.

Housing stock

Homes are largely Spanish-style, built in the 1920s and 1930s, with some apartment buildings and duplexes, according to David Tompkins with Help-U-Sell Real Estate Inc.

As for the Ethiopian eateries, he added, "People enjoy the bonus, the amenity of the restaurants on Fairfax, the cultural dichotomy that it offers. Neighbors like to walk up and down that stretch of Fairfax."

Report card

Students who live near Little Ethiopia attend public schools in the Los Angeles Unified School District. These include: Alta Loma Elementary, which scored 683 out of a possible 1,000 points on the 2005 Academic Performance Index Growth Report; Arlington Heights Elementary, 649; Canfield Elementary, 792; Crescent Heights Elementary, 709; Pio Pico Elementary, 629; Queen Anne Elementary, 681; Saturn Elementary, 704; Johnny Cochran Jr. (formerly Mount Vernon) Middle School, 558; and Los Angeles Senior High, 541.
---
Sources: L.A. Unified School District, https://www.LAUSD.net , and the California Department of Education, https://www.cde.ca.gov .
---
The perils of parenting through a pandemic
What's going on with school? What do kids need? Get 8 to 3, a newsletter dedicated to the questions that keep California families up at night.
You may occasionally receive promotional content from the Los Angeles Times.