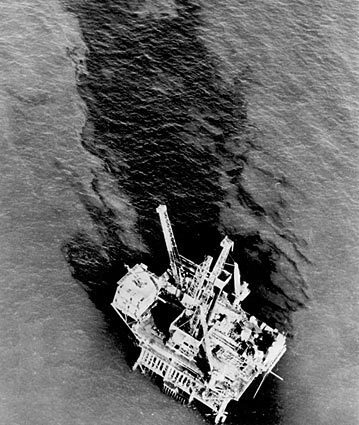 9 Images
The Santa Barbara oil spill of 1969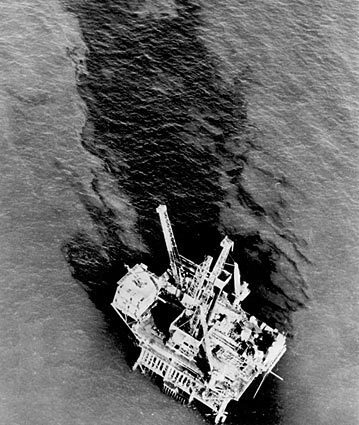 In the winter of 1969, 3 million gallons of oil began leaking from an offshore drilling site off the Santa Barbara coast. It would eventually be contained, but the incident helped spark landmark environmental legislation to protect the nation's waters and air.
()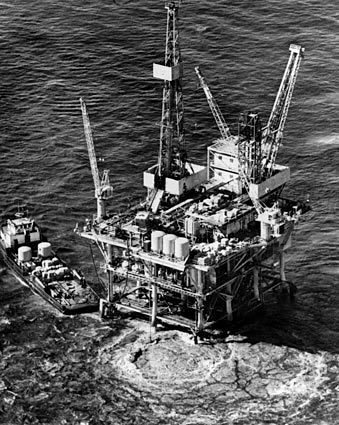 Though federal standards at the time required such sites to be outfitted with well casing — a steel lining that helps prevent blowouts — to at least 300 feet below the ocean floor, Union Oil Co. was given a waiver that allowed it to install casing 61 feet shorter. As the drilling proceeded into a highly pressurized zone of oil and gas, it caused an explosion so powerful that it cracked the ocean floor in five places and prompted the mass spill.
(Associated Press)
A 140-foot workboat sprays chemicals in an attempt to disperse the slick that coated the coastal waters and eventually stretched 35 miles from Rincon Point, on the Santa Barbara-Ventura County line, to Goleta.
(Los Angeles Times)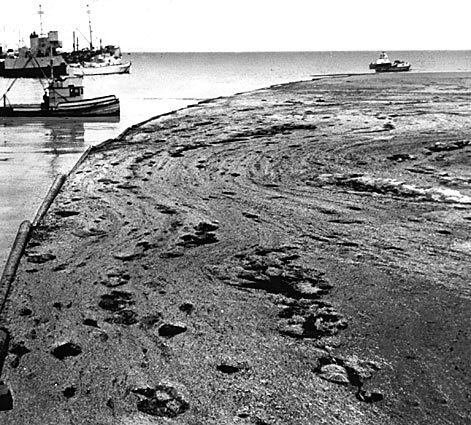 Part of an oil slick is corralled by log booms at the entrance of Santa Barbara harbor. Reportedly, the oil was so thick and heavy at some beaches that breaking waves were silent.
(Associated Press)
A cleanup crewman directs oil and sludge toward the suction hose of a truck. Oil spewed into the water at the rate of 1,000 gallons per hour for a month before workers could begin to slow it down.
(Los Angeles Times)
Steam is sprayed on rocks at the Santa Barbara breakwater to clear oil smears. Straw and cat litter were also used in the cleanup effort.
(Los Angeles Times)
An oil-drenched duck undergoes a cleaning. The spill also claimed many seals and dolphins.
(Los Angeles Times)
This seal bears streaky traces of oil on its skin. In the words of a high-ranking official at the time, the 1969 spill was "the event that galvanized public awareness of the environment and support for a decade of profound change."
(Associated Press)
In 1969, a load of fill is dumped at the entrance to Ventura Keys Channel in an effort to block the oil slick.
(Los Angeles Times)