Unexpected luxury, before baby makes three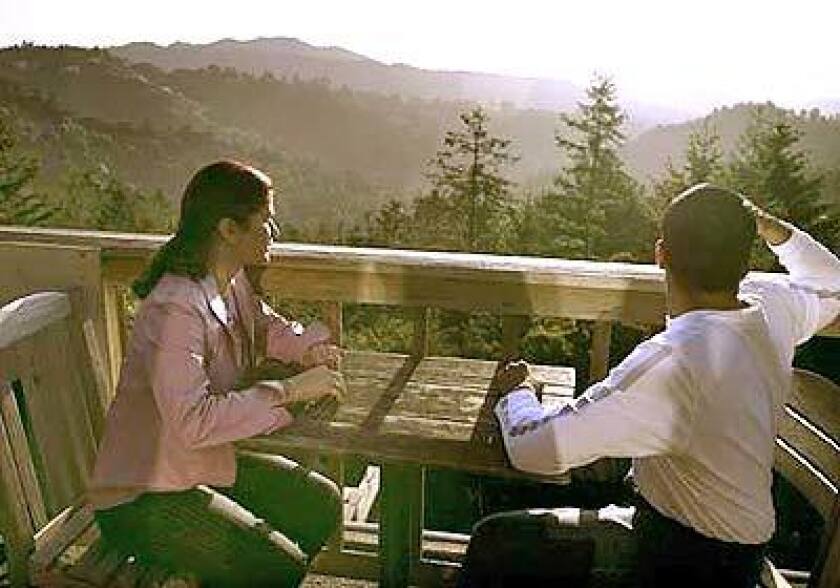 Times Staff Writer
It was the last weekend I could fly. My belly was swelling to the stretchy limits of my maternity top as my husband, son and I drove toward Marin County from the Oakland airport, through groves of sycamores and fields of California poppies, to a remote inn on Mt. Tamalpais.

It's a beautiful lodge, but the real reason for the trip was down the road in Larkspur: Barefoot & Pregnant.

Is it a spa? A gym for expectant mothers? A holistic health center? It's a bit of each. And it put together a custom "babymoon" — a pre-birth escape trip — for me to enjoy in mid-April, including massages, prenatal yoga and a birthing hypnosis lesson. For out-of-towners like me, B&P pairs everything with the accommodations at the Mountain Home Inn.

Barefoot & Pregnant was founded about 18 months ago by Stacy Denney and is part of a budding babymoon trend luring affluent parents-to-be with the promise of a final getaway before a little one changes life forever. Jonathan and I already have a little one, 2-year-old Theodore, so this was a final fling for the three of us.

Other babymoon packages — such as Once in a Babymoon at the Beside Still Waters Farm in Willits, the Last Big Hurrah at Bodega Bay Lodge & Spa and Stress-Free Parents to Be at the Estancia La Jolla Hotel & Spa — focus more on relaxation and romance.

Barefoot & Pregnant looked as though it combined a romantic escape and a growing array of holistic healthcare services for mothers-to-be.

Packages, although convenient, have their drawbacks — often the price. The three-day Expecting the Best package at Barefoot & Pregnant seemed overpriced at $1,100, which did not include airfare or car rental. I booked the hotel and treatments à la carte, which worked; we got exactly what we wanted and we were able to do it for hundreds of dollars less.

The services and classes were all excellent — worth their price. Barefoot & Pregnant staff members were extremely helpful, setting up a private childbirth education class, offering to find baby-sitters and recommending kid-friendly restaurants and parks in the area.

B&P was a long and fairly complicated drive from the hotel, but given the unique beauty of the Mountain Home Inn, I understood the choice. Perched on a crest of Mt. Tamalpais, the inn was the last building on the road before the entrance to the state park. It felt like the end of the world.

Our room was small but well-appointed, with a balcony that opened out to the sky. Two old Adirondack chairs beckoned us outside. A gift basket was filled with lavender lotions and ginger-flavored Preggie Pops, designed to combat nausea. (They worked. Before leaving, I bought as many as I could fit into my purse.) On the bed awaiting my big, bulbous body was every pregnant woman's fantasy — a huge body pillow.

The most wonderful feature of the inn, though, is that you can hike out the front door straight into the primeval forest of Mt. Tamalpais State Park. Less than a mile away as the crow flies is Muir Woods National Monument. The inn keeps a binder of information on hikes ranging in difficulty from easy to hard (three to 12 miles), with photocopies for hikers to take with them on the trail.

The family hits the trail

Hiking is one fun thing that a 33-weeks-pregnant woman can still do, so it felt like heaven to have such a wealth of options.

Twice we stuffed Theo into his baby backpack and headed into the hills. It was spectacular, and it was all ours. We hiked into a stand of redwoods, up the mountain. Wild irises bloomed on the trail. Moss-covered bridges crossed roaring waterfalls. The air smelled like wet rocks and dirt and trees and spring. We never saw a soul.

Our trip dates didn't match any of Barefoot & Pregnant's scheduled childbirth classes, so Denney set up a private session for us with Susan Lawler.

Lawler is a registered obstetrical nurse and the founder of Moms on the Move, which leads childbirth, infant CPR and breastfeeding classes throughout in Marin County, including many at B&P.

Conventionally trained, Lawler became interested in hypnosis for birth after seeing a series of women in labor arrive at the hospital surprisingly calm. All credited hypnosis. Still skeptical, she took a course in the method and conducted her own informal test with her first class. Three of her first 10 students were so relaxed during labor that they arrived at the hospital fully dilated. Now she recommends the course to women interested in natural childbirth.

'You are getting sleepy …'

I think my husband was disappointed: There was no swinging pocket watch, and he was not going to learn how to control me with secret Svengali-like powers. It seemed more like a slow mental reprogramming, something akin to visualization exercises in sports.

"A big part of hypnosis is getting rid of fear," Lawler explained. "Hypnosis taps into the subconscious. It clears out the negative and replaces it with the positive."

Lawler gave us a CD about relaxation and positive thinking to listen to daily until my delivery. Listen to it anywhere, she said, anytime. "Just don't listen to it in the car, because you could fall asleep." (When I played it later that night, my husband was snoring within minutes.) We were instructed to add a three-page, single-spaced script — read aloud by my husband with relaxing music — after a week. It too was supposed to help me release my fears of labor.

In seven weeks, she said, I would be so programmed that I would be able to say "5-4-3-2-1" and simply relax my body from head to toe as they rolled me into the delivery room.

She must have seen the disbelief on our faces.

"This is the crazy part," she said. "You don't have to believe it to make it work."

I guess I'll know in a few weeks.

I followed Lawler downstairs into a prenatal cardio class. The four of us, ranging from barely pregnant to very, bopped to the beat trying to add in kegel pelvic exercises. It was a good workout; I burned but never panted.

My prenatal yoga class the next morning was again intimate. The poses were more stretching than strenuous, but the teacher took care to make sure we were correctly aligned, which I appreciated.

During the hour before our spa treatments we ate lunch next door at a tiny restaurant called Tabla Cafe. It was a total find. Its specialty was dosas (Indian crepes) filled with organic vegetables, fruits or lamb meatballs. They were served simply on wooden trays with three tiny dishes of fresh chutneys in flavors that danced on the tongue.

Jonathan got a traditional massage, but I chose "counter pressure," a special pregnancy massage that promised to relieve tension and align my back, belly, pelvic floor, hips and thighs. Sounded good to me.

Stephanie, my masseuse, was gifted. Many prenatal masseuses use pillows to position a woman to access her back, legs and shoulders without rolling her onto her stomach.

Stephanie had a special table that suggested a dentist's chair (only covered with fresh sheets and a fluffy comforter) that she controlled with levers. I sat half-reclined as she worked my shoulders, head and legs. Then, she turned me on my side with a body pillow to really work on my lower back.

A getaway's getaway

We headed back up the mountain for dinner. Unfortunately, the inn does not allow children younger than 12 for dinner, which at first irritated me. But we booked a late reservation, put Theo to bed, then sneaked upstairs for a romantic meal alone. (The 10-room inn was so small and the dining room so close that if Theo screamed, we would hear him.)

The food was divine, the atmosphere pure Northern California — a fire in the fireplace, candles flickering on the tables, a wine list with playful descriptions like "a Côtes-du-Rhône on steroids."

Our final morning we woke with the sun (thanks to our son) and after another hike we returned for breakfast on Mountain Home's patio. Waiters threw white tablecloths over the weathered wooden tables, where we sat sipping freshly squeezed orange juice, eating buttermilk pancakes and grits, and looking out over a view so beautiful it made you ache.

But the most fulfilling aspect of the weekend was not any of that. It was the chance to get away and think about the baby and the upcoming changes in our family, something that is perhaps even more important with a second child.

With my first pregnancy, I held my belly and dreamed. This little one feels shortchanged in utero — I barely pay attention to him except when he kicks — because I am too preoccupied with my son, my husband, my job.

But for three glorious days — away from work, cellphones, friends and household tasks — I thought about nothing but the baby, my husband, my boy, my family. That felt blissful. Maybe that is what a babymoon is supposed to be.

Spas for the parents-to-be

Expenses for three:

Lodging

Two nights at the Mountain Home Inn with tax $389

Transportation

Round-trip airfare Burbank to Oakland and car rental $629

Meals

Tabla Cafe

$32

Mountain Home Inn dinner

$100

Other meals

$75

Spa services Two massages

$180

Two fitness classes

$30

Childbirth hypnosis class $100

Total $1,535

Distance from L.A. 401 miles

WHERE TO STAY:

Mountain Home Inn, 810 Panoramic Highway, Mill Valley; (415) 381-9000, https://www.mtnhomeinn.com . Ten-room inn with parkland at the back door and views to San Francisco Bay. Breakfast included. Doubles, $175-$325.

WHERE TO INDULGE:

Barefoot & Pregnant, 1165 Magnolia Ave., Larkspur; (415) 388-1777, https://www.barefootandpregnant.com . Spa treatments, $65-$450. Exercise classes (weekdays only), $15. Hypnosis for birth session, $100.

MORE 'BABYMOONS':

Beside Still Waters Farm, 30901 Sherwood Road, Willits; (877) 230-2171, https://www.besidestillwatersfarm.com . "Once in a Babymoon" ($70) includes baby gift and delivery kit. Cottages, $225-$265. Massages, additional $75.

Bodega Bay Lodge & Spa, 103 Coast Highway 1, Bodega Bay; (707) 875-3525, https://www.woodsidehotels.com . "The Last Big Hurrah" includes two massages, facials, $50 dining credit and gift. $645 and up.

Estancia La Jolla Hotel & Spa, 9700 N. Torrey Pines Road, La Jolla; (877) 437-8262, https://www.estancialajolla.com . Three-day "Stress-Free Parents to Be" includes dinner, photo session, facials, manicures, four massages and classes. $2,000.

Glorietta Bay Inn, 1630 Glorietta Blvd., Coronado; (888) 267-6236, https://www.gloriettabayinn.com . Two-night babymoon package comes with movie, in-room breakfast, massage and gift basket. $599.
---
Get breaking news, investigations, analysis and more signature journalism from the Los Angeles Times in your inbox.
You may occasionally receive promotional content from the Los Angeles Times.