Our reader recommendations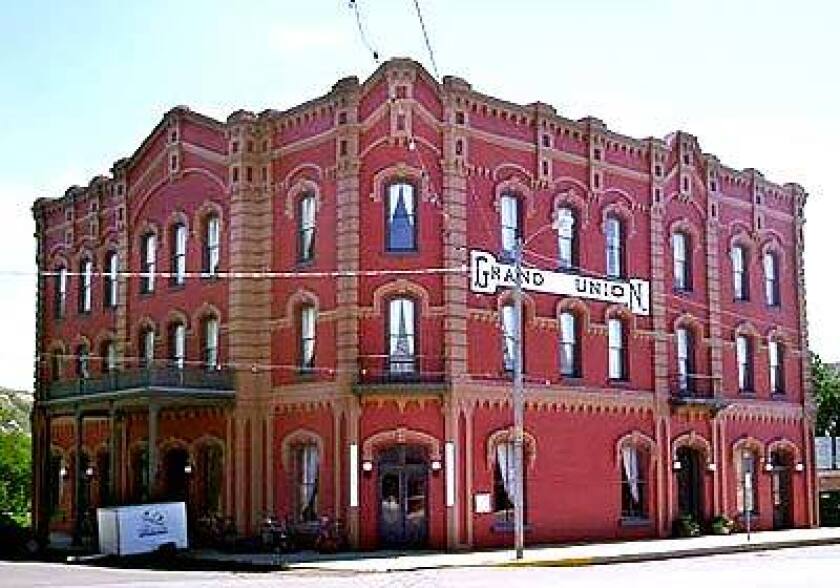 Each week in "Readers Recommend," the Travel section shares tips on hidden gems in the U.S. and abroad.
Here is a roundup of some of the lodging recommendations published in the last year. Although the information here was correct when it was published, some details may have changed, especially room rates abroad because of the weakened dollar. Please contact the source to confirm prices and other information.
United States
Arizona
Creekside Inn at Sedona, 99 Copper Cliffs Drive, Sedona 86336; (800) 390-8621 or (928) 282-4992, www.creeksideinn.net. "This secluded getaway, which features B&B amenities, has reflecting pools, deer, ducks and squirrels. It is on a private road adjacent to good food, two great golf courses and souvenir shops. Try the Creekside Suite, which faces a creek. Relaxation and privacy in a wonderful environment." Doubles start at $160.
John Helvin
La Mirada
California
Tootie's Texas Barbecue, 68-703 Perez Road, Suite A1, Cathedral City 92234; (760) 202-6963, www.tootiesbbq.com. "This upscale barbecue features meats that have been slow-cooked for up to 17 hours. They'll put your barbecue on a jalapeño cheese bun, a plain white bun or on corn or flour tortillas. Portions are generous and prices reasonable. Owners Willard Sterling and Steve Vinson are native Texans." Entrees from $6.25 to $11.95.
Nina Murphy
Redondo Beach
Elam Biggs Bed and Breakfast, 220 Colfax Ave., Grass Valley 95945; (530) 477-0906, www.elambiggs.com. "This comfortable B&B in Grass Valley is named after its first owner, an early hardware store owner in town. It is an easy stroll to downtown and only a few minutes' drive to Nevada City. Owner Peter Franchino, a Burbank native, is a talented magician and, if you ask, he'll perform some sleight-of-hand tricks for you. It's the only B&B I've visited more than once." Doubles, with bath, from $85 to $120.
Matt Proietti
Lake Arrowhead
Blackberry Inn, P.O. Box 1064, Groveland 95321; (209) 962-4663, www.blackberry-inn.com. "Tastefully decorated bed-and-breakfast near Yosemite has cozy private rooms. Breakfast was outstanding. Owners have years of experience in the area and helped us make the most of our trip to the Sierra Nevada." Doubles from $120 to $150, depending on season. All rooms have baths; some have fireplaces. Breakfast included.
Liz Tenney
Los Angeles
Kern River Inn Bed and Breakfast, P.O. Box 1725, Kernville 93238; (800) 986-4382, www.kernriverinn.com. "This delightful five-bedroom house overlooks the Kern River, just across the road. Each room has a private bath, a TV-VCR and either a whirlpool tub or a working rock fireplace. It's kid-friendly. , with nutritious snacks left out around the house and kids' videos available. There are lots of nearby activities - whitewater rafting, hiking, biking, fishing, exploring the surrounding town of Kernville or just lazing on the peaceful veranda. watching the world and the river drift by." Doubles from $125, with breakfast.
Peter Levitan
Sherman Oaks
Farmer's Daughter, 115 S. Fairfax Ave., Los Angeles 90036; (800) 334-1658 or (323) 937-3930, fax (323) 932-1608, www.farmersdaughterhotel.com. "I was in L.A. on an impromptu business trip; my cousin recommended this hotel because of the prime location, reasonable prices and new look. It is indeed a gem, small and hip and with many amenities. But what I really appreciated was the free Internet access available in each room." Doubles from $99.
Theodore Zaferis
Athens, Greece
Restful Nest B&B, 4274 Buckeye Creek Road, Mariposa 95338; (800) 664-7127, www.restfulnest.com. "Wonderful B&B on 10 acres of peaceful countryside, five miles from Mariposa and 40 miles from Yosemite National Park. Fantastic hosts and wonderful breakfasts. Four rooms with private bath and shower, and guesthouse with living room with wood-burning stove and bath. Pool and Jacuzzi." Doubles from $95.
Pat Shragg
Woodland Hills
Sutton Place Hotel, 4500 MacArthur Blvd., Newport Beach 92660; (949) 476-2001, www.suttonplace.com. "The Sunday champagne brunch at this hotel is eye-popping. The award-winning Accents restaurant puts on a mouthwatering spread - meats, fish, salad bar, an entire separate room filled with desserts. And it's combined with excellent service." Adults $39, children $17, 5 and younger free. Served 10:30 a.m. to 1:30 p.m.
Jerry Watson
Los Angeles
Casa Tropicana Bed and Breakfast, 610 Avenida Victoria, San Clemente 92672; (800) 492-1245, (949) 492-1234, www.casatropicana.com. "Delightful B&B in San Clemente overlooks the beach and pier. Our 'Out of Africa' room had a fireplace and huge Jacuzzi tub. Great breakfast, also champagne, cookies and fruit." Nine rooms, doubles from $195 to $495.
Connie and Lynn Hughes
Laguna Beach
Heritage Inn Bed & Breakfast, 978 Olive St., San Luis Obispo 93405; (805) 544-7440, www.heritageinnslo.com. "This bed-and-breakfast offered a most hospitable home for the night when we traveled to Northern California for a short holiday. We could not leave our 8-year-old miniature Dachshund behind. The inn welcomed our dog and sent us on our way the next morning with a fine breakfast." Three rooms with private baths; four with shared baths. Rooms from $85 to $150.
Norman Katkov
Los Angeles
Thai Talay, 8411 Lincoln Blvd., Westchester 90045; (310) 670-3055. "This restaurant north of LAX serves exquisitely seasoned Thai food for reasonable prices. The chef has a light and imaginative hand, and you have a choice with any of the main offerings: chicken, beef, tofu or shrimp. You aren't just limited to things like cashew chicken, for example." Entrees start at $3.99.
Nina Murphy
Redondo Beach
Florida
Walker Medical Mobility Products, Kissimmee; (888) 726-6837, www.walkermobility.com. "Disabled travelers to Walt Disney World find that motorized scooters may not be taken out of each park or used to go between parks. They must be rented each day separately. But Walker Medical Mobility will deliver them to your hotel the day before you arrive and pick them up after you leave. They are the same price as the ones in Disney World. (We found Epcot and Disney MGM Studios handicap- friendly.)" Scooters $30 per day, with a two-day minimum.
Gloria Gray
West Covina
"St. Augustine has several not-to-be-missed sites, including Aviles Street, said to be the city's oldest. It is only three blocks long but more authentic than other touristy locales. It has nice art galleries and the Spanish Military Hospital. Also, Anastasia State Recreation Area, which features a broad beach, sand dunes, forests, tidal marshes and a rich variety of birdlife."
Jane Czajkowski
West Covina
Hawaii
Enchanting Floral Gardens, 2505 Kula Highway, Kula, Maui 96790; (808) 878-2531, www.flowersofmaui.com. "Upcountry Maui is a world apart from the manicured coastal resorts. The drive to this eight-acre botanic garden on the slopes of Haleakala gives visitors a look at what locals consider the real Maui. More than 2,000 species of plants, all tended by the owner and his wife." Open 9 a.m. to 5 p.m. daily. Admission: $5.
Dick Barnes
Long Beach
Skyline Eco-Adventures, P.O. Box 880518, Pukalani 96788; (808) 878-8400, www.skylinehawaii.com. "This Maui eco-adventure is a great stop either before or after viewing the crater at Haleakala National Park. There were six in our group, ages 18 to 80, and all had a great time, flying over gulches on a zipline [cable]. We were expertly hooked on each line by the safety-conscious owner and two guides. Each stop on the adventure came with a discussion of the endangered birds and plants in Hawaii." $69 per person ($59 if booked online).
- Julia Frey
Los Angeles
Iowa
Home on the Hill, 1208 J Ave., Kalona 52247; (319) 656-5300, www.kctc.net/ourhome. "Lots of peace and quiet, but lots to do, too, at this marvelous B&B in an old farmhouse near Iowa City. There's a sparkling outdoor pool for the warm months and luxurious indoor Jacuzzi for the winter., along with big-screen TV. Homey furnishings and a chance to visit nearby Amish farms." Doubles from $80 a night.
Deborah Cohan
Los Angeles
Maine
The Youngtown Inn, 581 Youngtown Road, Lincolnville 04849; (800) 291-8438, www.youngtowninn.com. "This delightful six-bedroom countryside bed-and-breakfast is in a former farmhouse not far from the coast. Each room is individual; all have private baths. The inn has a superb French-American restaurant with gourmet food and a full bar. Children are welcome. Near Camden." Doubles frp, $125 to $175, depending on season. Breakfast included.
R.C. and Carole Young
Carlsbad
Blue Harbor House, 67 Elm St., Camden 04843; (800) 248-3196, www.blueharborhouse.com. "Delightful B&B is a short walk to downtown Camden. Comfortably decorated rooms have private baths. Wonderful breakfasts. Owners are a delightful family from Scotland." Doubles from $95 to $205, depending on season.
Lynn and Harvey Shields
Mission Viejo
Maryland
Commodore Joshua Barney House, 7912 Savage Guilford Road, Historic Savage 20763; (800) 475-7912, www.joshuabarneyhouse.com. "Wonderful bed-and-breakfast in the Baltimore-Washington area is attractively furnished and listed on the National Register of Historic Places. The house, in beautiful condition, is less than 15 minutes from Baltimore/Washington International Airport and 30 minutes from Baltimore, Washington or Annapolis. Peaceful setting on 7 private acres. Innkeeper is warm and gracious." Doubles from $175.
Linda Rees
Los Angeles
Massachusetts
The Ashley Graves House, 121 N. Main St., Sunderland 01375; (413) 665-6656, www.ashleygraveshouse.com. "Built in 1830 as a farmhouse. This 1830 bed-and-breakfast has been lovingly restored and decorated with period antiques. and is in the Historical Village District of Sunderland in Western Massachusetts. The house is spectacular, The hosts are wonderful, and the breakfast is delicious." Double rooms, with bath and breakfast, from $150 a night.
Sally Bryant
Los Angeles
Mississippi
Monmouth Plantation, 36 Melrose Ave., Natchez 39120; (800) 828-4531, www.monmouthplantation.com. "This wonderful plantation has been lovingly restored to its original grandeur and is a true gem. It is beautiful beyond words, is very peaceful and the staff is some of the nicest I've ever met. The dinner was exquisite." Doubles start at $165.
John Hough
Los Angeles
Montana
Shiloh Valley Vacation Rental Homes, P.O. Box 130211, Coram 59913; (406) 387-5635, www.shilohvalleyministry.com. "Beautiful, quiet house is about 10 minutes outside West Glacier National Park in the Shiloh Valley. Sleeps 12, has a kitchen. and is about a 30-minute drive from Whitefish, where there is a variety of restaurants and stores. Two houses are for rent by owner Todd Fox, a local pastor." Daily rate: $145 for two people; a smaller house rents for $125 for two.
Sue Roth
Irvine
Grand Union Hotel, Grand Union Square, P.O. Box 1119, Fort Benton 59442; (888) 838-1882, www.grandunionhotel.com. "Montana's oldest operating hotel - and a famous landmark - recently was restored and has 26 elegantly appointed and furnished rooms, all with large baths.The hotel's dining room directly overlooks the river and has one of the region's top chefs. For anyone traveling the Lewis and Clark Trail in Montana, this hotel should be a must: It is in historic Fort Benton, once the head of navigation on the Missouri." Doubles, with breakfast, from $89.
Kenn Morris
Los Angeles
Blue Sky Cabins, HC50 Box 4483, Red Lodge 59068; (406) 446-0186, www.blueskycabins.com. "Secluded location and spectacular views at these luxury cabins in the middle of the Beartooth and Absaroka mountain ranges. The full kitchen comes stocked with breakfast food., and there's lots to do year round." Cabins from $180.
Shirley Kaub
Thousand Oaks
New Jersey
Iris Inn, 45 Main St., Medford 08055; (609) 654-7528, e-mail: irisinnatmedford@msn.com. "This inn is about 100 years old and wonderfully maintained. Each room has its own character.; mine had clouds painted on the ceiling along with flowers and butterflies. It was like sleeping in a cloud. Wonderful coffee and amazing breakfasts." Doubles from $90 to $150.
Gayle Taylor
Santa Monica
South Carolina
Country Victorian, 105 Tradd St., Charleston 29401; (843) 577-0682; www.charlestonbb.com. "The rooms in this charming B&B is in the prestigious South of Broad historic area of Charleston. Rooms have brass and iron beds, braided rugs, pine floors, many antiques and private entrances. Breakfast is served on the shaded piazza, and homemade cookies and snacks await guests in their rooms. Walk to home tours, carriage rides, shops and restaurants." Doubles from $100-$185.
Marion and Gary Gray
Torrance
Virginia
Local favorite
99 Main Restaurant, 99 Main St., Newport News 23601; (757) 599-9885. "This place is hard to find but is a local favorite. French and American cuisine with white tablecloths and crisp, attentive service. Open kitchen, memorable food and wines." Entrees from $19 to $35.
Barry A. Brown and Priscilla Kastner
Placentia
Washington
Hotel Pension Anna, 926 Commercial St., P.O. Box 127, Leavenworth 98826; (509) 548-6273, www.pensionanna.com. "This delightful inn is in Leavenworth, Washington's famous Bavarian village in the Cascades. The has 16 tastefully decorated rooms with imported furniture selected during the innkeepers' visits to Austria and Germany. Luxury suites with fireplace and Jacuzzi are also available. All rooms are nonsmoking; breakfast is served." Doubles from $89 to $219.
Gloria Duncan
Santa Ana
Wyomin
gOccidental Hotel, 10 N. Main St., Buffalo 82834; (307) 684-0451, www.occidentalwyoming.com. "Walk back into the history of the Old West at this hotel. that once served Buffalo Bill Cody, Teddy Roosevelt and Calamity Jane. Beautifully furnished rooms with period antiques. - some rooms with a view of sparkling Clear Creek, which flows past the hotel. Solid oak bar in the hotel's historic saloon. Restaurant open for dinner." Doubles from $125 with breakfast.
Russ and Marlene Jones
Huntington Beach
Foreign
Australia
Cotterville Homestay, 204 Williams Road, Toorak, Melbourne, Victoria 3142; 011-61-3-9826-9105, www.cotterville.com. "Admirable B&B in the city of Melbourne is a small jewel operated with pride and panache. The home is full of art and theater memorabilia. Great choice of breakfasts, plus 5 p.m. happy hour with wine and cheese." Doubles, with shared bath, from $97.
Robert F. Green
Fallbrook, Calif.
Rosemount on Macfie, 47 Macfie St., Devonport, Tasmania; 011-61-3-6424-7406. "Spacious, luxurious and spotless bed-and-breakfast in a renovated historic home in Tasmania. Owners are excellent and entertaining hosts; generous breakfasts." Doubles from $78.
Carla Hibbard
Torrance
Austria
Hotel Garni, Trumer Stube, Bergstrasse 6, A-5020 Salzburg; 011-43-662-874-776 or 011-43-662-875-168, www.trumer-stube.at. "We loved the location, a nice walking distance to Mozartplatz, and The accommodations were spotless; the innkeeper was very personable and helpful, as was her husband, who prepares and serves the breakfast, included in the rate." Doubles from $97-$158.
Gretchen Takkune
San Clemente
Belgium
Royal Stewart Bed & Breakfast, 25-27 Genthof, Bruges 8000Brugge; 011-32-50-33-79-18, www.brugge.be/verblijf/en/stewe.htm. "A multilingual couple who take cleanliness seriously offer three rooms above their antiques store. Two rooms overlook a garden courtyard. The B&B is a 20-minute walk to the train station." Doubles from $69 with breakfast.
Joy Mosse
Beverly Hills
Hotel Maraboe, Hoefijzerlaan 9, 8000 Brugge; 011-32-50-33-81-55, www.maraboe.be. "Charming hotel on the edge of the city center is a short stroll from the picturesque canals of Brugge. Rooms are pleasant and comfortable; the staff is friendly and helpful. Breakfast buffet is ample, tasty and served in an elegant breakfast room." Doubles from $120.
Cathy A. Gardikas
Lakewood
Canada
Minette Bay Lodge, 284 City Centre, Kitimat, British Columbia V8C 1T6; (250) 632-2907, www.minettebaylodge.com. "This 10-room home away from home, owned by town physician Howard Mills and wife Ruth, is in a pristine setting and surrounded by natural wonders. Fly-fishing and ecotourism are popular, and guides engaged us in grizzly-bear viewing, nature tours and cutthroat catch-and-release fly-fishing. Rooms are laden with antiques, are meticulously clean and have wonderful views of the bay." Rates are $160 per person, per day, including room, meals and beverages.
Arthur Strauss
Irvine
Aston House Bed & Breakfast, 205 Quarry Drive, Salt Spring Island, B.C. V8K 1J2; (866) 538-1868, www.astonhouse.ca. "This new luxury B&B has two elegantly decorated bedrooms with fireplaces and a view of beautiful Vesuvius Bay from the bedrooms, balconies, terrace and gazebo." Eric and Mariette Klemm's many years running their own Relais & Châteaux resort has helped them create the best B&B we've ever encountered." Doubles from $144 to $154, depending on season.
Elliot and Charlene Elgart
Los Angeles
Cayman Islands
Southern Cross Club, Little Cayman Island, (800) 899-2582 or (619) 563-0017, www.southerncrossclub.com. "Secluded, newly remodeled club on Little Cayman Island has tastefully appointed ocean-front bungalows and 900 feet of white sand beach. Picture-perfect retreat offers fishing and diving, new spa services and dining that's out of this world." Three-night stay from $650 per person, double occupancy (single surcharge $210), including accommodations, meals and transfers.
Michele Joyce
San Diego
Costa Rica
Hotel Bougainvillea, P.O. Box 69-210, San José; (506) 244-1414, www.bougainvillea.co.cr. "This hotel, 15 minutes from San José, is a great place to escape the noise and pollution of the capital. has big rooms with Costa Rican hardwood furnishings, mountain views from the balconies and 12 acres of extravagant plantings. Luxury at reasonable rates." Doubles from $77.50.
Donald Weggeman
Los Angeles
Hôtel Le Bergerac, 50 S. Calle 35, AP 1107-1002, San José; 011-506-234-7850, www.bergerac.co.cr. "Quiet and quaint Hôtel Le Bergerac is minutes from downtown San José.and is a good choice for travelers who need to spend a night in the capital before traveling to outlying areas. The front-desk and concierge staff is helpful. Ask for a room with a private garden." Doubles from $68 with breakfast.
Aron and Christine Levinson
Hawthorne
England
The Town House, 7 Bennett St., Bath, BA1 2QJ; 011-44-1225-422-505, www.thetownhousebath.co.uk. "This excellent bed-and-breakfast is in a quiet location, has wonderful breakfasts and is beautifully decorated with casual elegance. and international style. Exceptionally gracious and thoughtful hosts." Doubles, with breakfast and private bath, from $146 to $164.
Susie Hietala
Carson
Woodlands Hotel, New Road, Bowness-on-Windermere, Cumbria LA23 2EE; 011-44-1-539-443-915, www.woodlands-windermere.co.uk. "This lovely B&B in the Lake District is within walking distance of Windermere and Bowness. Rooms were comfortable and bright, and the food at night is outstanding. Owners Alan and Sarah Ayres serve the best of local produce, and the fish and meat entrees are excellent. Dinners are far more reasonable than in the local restaurants and the quality far superior." Doubles, $110.
Siobhan Gogan
Corona del Mar
Stour Lodge, 54 Stour Road, Christchurch BH23 1LW; 011-44-1202-486-902. "Standout hosts, large breakfasts and wet, sloppy kisses from strawberry blonds Abby 1 and Abbie 2 at this B&B in Christchurch. Kim and Colin Baugh (and dogs) are the friendliest hosts we've ever encountered. Nice accommodations within walking distance of the rail depot." Doubles from $50.
Dorothy A. Smith
San Luis Obispo
Liverpool tour guide: Philip Hughes, 011-44-151-228-4565, tourliverpool@hotmail.com, www.tourliverpool.co.uk. "A vivacious official Blue Badge tour guide who loves the people and places of his lifelong home. He showed us Beatles sites, pointing out John's favorite pub, the hospital where Paul's mother worked. He carries refreshments, postcards and the lore and legends of this wonderful city. A lot of fun." About $20 per person for group tours, $120 for a private tour.
Karen Martin
Los Angeles
Chesterfield Hotel, 35 Charles St., Mayfair, London W1J 5EB; 011-44-20-7491-2622, www.redcarnationhotels.com. "Beautifully decorated hotel is within easy walking distance of Buckingham Palace and is easily accessible to the Tube. Our double room was sizable, clean and very quiet. Friendly staff goes above and beyond. The hotel restaurant serves delicious food." Doubles from $335 with breakfast.
Dan and Meeling Wagner
Stevenson Ranch
Menier Chocolate Factory, 51-53 Southwark St., London SE1; 011-44-20-7378-1712, 011-44-20-7907-7060 (box office), www.menierchocolatefactory.com. "This renovated chocolate factory is an art gallery, restaurant, bar and theater. We discovered it on our one-night stay in London. The meal and atmosphere were wonderful. We enjoyed bangers and mash (sausage and potatoes) and a salmon fillet served on stir-fried pak choi. How could we not have dessert in an old chocolate factory? Chocolate-studded brioche and butter pudding with Menier chocolate sauce and vanilla ice cream. We thoroughly enjoyed the decor, and the service was excellent." Meals $13-$26. Two courses and the show $46.
Kat Colopy and Wayne Wallace
Dana Point
My Old Dutch Pancake House, 131 High Holborn St., London; 011-44-20-7242-5200. "I've traveled to London 25 times since 1986; many times I've been with my students, so I am always looking for reasonable places to eat. Absolutely the best crepes in the United Kingdom can be found here. The portions are huge. You can easily split a dessert crepe and a dinner crepe with a friend."
Linda Carpenter
Huntington Beach
Tustin Holiday Flats, 94 York St., London, W1H 1QX; 011-44-207-724-0224, www.pctustin.com. "Two nice discoveries and both on the same street: My sister was welcomed by Liz and Michael Callis at 22 York Street Bed and Breakfast, v(www.22yorkstreet.co.uk); my wife and I rented a flat for nine days from Tustin Holiday Flats. The flat had twin beds, kitchen and shower. It was functional and comfortable, private and heated. York Street is handy to the Tube, buses and easy grocery shopping." One-bedroom apartments from $647 per week.
Arthur and Margie Jones
Valencia
Chauffeur and tour guide Chris Cabot, Hollycroft, 57 New Road, Penn, Bucks County, England HP 10 8DN, 011-44-1494- 816-305. "Cabot met us with a smile at London's Heathrow Airport in November. He took us for tours of London and the countryside and drove us to Marlow Buckinghamshire for a weekend stay. An excellent driver, Cabot was able to impart a great deal of English history and saved us from the stress of driving on the left side and navigating narrow London side streets." Day tour outside London about $545; vehicle holds seven passengers.
Carroll Gerbel
Coronado
The Old Rectory, Cricket Malherbie, Ilminster, Somerset TA 19 OPW; 011-44-1460-54364, www.malherbie.co.uk. "Bed-and-breakfast is in a lovely, peaceful location. A beautiful old English country house has been converted to an intimate five-bedroom, antique-filled hotel. Close to Bath, Glastonbury, Exeter and Stonehenge." Doubles, $156.
Penelope Burley
Camarillo
Saracen's Head, Wolterton, Norfolk NR11 7LX; 011-44-1263-768909, www.saracenshead-norfolk.co.uk. "This delightful Italianate inn is on Lord Walpole's Wolterton estate. "Cozy, comfortable setting with rich, warm colors, roaring fires and views of either gardens or countryside. Mornings start with a cooked British breakfast that is impossible to resist; many wonderful choices for dinner, including roast pheasant, venison, beef or lamb. Location is convenient for touring Norwich, the North Norfolk Coast and several well-known estates and gardens." Doubles, $102.
Joanna Hale-Hinton
Vero Beach, Fla.
Falkland Island
sPatrick Watts, Adventure Falklands, P.O. Box 223, Stanley, Falkland Islands FIQQ 1ZZ; 011-500-21-383, e-mail pwatts@horizon.co.fk. "Tour guide Patrick Watts, a third-generation Falkland Islander, took us to see the penguin colonies, gave us an in-depth tour of the battlefields (complete with a commentary on the war) and showed us the sights of Stanley, all for a fraction of the cost of ships' tours that most tourists take when they arrive by cruise ship." Tours start at $27 per person.
Kenn Morris
Los Angeles
France
Brittany: Les Liaisons Delicieuses, 4710 30th St. N.W., Washington, DC 20008; (877) 966-1810, www.cookfrance.com. "Spent a delightful week at a cooking school in Brittany, where we stayed in a private 18th century chateau and received instruction from local chefs in their own restaurant kitchens. We visited markets, restaurant herb gardens, toured private chateaux and manors. Lots of good conversation and camaraderie." Weeklong tours available to other French cities, also Morocco and Quebec, from $2,690.
Lynne Barry Roe
San Juan Capistrano
Croisi Champagne-Aumieres, 12 Rue de la Cooperative, 51480 Cumieres; 011-33-326-54-4951, www.champagneetcroisiere.com. "Spent a wonderful day visiting Champagne cellars and cruising on the Marne River on this outing. We visited a well-known cellar; then while aboard the boat, we had lunch, a live band played and there was dancing. Back on land, we visited another cellar and took a guided tour of the historical village of Hautvilliers." About $80 per person.
Maryvonne Huneck
Simi Valley
Best Western Le Moulin de Ducey Hotel, 1 Grande Rue, Ducey 50220; 011-33-2-33-60-25-25, www.bestwestern.fr. "This is a fine hotel in a historic, picturesque setting. Breakfast is included, and the dining area, with picture windows, has a view of two ancient stone bridges, a large millpond and a dam that creates a waterfall. Ducey is known as the flower city, and most of its traditional gray granite buildings have colorful flower-filled window boxes. It is convenient to Le Mont-St.-Michel, about 20 minutes away." Doubles from $100.
Bill Webster
Bakersfield
Aux Vieux Cedres, 187 Rue St. Jacques, Paris 75005; 011-33-1-43-25-57-15. "This bare-bones Lebanese sandwich shop - six stools facing a blank wall - has zero atmosphere. It puts all the emphasis on the food and elaborate side dishes. Perfect for take-away or a picnic in the Luxembourg Gardens (Jardin du Luxembourg), which is opposite the shop diagonally. All items are made fresh while you wait." Less than $10 per person.
Joy Mosse
Beverly Hills
Closerie des Lilas, 171 Boulevard de Montparnasse, 75006, Paris; 011-33-1-40-51-34-50. "This charming, historic Paris restaurant was such a longtime favorite of Ernest Hemingway that it found its way into his memoir 'A Moveable Feast.' In the American bar there are brass plaques memorializing former patrons such as Hemingway, Albert Camus and Simone de Beauvoir. The food is all right, but you don't really go for the food. You go for the wonderful historic ambience." Lunch from $12; dinner from $19.
William Webster
Bakersfield
Le Safari, 36 Rue du Ruisseau, 75018 Paris; 011-33-1-42-62-97-01. "Wonderful tandoori cuisine - and an aperitif on the house while you're waiting. Small but very classy with wood and red colors. Wait staff and owner always checking on customers. Enjoyed everything - especially the fried okra, and I don't even eat okra." Entrees from $9.50.
Vivian Leinhos
Los Angeles
Germany
Pension Moselblick, 6 Lindenstrasse, 54472 Brauneberg, Germany; 011-49-6534-8687. "This pension, with large rooms and private baths, is centrally located on the Mosel River, making it an ideal location for day trips. It is comfortable, offers nice German-style breakfasts and has its own winery. Tastings can be arranged. A good hotel restaurant is within a block." Rates start at $86 double occupancy, including breakfast.
Dick Kraft
Whittier
Leohof, Bergackerweg 15, D-79874 Breitnau; 011- 0049- 7652-1787, www.leohof.de. "This comfortable bed and breakfast offers a great place to sleep in the Black Forest. They have a two-room apartment with kitchenette and a location that is convenient to all the major attractions in the Black Forest, including Freiburg, Triberg and Titisee. The location is breathtaking, and the family is very friendly; the son and daughter-in-law speak English." Double room $38 to $51, including breakfast.
Martin Kleinbart
Rancho Santa Margarita
Hotel Privat Dresden, 22 Forststrasse, Dresden 01099, 011-49-3-51-81-17-70. "We recently spent a couple of nights at this hotel. We recommend it highly for its immaculate, smoke-free premises as well as its location in a quiet, leafy neighborhood. It has buffet breakfasts and offers a very good restaurant and wine cellar." Doubles from about $100 in high season.
Sherrill Pinney
Claremont
Hotel Jedermann, 95 Bayerstrasse, D-80335, Munich; 011- 49-89-5432-40, www.hotel-jedermann.de. "This moderately priced hotel is a few blocks from the train station and within walking distance of the Marienplatz. Comfortable, clean rooms and an extra-friendly staff." Doubles from $105 with breakfast.
Ming Cohen
Los Angeles
Hotel Les Nations, Zinzendorfstrasse 6, 10555 Berlin; 011-49-30-392-20-26, www.hotel-les-nations.de. "This hotel in a quiet residential area has nice rooms, is very clean and has a friendly staff. There is elevator service and cable TV in the rooms. It is in the Tiergarten district, about a 10-minute walk from the Turmstrasse subway station. Double rooms, with bath and breakfast, $105 to $147.
Hans Scharer
Laguna Beach
Greece
The Peninsula at Porto Elounda Deluxe Resort, Elounda, Crete, 72100; 011-30-2841-04-19-03, www.summithotels.com or www.portoelounda.com. "The Peninsula is the newest and most exclusive section of this beautiful resort. Our two-story villa had its own seawater swimming pool and private beach. We were treated like royalty. It's in a gorgeous part of Crete." One-bedroom villas from $365 to $877 a night.
Mimi Novak
Torrance
Hungary
Peregrinus ELTE Hotel, 3 V. Szerb utca, 1056 Budapest; 011-36-1-266-4911, fax 011-36-1-266-4913, www.peregrinushotel.hu. "Unbeatable location in the center of the Inner City and near Vaci utca, a pedestrian shopping street. Rooms are clean, quiet and comfortable; ours overlooked the serene courtyard of the landmark Serbian church. Helpful desk clerks speak fluent English. Ample Hungarian breakfast buffet." Double rooms about $108.
Carol Schroerluke
Santa Monica
Ireland
Causeway Hotel, 40 Causeway Road, Bushmills, County Antrim, BT 57 8SU; 011-353-028-2073-1210, www.giants-causeway-hotel.com. "Great views from the rooms of this hotel on Giants Causeway property in Northern Ireland. Big rooms, great dinners and friendly service." Doubles from $65, including breakfast.
Grace E. Murphy
Palos Verdes Estates
Byrnes Mal Dua House, Clifden, Connemara, County Galway; (866) 891-9420, www.maldua.com. "This luxury guesthouse in Connemara is a great base for exploring all of Galway, Connemara and Mayo counties. The rooms are lovely, the hosts gracious. They have won numerous awards for their accommodations, hospitality and food." Double rooms with breakfast from $98 to $172, depending on season.
John Fisher and Susan McShirley Fisher
Pacific Palisades
Lord Baker's Restaurant and Bar, Main Street, Dingle, County Kerry; 011-353-66- 915-1277, www.lordbakers.ie. "We took my parents to Ireland to celebrate their 50th anniversary and dined one night at this restaurant, which is said to have Dingle's oldest pub. The dinner was fabulous, and the variety included traditional Irish dishes, and local fish and meat dishes. The proprietor, John Moriarty, sat with us for an after-dinner drink and wished my parents happy anniversary, making an incredible evening unforgettable."
Carol Ragognetti
Anaheim Hills
Kilronan House, 70 Adelaide Road, Dublin 2 Ireland; 011-353-1475-5266, fax 011-353-1478-2841, www.dublinn.com. "This outstanding B&B in Dublin is near St. Stephen's Green. and is a nice alternative for anyone who wishes to avoid staying in an overpriced hotel. Old Irish elegance and hospitality at its best. Wonderful breakfast. Delightful host, Terry Masterson, runs the guesthouse." Doubles from $124.
Grace Murphy
Palos Verdes Estates
Italy
Il Colletto Bed and Breakfast, 31 Via del Colletto Zacconi, Camaiore (LU) 55041; 011-39-335-365-654, www.ilcolletto.com. "Elegant, beautiful and reasonable B&B is run by the family of noted Italian actor Ermete Zacconi, who built the villa at the start of the 20th century. Breakfast on the terrace was delicious and the scenery lovely. Close to Porto Venere, the gateway to Cinque Terre." Doubles, with bath and breakfast, from $123 to $160.
James Honigman
Los Angeles
ETRome Tours, 99 Via Quattro Novembre (Piazza Venezia), 00187 Rome; 011-39-06-454- 38795, www.etrome.com. "Time is money on vacation, and we found we could save time and avoid lines with ET Tours. We visited the Vatican museums and basilica with no waiting, while others spent two to three hours in line. Our guided tour included headphones and a scarf for $30. The next day we went on a trip to the Colosseum - once again no waiting - on a tour that cost $8.65."
Renee Stark
Glendale
Hotel Bramante, 24 Vicolo delle Palline, Rome 00193; 011-39-06-68-79-881, www.romeby.com/bramante. "Our recent Roman holiday was made special by our delightful stay at this beautiful hotel near the Passetto, the passageway that connects Castel Sant'Angelo to the Vatican. In 1574 it was the home of the architect Domenico Fontana; Rooms were recently restored and include modern conveniences. The proprietors were able to secure passes to the special sights in Rome." Doubles, with breakfast, from $205 to $283.
Robert Morgan
Los Osos, Calif.
Antico Palazzo, 1 Viale Siemens 28838 Stresa; 011-39-0323-93-24-69, www.anticopalazzo.com. "Fantastic inn in the Lake District is a splendid 19th century villa filled with antiques and surrounded by beautiful gardens. The owners are sweet." Six rooms; doubles from $222.
Beatrice Dutordoir
San Fernando
Mexico
Vista Sea Sport, APDO 42, Buena Vista, Baja California Sur, 23580; 011-52-624-141-0031, www.vistaseasport.com. "First-class dive company in the East Cape area of Los Cabos offered a wonderful experience for myself, my two sons-in-law and three grandsons. Owner Mark Rayor was hands-on and dived with us. The rest of his staff was congenial and top-notch too. Best of all, the diving was sensational." Day trips start at $90 per person and include two dive sites.
Sheldon Appel
Los Angeles
Antigua Posada, 69 Galeana, Col. Centro, C.P. 62000, Cuernavaca; 011- 52-777-310-21-79, www.tourbymexico.com. [(Click on "Facilities Map," then on "Morelos.")] "Great small hotel in the charming city of Cuernavaca. is within easy walking distance of the zócalo, cathedral, and excellent restaurants and museums. The hotel has 10 rooms, large gardens, private terraces and a swimming pool.The staff is competent and pleasant; the area is quiet and safe." Doubles $62 a per night, including breakfast.
Ewa Witt
Culver City
El Rey Sol, 1000 Avenida Lopez Mateos, Ensenada; 011-52-646-174-0807, www.elreysol.com. European-style furnishings and stained-glass windows add to the ambience of this downtown Ensenada restaurant known for its refined French dining. Try the salmon sauteed in champagne sauce. The Caesar salad alone is worth the trip." Entrees from $10.
Dennis and Diane Damon
Vista, Calif.
Danzante Resort, Ensenada Blanca Bay, Baja, U.S. address: P.O. Box 1166, Los Gatos, CA 95031; (408) 354-0042, www.danzante.com. "This nine-room resort, about 25 miles south of Loreto, overlooks the Gulf of California and is a relaxing, secluded alternative to crowded Mexican resorts. Complimentary activities include kayaking, snorkeling, horseback riding, hiking or picnics on a secluded beach. Or drink free happy-hour margaritas and meet the other guests. Meals are Mexican family-style." Rates start at $145 per person per night, including meals.
Ray Viola
Santa Barbara
Guadalajara: "After a recent visit, I put Guadalajara and environs at the top of my favorite spots list. I was impressed with the hospitality of its people, as well as its many beautiful landmarks, such as the activity-filled Plaza Tapatia and the Government Palace with its impressive Orozco murals. Visitors should also see surrounding areas such as Lake Chapala, Ajijic, Tlaquepaque and Tonala, which has the largest outdoor market I've ever seen (Thursdays and Sundays)."
Edna M. Tobias
Hermosa Beach
Hacienda San Angel, Miramar 336, Col. Centro, Puerto Vallarta, Jalisco, 48300; 011-52-322-222-2692, www.haciendasanangel.com. "Great new B&B has fantastic panoramic views of downtown Puerto Vallarta and its famed cathedral, Guadalupe Church. Once upon a time, this artfully decorated inn was Richard Burton's villa. It has pools, fountains and angels galore." Double rooms from $150 to $395. Hacienda (three villas with nine suites) can be rented from $1,600 to $2,000 a night.
Larry Dunmire
Balboa Island
Whale tour: Andiamo Tour Mexico, 482 W. San Ysidro Blvd., San Ysidro, CA 92173, (800) 661-1325, www.andiamo-travel.com. "A four-day interesting and educational tour took us from San Diego to Scammon's Lagoon by bus. We were lectured on the history of Mexico, geology of the region and had an up-close and personal introduction to the whales." Four-day tour from $480 per person, double occupancy (single surcharge $130). Whale tours in February and March.
Bill Gourley
Thousand Oaks
Yucatan: Iluminado Tours, 200 N. Service Road West, Unit 1, Suite 144, Oakville, Ontario, Canada L6M 2YI; (866) 212-4644 or (905) 337-3104, www.iluminado-tours.com. "Ten-day Yucatan tour features well-planned excursions to interesting Mayan sites such as Chichen Itza and Uxmal; a wildlife refuge in Celestun; and a special back-roads tour of small villages, haciendas and a hidden cenote (an underground fresh water lake). Based in Merida with day excursions using local transportation, giving you the opportunity to see the countryside and get a feel for the culture and its people." Cost $1,390 per person, double occupancy, excluding international airfare.
Joyce and Jennifer Seeger
San Bernardino
Morocco
Center for Cross-Cultural Learning, BP 6291, Rabat 10000, Morocco: 011-212-37-20-23-65, www.cccl-ma.com. "This language school - with terrific directors and teachers - does an excellent job of integrating students into Moroccan society. Courses are offered in modern standard Arabic and the Moroccan dialect; the school also hosts several college study-abroad programs and an Elderhostel program." Group courses $10 per hour, private courses $20 per hour.
Jessica Wolf
La Canada Flintridge
Netherlands
Cafe Roux, Grand Amsterdam Hotel, Oudezijds Voorburgwol 197, 1012 EX Amsterdam; 011-31-20-555-3-560, www.thegrand.nl."Superb French and Moroccan dishes at reasonable prices in a five-star hotel. English menus and very attentive service. Reservations required." Entrees from $24.
Dennis Damon
Vista, Calif.
New Zealand
The Pillars, 7 Deborah Rise, Bonshaw Park, Taupo 2730; 011-64-7-378-1512, www.pillarshomestay.co.nz. "Mediterranean-style country manor with 5 acres of park-like grounds, tennis court, swimming pool. Beautiful en-suite bedrooms, great breakfast included. About five minutes to Lake Taupo." Doubles from $126.
Maureen Zinger
Glendale
Island View Lodge, 122 State Highway 1, Waiwera, North Auckland, New Zealand; 011-64-9-426-7839, www.islandviewlodge.co.nz. "In a rural area but close to town. Glorious sea and river views, luxurious bedrooms. Gracious hosts. Delicious breakfast included in the rate." Doubles from $85.Maureen Zinger
Glendale
Peru
Hosteria Rumichaca, 118 Camino Antigua Inca, Urubamba-Cuzco; 011-51-84-201-149, www.hrumichacacuzco.com. "Delightful, hacienda-style inn surrounded by flowers, orchards and vegetable gardens. Rooms are attractive and spacious. Plentiful meals feature local fruits and vegetables, many from the garden. Cocktail hour by the fire is fun with pitchers of Pisco sours. Excursions available to Machu Picchu and other archeological sites." Doubles $100, including breakfast and dinner.
Anne Marie and George Novinger
Tehachapi, Calif.
Russia
Guide: Alla Ushakova, St. Petersburg; 011-7-911-932-6633, www.alla-tour.spb.ru. "During a Baltic cruise that included St. Petersburg, guide Alla Ushakova met our family (there were 14 of us) in a van. We spent two informative days with her at about a fourth the cost of the cruise line tour. She is fabulous, a college graduate who speaks excellent English. She offered marvelous details of Russian history, as well as information about the art in the Hermitage." Rates are $15 an hour for a group of three.
Cec Katz
Beverly Hills
Spain
Hotel Posada del Valle, 33549 Collia, Arriondas, Asturias; 011-34-985-841157, fax 011-34-985-841559, www.posadadelvalle.com. "The inn, converted from an 1899 farmhouse, has panoramic views of pasture-covered hillsides, graced by the snowcapped Picos de Europa. The affable British owners, Nigel and Joann Burch, made us feel right at home." Rates from $67. Closed mid-October to April.
Doug and Marie McHenry
San Diego
Hotel Rural la Fábrica, 117 Real, Fuente de Cantos, Badajoz 06240; 011-34-924-500-042, www.hrlafabrica.com. "Beautiful, inexpensive rooms with showers and saunas at this hotel close to Seville and to the Portuguese border. It has a restaurant and bar and is close to bus and train stations." Doubles from $61.40 about $60.
Francisco Campos
Pico Rivera
Switzerland
Hotel du Lac, Hoheweg 225, CH-3800 Interlaken; 011-41-33-822-29-22, fax 011-41-33-822-29-15, www.bestwestern.ch/dulacinterlaken. "This grand old hotel is in a picturesque location on the River Aare, just off Lake Brienz. Large rooms with bath, radios and TV. Waterfront restaurant; English is spoken as well as other languages. Excellent starting point for excursions into the Jungfrau region of the Alps. Next door to a train station." Doubles from $182.
Dick M. Blue
Tampa, Fla.
Hotel Krebs, 4 Bahnhofstrassse, CH-3800 Interlaken; 011-4133-822-71-61, www.krebshotel.ch. "Summer or winter, the area around the lakes of Thun and Brienz is beautiful. I can still hear the lovely cowbells. Adding to the allure of the region is the famous 130-year-old Hotel Krebs in Interlaken. With its concierge service and one of the best kitchens in Switzerland, it's a find for visitors." Doubles start at $163, including a breakfast buffet.
Dick M. Blue
Tampa, Fla.
Tanzania
Base Camp Tanzania, P.O. Box 568, Arusha; 011-255-27- 250-0393, www.basecamptanzania.com. "We climbed both Kilimanjaro and Mt. Meru, followed by six days of safari. Our tour company, Base Camp Tanzania, was the greatest: local, personal, family run. They catered to our every need and charged a relatively modest price for outstanding service."
Barbara D'Angelo
Laguna Beach
Ngare Sero Lodge, P.O. Box 425, Arusha; 011-255-0-27-255- 3638, www.ngare-sero-lodge.com. "Nestled at the base of Tanzania's Mt. Meru on a 100-acre Colobus monkey preserve, is a newly remodeled, 13-room-hotel operated by Tim and Stacia Leach. Ngare Sero Lodge is a luxurious hideaway just north of Arusha with first-class facilities, including horseback riding, fishing, swimming and yoga classes. Prepare to climb Mt. Kilimanjaro, or relax after your game safari and enjoy the organic trout pate." Doubles from $180 a night with full board.
Maria Belknap
Beverly Hills
Thailand
Royal Orchid Sheraton Hotel & Towers, 2 Captain Bush Lane, Bangkok 10500, Thailand; 011-66-2-266-0123, www.royalorchidsheraton.com. "You can sip coffee in your room while watching the boats travel up the Chayo Prado River. This f gem has beautiful rooms, excellent restaurants, terrific service and top security." Doubles rom $130, plus 17 taxes and service charge.
Lisa S. Blank
Los Angeles
U.S. Virgin Islands
Friends of Little Bo Peep, 7 Nara Garda, St. Thomas; (340) 776-5500. "We found authentic Caribbean food that didn't cost an arm and a leg at this St. Thomas restaurant. The specialties are curries, chicken and mutton, fresh fish and big, fat sandwiches. The most expensive thing on the menu is conch at $11. Friendly proprietor."Sandra Sutpen and Roger Albers
Yorba Linda
Wales
Egerton Grey Country House Hotel, Porthkerry, Barry CF62 3BZ, South Glamorgan; 011-44-1446-711-666, www.egertongrey.co.uk. "This Welsh jewel is set in a gorgeous 7-acre garden near the sea on the southeast coast. Beautiful antiques decorate 10 lovely Victorian rooms in a luxurious country hotel. Hosts are warm and gracious. We had two exceptional candlelight dinners in the mahogany- paneled dining room. About a 30-minute drive to Cardiff." Rates from $148 to $241 per room, including breakfast.
Roberta Hopkins
Rossmoor
Pen Mar, New Hedges, Tenby, Pembrokeshire, SA70 8TL; 011-44-845-129-8145, www.penmar-tenby.co.uk. "A stunning coastline and a picture-postcard harbor add to the ambience of this bed-and-breakfast that's just a few minutes' walk to the sea. Ten bedrooms, most with bath, plus a great English breakfast. Full bar and a nice lounge for day and evening use. Tenby is a small, unspoiled port. Lots of golden sand beaches and sheltered bays nearby." Doubles, with bath, from $87.
John A. Nicoll
Glendale

---
The perils of parenting through a pandemic
What's going on with school? What do kids need? Get 8 to 3, a newsletter dedicated to the questions that keep California families up at night.
You may occasionally receive promotional content from the Los Angeles Times.