In L.A. clergy abuse cases, the wheels of justice move slowly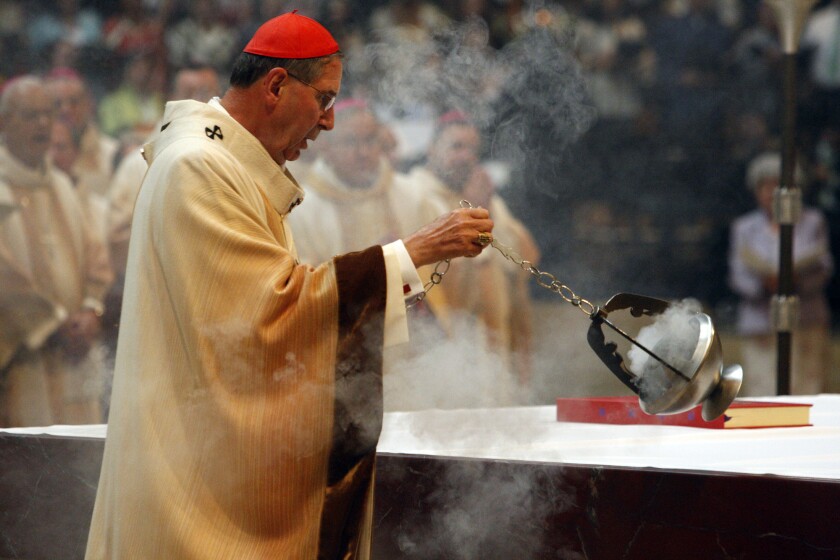 Manuel Vega was in the courtroom when the Los Angeles Archdiocese agreed to pay clergy abuse victims a landmark $660-million settlement. The bailiff had to whisk some of the victims out to make room for all the high-fiving lawyers filing in for their payday, he says.
"Some were even chest-bumping," recalls the retired police officer. "To me, it looked like a frat party."
Vega, who says he was molested as a boy by a priest in Oxnard, went along with the settlement only because his attorneys assured him the church would turn over confidential personnel files that would reveal the truth about priest abusers, and those who shielded them, including Cardinal Roger M. Mahony. Four years and nine months later, Mahony is retired, but not a single page from the files has seen the light of day.
Complaints about the delay have become a litany trotted out every year, along with accusations the church is stonewalling to protect its own, and Mahony's, legacy. What's different about Vega's complaint is that he blames not only the church but his own lawyers.
"They took the money and ran," he says.
The Los Angeles settlement required attorneys on both sides to "immediately work cooperatively" so the files could be opened in "a reasonably short period of time." Raymond Boucher, who represented Vega and other victims, and J. Michael Hennigan, who represents the archdiocese, blame the slow grinding of the legal system for the long delay.
"All we're doing is what is required by law," Hennigan said.
"Nobody is more frustrated than I," Boucher said.
The Diocese of Orange, however, released its confidential priest files five months after reaching a financial settlement with abuse victims. The revelations included church officials dumping one serial molester in Tijuana, welcoming a convicted child abuser from another state into their diocese and offering a repeat abuser up to $19,000 to leave the priesthood quietly.
But then, the pact that victims' lawyers struck with the L.A. church was never what it was cracked up to be.
The church didn't agree with victims' lawyers to drop all opposition to the file release, just certain objections. Other legal maneuvers helped slow things down — privilege and constitutional claims that required the court to painstakingly pore over every word and rule on complex legal questions.
"We agreed to a process to release the documents," archdiocese spokesman Tod Tamberg says. "We didn't just agree to dump them out the window."
Much of the recent obstruction has come not from Hennigan but from Donald Steier, attorney for some of the accused priests, including a couple who have been convicted of criminal abuse charges. Steier did not respond to several calls for comment.
Hennigan says the archdiocese has to foot Steier's legal bills because it employed the priests he represents. This, despite Mahony's statement, in his 2004 report to the "People of God," that the archdiocese would not provide accused priests "legal support" post-indictment, much less post-conviction.
At an earlier stage of the litigation, however, the archdiocese argued it was not liable for clergy abuse because a parish priest is not an employee or agent of the diocese, victims' lawyers said.
Huh? Apparently there is nothing to stop attorneys from speaking out of both sides of their mouths. And with the abuse litigation dragging on for almost a decade now, who can remember?
"There's a fatigue with this, which frankly was exactly the plan by the archdiocese and those that cooperated with them," plaintiff's lawyer John Manly said.
Thirteen months ago, a retired federal judge, Dickran Tevrizian, ruled the personnel files should be released, but with the names of church officials who dealt with the abuse claims blacked out. Victims cried foul, but Tevrizian said the church had reformed and did not deserve further scorn. Besides, the public can figure out who's responsible, he said.
"It doesn't take a rocket scientist to put it together," Tevrizian said at the time.
And perhaps he's right. Why else would the church-funded lawyers continue to fight as if they're in a modern-day Wars of the Roses?
The judge on the case, Emilie H. Elias, is considering releasing 25 files to attorneys in a new priest abuse lawsuit against the archdiocese. Some of the records overlap the settlement files. Elias has indicated that what she decides to take out or keep in the first 25 files will govern the rest, lawyers said.
The end, however, is not necessarily in sight. Hennigan says he will not try to second-guess Elias' decision, but Steier has already signaled he plans to appeal, lawyers said.
And then? The Franciscan order, which settled with alleged abuse victims in 2006 for $28 million, fought unsuccessfully all the way to the California Supreme Court to keep files on nine accused molesters secret, said Timothy Hale, a Santa Barbara lawyer representing victims. Hale expects the documents to be released in the next month.
"I don't want to think about how long it will take in Los Angeles," he added, where files on more than 100 clergy are on the line.
Vega said he would not be surprised if another five years goes by in the church's war of attrition. Maybe by then, Mahony's role in the priest abuse scandal will quit making news.
Or maybe not. In a deposition unsealed In 2010, Mahony, an outspoken advocate of immigrants, said he didn't try to find two children after a priest confessed to molesting them because he'd been told their families were in this country illegally and might have fled.
Last week, the Diocese of Stockton, where Mahony was once the bishop, settled a priest abuse case for $3.75 million five days before the cardinal was due to take the witness stand.
Vega says many victims have lost faith, but he takes heart from Simon Wiesenthal, the Nazi camp survivor who dedicated his life to substantiating Holocaust crimes.
"Where Simon Wiesenthal had his success is he documented what happened in the Holocaust so nobody will ever forget," Vega said. "The personnel files have the written history of what these monsters did, and who moved them from one parish to another in order to protect the church's reputation. ...
"As long as the church keeps fighting, nobody's going to realize the enormity of the mistakes and crimes that were committed."
---
For reporting and exclusive analysis from bureau chief John Myers, get our California Politics newsletter.
You may occasionally receive promotional content from the Los Angeles Times.