Sheriff Baca may defy proposed law easing immigration enforcement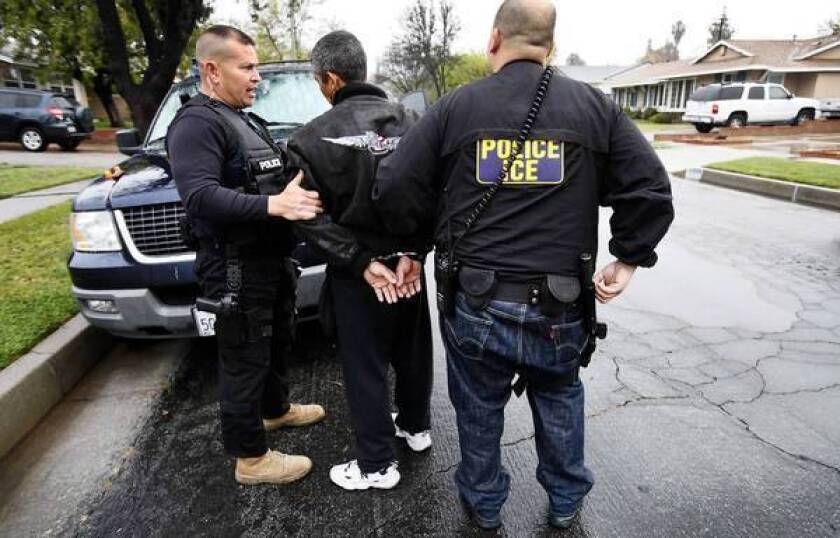 Los Angeles County Sheriff Lee Baca is among the California law enforcement officials who may defy a proposed state law and continue to detain arrestees who are illegal immigrants when asked to do so by federal authorities.
The Trust Act, which cleared the state Legislature on Friday, is the latest measure nationwide to push back against federal immigration policy, either by reducing or increasing enforcement. The law would prohibit local authorities from complying with federal detention requests except when a suspect has been charged with a serious or violent crime.
Sheriffs say that if the law is signed by Gov. Jerry Brown, it would put them in a difficult position by forcing them to renege on their obligations under the federal Secure Communities program, which deported about 400,000 undocumented immigrants in 2011.
"It would make me break either federal or state law. I would have to pick which one to break," Sonoma County Sheriff Steve Freitas said.
Brown, who supported Secure Communities when he was attorney general, has not indicated whether he will sign the Trust Act, a final version of which passed the Assembly on Friday on a 48-26 vote. Some sheriffs say they may end up disregarding the state law but are waiting to see what the governor will do. Baca has gone a step further, saying that he will respect detention requests from U.S. Immigration and Customs Enforcement despite state requirements.
"Our stance is that federal law trumps state law. If it were to move forward, we'd adhere to federal law, so we'd still honor ICE holds," Baca spokesman Steve Whitmore said.
The Secure Communities program calls for local law enforcement to share fingerprint databases with ICE. That means someone booked on a minor offense, such as trespassing or disturbing the peace, could come to immigration authorities' attention. ICE could then issue a request for the local agency to hold the suspect for up to 48 hours.
The Trust Act would prohibit sheriffs and police departments from honoring those hold requests, possibly drawing the ire of federal authorities as well as California sheriffs.
ICE Director John Morton has said a similar measure in Cook County, Ill., violates federal law. He has threatened to take away the federal funding that Cook County receives to jail immigration detainees.
Critics say Secure Communities ensnares immigrants committing minor infractions, such as the Sacramento tamale vendor who recently became a cause celebre when she was arrested on trespassing charges as she hawked her wares in a Wal-Mart parking lot. The woman, Juana Reyes-Hernandez, spent several weeks in jail while her two children were put in foster care. Her deportation case was eventually dismissed.
"Even if she did violate some civil infractions, what was used against her was horrible: the threat of deportation. We want to distinguish between the tamale lady and those who have in fact committed egregious crimes," Assemblyman Tom Ammiano (D-San Francisco), who authored the Trust Act, said on the Assembly floor Friday.
Fewer than a third of the roughly 80,000 people deported from California through Secure Communities since the state joined the program in 2009 were convicted of serious felonies. Most of the rest committed misdemeanors.
Critics of federal policies also cite the costs of keeping immigration detainees, an expenditure that is partially reimbursed by federal grants.
A study by the research group Justice Strategies concluded that ICE detainees stay at Los Angeles County jails an average of 20 days longer than other pre-trial inmates, costing as much as $26 million a year.
But some sheriffs said the cost is part of doing business.
"Does it cost us something? Yeah. But I don't find the costs prohibitive to effective and cooperative law enforcement," said San Diego County Sheriff William Gore, who may join Baca in defying the Trust Act if the governor signs it.
Divisions within California law enforcement highlight a national concern: In the absence of large-scale federal immigration reform, local jurisdictions are adopting divergent policies, leaving undocumented immigrants exposed to significantly different enforcement practices.
"This is one more fight between the federal government and local government because we continue to not solve the greater problem," said Wendy Sefsaf, communications director for the Immigration Policy Center.
Trust Act proponents hail the measure as a sharp turn from harsh policies in Arizona, which passed SB 1070, aimed at allowing local law enforcement to crack down on illegal immigration. The Supreme Court recently struck down major parts of the law.
If Brown signs the Trust Act, California would cement its reputation as one of the nation's more immigrant-friendly jurisdictions.
"California can lead the nation in preserving a community's well-being while leaving immigration duties to the federal government where they belong," said Jorge-Mario Cabrera, director of communications for the Coalition for Humane Immigrant Rights of Los Angeles. "We don't need to become an immigrant-chasing nuthouse."
But California sheriffs fear the law would put them at odds with the federal government.
"To do these types of things unwinds partnerships that have worked so well to protect the public," said Riverside County Sheriff Stan Sniff, who said he "wouldn't be surprised" if his department ends up defying the Trust Act.
---
The stories shaping California
Get up to speed with our Essential California newsletter, sent six days a week.
You may occasionally receive promotional content from the Los Angeles Times.