Transit tax failure has backers seeking changes to California law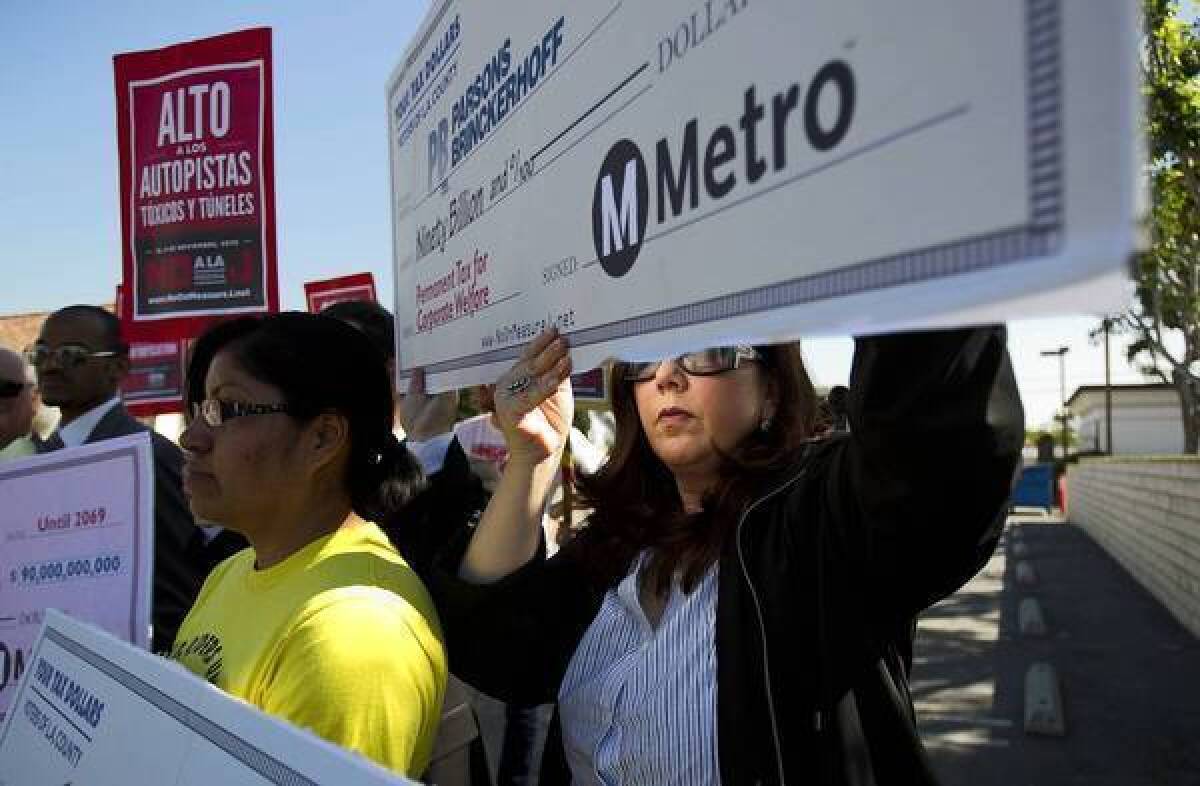 After watching a potentially $90-billion transportation sales tax fail by less than a percentage point, backers of Measure J this week called for a change in the state law that requires no less than a two-thirds majority vote for passage of tax increases.
After Los Angeles County election officials finished the final Nov. 6 count in recent days, the measure won 66.11% of the ballots but fell short of passing the two-thirds majority by 0.56 of a percentage point. Nearly 3 million total votes were cast on the measure.
"The two-thirds threshold is an excessive barrier to progress and it needs to change," said Matt Szabo, head of the Yes on J effort and a former top aide to Los Angeles Mayor Antonio Villaraigosa, who had pushed to extend an existing half-cent, 30-year sales tax for transit another three decades, until 2069.
Supporters included a well-heeled array of civic and business leaders such as billionaire philanthropist Eli Broad, the L.A. Dodgers and Villaraigosa, as well as large unions such as Unite Here, corporations such as Occidental Petroleum and major developers such as Anschutz Entertainment Group, that together contributed millions to the campaign.
Working against them was a small coalition of groups with assorted grievances against the county's transit agency. Compared with the Yes on J campaign, they were largely unfunded and relied on phone banks and working the pavement because they could not afford a television advertising blitz or mass mailers.
"We knew that if we just simply came together and told the truth about the measure and reminded people about the way that this [L.A. County Metropolitan Transportation Authority] board operates in terms of not being responsive to community concerns, not responsive to riders' concerns," that they would vote against it, said Damien Goodmon, a longtime transit activist and Metro critic.
"It wasn't a vote against mass transit, it was a vote against inadequate return of our tax dollars," Goodmon said.
But Measure J supporters say the Nov. 6 vote shows that an overwhelming majority of county residents wanted to extend the tax — which Metro officials say would have allowed them to borrow against future tax revenue to build some projects faster, including a subway to the Westside.
"L.A. County overwhelmingly voted for progress, and that threshold does not reflect the will of the vast majority of voters and it needs to be lowered," Szabo said, adding that after the election, some voters thought the measure had passed because "no rational person looks at 66% and assumes that's a loss."
Szabo is a candidate for City Council, and it's unclear if Measure J's failure will hurt his campaign. Szabo, however, said he "would be more than happy to get 66.1% of the vote in my race."
Denny Zane, executive director of the pro-J group Move L.A., pointed to several reasons the measure fell short, such as lower voter turnout compared with four years ago. But he mostly put the blame on the late anti-tax activist Howard Jarvis and Proposition 13, which mandated two-thirds approval for tax increases.
"Losing Measure J by 0.56 [of a percentage point] even as it won 66.11% of the popular vote is a painful and, frankly, appalling reminder that the ghost of Howard Jarvis still hovers over California," Zane said. "Only in California would 66% of the vote be a defeat instead of a landslide victory."
No formal campaign to overturn the two-thirds requirement has been launched, but Zane said he and several other activists are going "the Johnny Appleseed" route, meaning they are beginning to plant the idea of a campaign in stakeholders' and lawmakers' minds. He said one idea is lowering the requirement from a two-thirds majority to 55%.
Zane has publicly called on Gov. Jerry Brown to help lead the charge, saying he could use the momentum of winning Proposition 30 — a sales tax measure to provide money for schools — and other recent Democratic gains across the state to buttress the cause.
"Would he work with us to change the local voter threshold for new transportation revenue sources?" Zane asked.
A spokesperson for Brown would not say whether the governor would be interested in championing the campaign, saying only that Brown "has not issued a public comment on this issue."
---
The stories shaping California
Get up to speed with our Essential California newsletter, sent six days a week.
You may occasionally receive promotional content from the Los Angeles Times.