Orange County Catholics welcome new bishop, Kevin W. Vann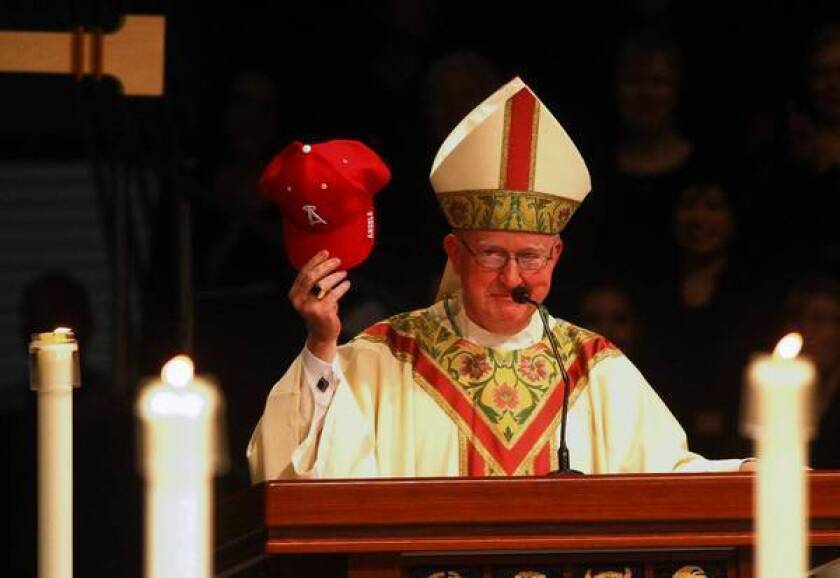 Nearly 4,000 people gathered at UC Irvine on Monday to welcome the newest leader of Orange County's nearly 1.3 million Catholics.
A former medical lab technician with a penchant for the piano, Bishop Kevin W. Vann, 61, was welcomed with wild applause throughout much of the two-hour ceremony, particularly after he was led to the cathedra, or bishop's chair, by Los Angeles Archbishop Jose H. Gomez.
Greeting the crowd in Spanish, Vietnamese and Korean, Vann spoke of his Illinois upbringing near the Mississippi River and his journey out West.
"By the hand of God I believe we have been brought together to be, as the Scripture says, the stream that gladdens the city of God," said Vann, who also flashed an Anaheim Angels ball cap.
"Let us sing and keep going," he told the crowd. "What do I mean by keep going? Make progress."
Vann was chosen to lead the Roman Catholic Diocese of Orange by Pope Benedict XVI in September, but Monday's installation made it official. Vann succeeds Tod Brown, who held the post through some of the diocese's most tumultuous times, including the priest sex abuse scandal.
Vann's arrival comes at a pivotal time for the diocese, which is the nation's 10th-largest, and also considered one of the fastest growing.
Brown said in a statement that though the diocese has made progress in the last 14 years, including last year's $57.5-million purchase of the Rev. Robert H. Schuller's Crystal Cathedral in Garden Grove, "much work remains to be done."
"This work will require an administrator with proven skills and a spiritual leader with an abundance of faith," he said, adding that Vann possesses those traits and more.
Vann is not unfamiliar with the challenges that a growing contingent of worshipers will provide. As the bishop of the Catholic Diocese of Fort Worth, Texas, since 2005, he oversaw more than $135 million in capital improvements and helped oversee the opening of the nation's largest Vietnamese church.
Vann will face a $100-million capital campaign, which will go toward parish renovations, school funding and upgrades to the high-profile Crystal Cathedral for Catholic worship.
Monday's event was attended by bishops from across the country, as well as such local religious personalities as Rick Warren — pastor of the giant Saddleback Church — and Schuller.
After the ceremony, spectators said they were very excited about Vann's arrival.
Arthur Birtcher, a real estate developer who serves on the Orange Catholic Foundation, said he was impressed by Vann's enthusiasm and excitement.
"He's a grand salesman for the church," said Birtcher, as his wife, Gaye, chimed in.
"He's chitchatty," she said.
Others, such as Julie Stevens of Kansas City, were brought to tears by the ceremony.
"He's definitely by the people and for the people," she said. "He's one of us."
---
For reporting and exclusive analysis from bureau chief John Myers, get our California Politics newsletter.
You may occasionally receive promotional content from the Los Angeles Times.