Each holiday season, an ex-foster child searches for her siblings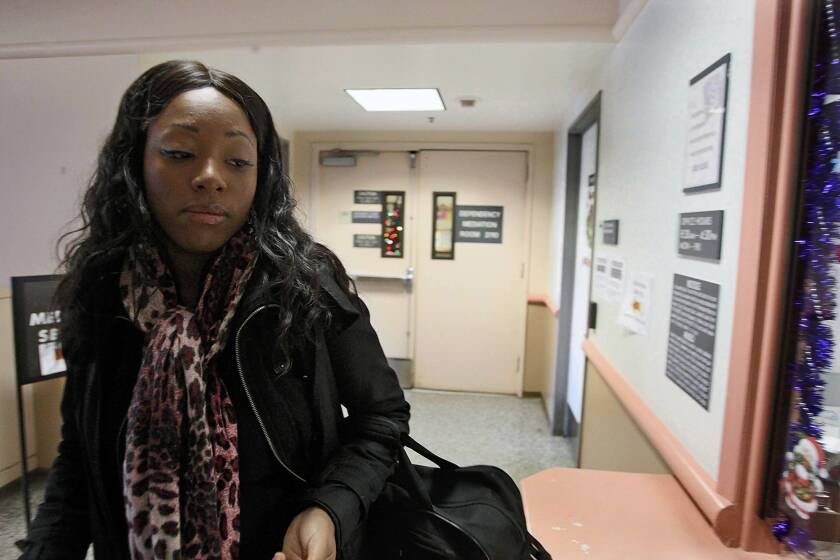 Stepping across grass-tufted sidewalks on her way to the bus, Meredith Kensington passes sparkling lights and Christmas cheer. But she can't feel the holiday warmth.
She wants to spend the holidays with three siblings she cannot find. She lost contact with her sister and brother 15 years ago when they entered the byzantine bureaucracy of the Los Angeles County foster care system. She never had a chance to meet one of her half brothers before he followed them into the system, soon after his birth eight years ago.
Each holiday season, Kensington renews her effort to find Marilyn and Aubrey Langston and Eddie Sanchez. It means a holiday season filled with court petitions and plaintive calls to social workers. There are moments of hope when she imagines being reunited with them — what they'd say, what they'd do — followed by disappointment and despair.
Once again this year, she has failed to find a phone number or address that can connect her to the siblings and create her long-sought holiday family reunion.
"You feel you are in the gray," said Kensington, a 29-year-old aesthetician who lives in Los Angeles' Westlake neighborhood. "You are in the shadows."
Kensington has joined an untold number of foster children with few family roots who try in vain to make contact with long-separated brothers and sisters.
State law gives foster children the right to connect with siblings unless there is a court order specifically preventing it.
But the reality is not so straightforward. Experts say that many foster families don't want these reunions, fearful it could cause disruptions within their households.
"If the county has a person who seems to be a good caregiver and they say, 'I'm sorry, my life is complicated enough,' then sometimes that's what happens," said Leslie Heimov, chief of the court-appointed law firm for foster children in L.A. County. "Unfortunately the county does not have the ability to pick and choose. There are not 50 people lined up to take care of every child."
In a system focused on providing homes for children in need, reuniting siblings has never been enough of a priority, Heimov said. "It's certainly an issue that everyone in the system — judges, lawyers, policymakers — knows is an issue, and there is a constant effort to prevent it."
Kensington, who has a steady job and no criminal record, has never been told why she hasn't been granted access to her siblings.
"I feel like I'm in a dream. Every time I ask, it doesn't matter to anyone."
::
Kensington said her mother and father struggled with drugs and alcohol. Between both parents, she has 14 half siblings, including Eddie, and two full siblings, Marilyn and Aubrey. Courts eventually took away her mother and father's parental rights to many of their children.
Although the family was scattered across numerous foster homes, Kensington tried to keep tabs on all her siblings and serves as a mother figure for many of them — but the three youngest escaped her reach.
In the beginning, a grandmother took in Marilyn, born in 1993, and Aubrey, who followed a year later. The two children lived with her until her death in 1996.
"Her last words to me were to look after them and not to let them fall into foster care," Kensington said.
But it was too much to ask from a seventh-grader who was already in foster care herself. The two babies went to live with strangers.
Kensington managed sporadic contact until Marilyn and Aubrey failed to appear at a Valentine's Day party in 1997. Kensington still carries the cards she wrote them that year in crayon.
Two years later, when Marilyn was 5, Kensington learned of a phone number for the group home where she was living. She dialed the number and a little girl came on the line.
This is your sister, Kensington recalled saying to Marilyn.
Marilyn replied, I have a sister?
Then a woman at the home grabbed the phone and hung up, Kensington said, and subsequent calls were blocked without explanation.
"This is a deep wound for me — to be ripped away and not know why," Kensington said.
In 2000, Kensington said, she received a picture of Marilyn and Aubrey from her social worker, but no contact information and no information about their living situation. Her siblings appeared sad to her — with downcast faces and ill-fitting clothing.
Kensington worried they were in a foster home as bad as hers had been. According to court records reviewed by The Times, social workers suspected her foster family was committing fraud. The parents had 10 foster children and successfully sought for each of them to be qualified for the highest payment rates, saying they all had difficult special needs. "The foster mother is estimated to be receiving about $130,000 per year in foster payments" tax free, social workers told the court.
Kensington said, "The foster parents told me they would give me Jordans [basketball shoes] if I acted crazy with the doctor, and I'm ashamed to say I did it."
Her stay there ended in 2001 when witnesses believed they saw the foster parents' adult son pull a gun on her during an argument, according to statements in court records.
"I ran away. I didn't trust anyone," Kensington said.
Four of her half brothers stayed behind in the foster home. Two are now in prison, one is homeless and one was shot and paralyzed at age 15.
Kensington worried that Marilyn and Aubrey were somewhere living in similar circumstances.
::
By chance, she caught a glimpse of them on television in late 2001.
A "Wednesday's Child" report on KTTV-TV Channel 11 spotlighted the two siblings, Marilyn and Aubrey, noting they were available for adoption. The newscaster said they were orphans with no family.
Kensington said she called the newscaster but she was unable to put her in touch with her siblings.
Kensington continued to see Marilyn's face for months in advertisements for children available for adoption.
"I am truly hurting inside," Kensington wrote in a letter about the TV report to her co-workers at the Social Security Administration, where she was a clerk at the time. "All of our lives have had so much loss."
Almost every year since, she says, she has prepared for the holidays by filing petitions with the court asking for contact information for Marilyn, Aubrey and Eddie.
During her years of appeals, the Department of Children and Family Services replied with a letter just once, she said.
In 2003, a social worker responded with a letter that confused Kensington with her mother. As a result, she was told she was ineligible for sibling contact information. Kensington, who shared her mother's first and last names but a different middle name, had included her date of birth on the petition, making her 19 at the time. Marilyn and Aubrey were 9 and 8.
Kensington became a mother the next year. Since then, she has entertained her daughter by making up fairy tales about a special princess and prince who lived a royal life and went on adventures. Their names were Marilyn and Aubrey.
On Wednesday, she rode the bus for more than an hour to return to Edelman Children's Court in Monterey Park. She strode once again to the counter marked "Adoptions and Abandonment," refusing to ponder the improbability of her desired outcome.
According to Bill Thomas, who leads the Department of Children and Family Services unit that will respond if the court approves the petition, the county does its best to facilitate reunifications by scouring databases and records for contact information.
If Marilyn, Aubrey and Eddie are found, they will be contacted and asked whether they want to hear from Kensington, he said.
At home, Kensington keeps a wood box of items she is waiting to give them. Inside is a growing stack of undelivered greeting cards and funeral programs for all the holidays and family passings the brothers and sisters have been unable to experience together.
---
The stories shaping California
Get up to speed with our Essential California newsletter, sent six days a week.
You may occasionally receive promotional content from the Los Angeles Times.