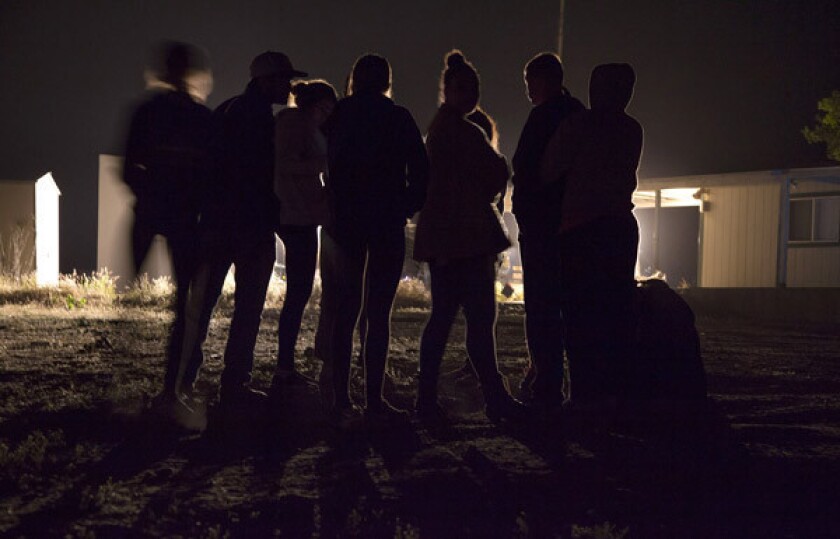 One of two hikers missing in the Trabuco Canyon area of Orange County since Easter Sunday was found alive Wednesday night, authorities said.
Nicolas Cendoya, 19, was being taken to a trauma center, authorities said. Search crews had not found his hiking partner, Kyndall Jack, but were scouring the area.
Cendoya was "dehydrated and very confused," said Lt. Jason Park of the Orange County Sheriff's Department. Cendoya was found about half a mile from where the two had parked their vehicle.
Audio: Russ Jack talks about rescue efforts
"We're confident that we will find Kyndall," Park said.
For days, scores of investigators — on horseback, in helicopters and guided by bloodhounds — have combed the rugged hills of south Orange County while an army of volunteers have trudged into the wilderness to find the two teen hikers.
Cendoya and Jack, 18, vanished near Holy Jim Canyon, calling authorities for help Sunday evening before their cellphone died.
As the search continued Wednesday, authorities — as well as friends and family — remained optimistic: The weather had been on their side, and the two teens are said to be athletic with no medical issues. Authorities also said they'd found no evidence of foul play and had dismissed the possibility that the teens could actually be elsewhere.
There had been a few glimmers of hope: Before dawn on Wednesday, volunteers thought they spotted flickers from a cigarette lighter high on a hill. But it proved to be nothing.
By later Wednesday, the trail seemed cold, and a sense of frustration was beginning to fester.
"I thought it would be simple," said Kip Hancock, a neighbor and friend of the family, noting that most trails lead out of the canyon. "But, obviously, it's playing out a little longer than everyone expected."
The hikers got lost in what is Orange County's backcountry, where tidy tracts of homes and homogenized commercial developments give way to narrow, winding roads, steep green hills and dense brush that could be a hurdle for inexperienced hikers such as Cendoya and Jack.
The pair — both graduates of Costa Mesa High School — are friends who worked out together at a local gym. Both were high school athletes: She played softball and volleyball; he played football. Classmates said they were both well-liked and popular. She is now a freshman at Cal State Fullerton, and he's enrolled at Orange Coast College.
"They have a lot of good friends, I can say that," Hancock said. She's an "awesome girl," he said. "They're both good kids."
Katrina Foley, a family friend and a trustee with the Newport-Mesa Unified School District, called Jack a "very outgoing young
woman who has a lot of friends."
As the days have passed, two outposts at the foot of the search area emerged: A hub for the array of agencies contributing to the search, a home base for the official investigation; and the other, a gathering point for a legion of volunteers — friends and family, neighbors and classmates, and others who didn't even know the missing teens but wanted to pitch in.
The volunteers have settled in at a dusty airstrip about a mile off the road, from which waves of volunteers were deployed into the hills to search on their own.
Officials, however, have discouraged the volunteers, cautioning that they could get in the way of the investigation — disturbing trackers as they scour the area, or possibly getting lost themselves, drawing resources away from the main search.
"Let the rescuers do what they do," said Capt. Jon Muir of the Orange County Fire Authority.
"This is what they are trained in.... They train on this every day. They know the hills. They know everything. And they can move very quickly."
But volunteers said the more people looking the better, and some were skeptical of authorities and whether they were devoting as many people and resources as they could.
"I can't see how this love and more eyeballs is a detriment," said Joel Stoltz, a family friend.
Word of the search has spread through social networks and by mouth, and the gravel road leading to the command post was lined with cars.
A local shaved ice company had even set up a tent, handing out free refreshments to volunteers.
"For all these people to come out for her, that's pretty gracious, if you ask me," Jack's father, Russ Jack, said early Wednesday afternoon, pointing to the cars winding up the road and clusters of volunteers.
But Stoltz, who had been coming out for three days, said he was becoming concerned, and growing anxious for answers.
"It's been really up and down," Stoltz said before Cendoya was found. "Nothing seems to make sense: no clues, no sightings, no hope to cling on."
Near the end of the day Wednesday, authorities had to mobilize for two different rescue missions.
In one case, another hiker — unrelated to the search — had to be plucked out by helicopter after being injured.
The other was for volunteers who set out to find Cendoya and Jack. But they'd only ended up getting lost themselves.
---