L.A. Unified's iPad rollout marred by chaos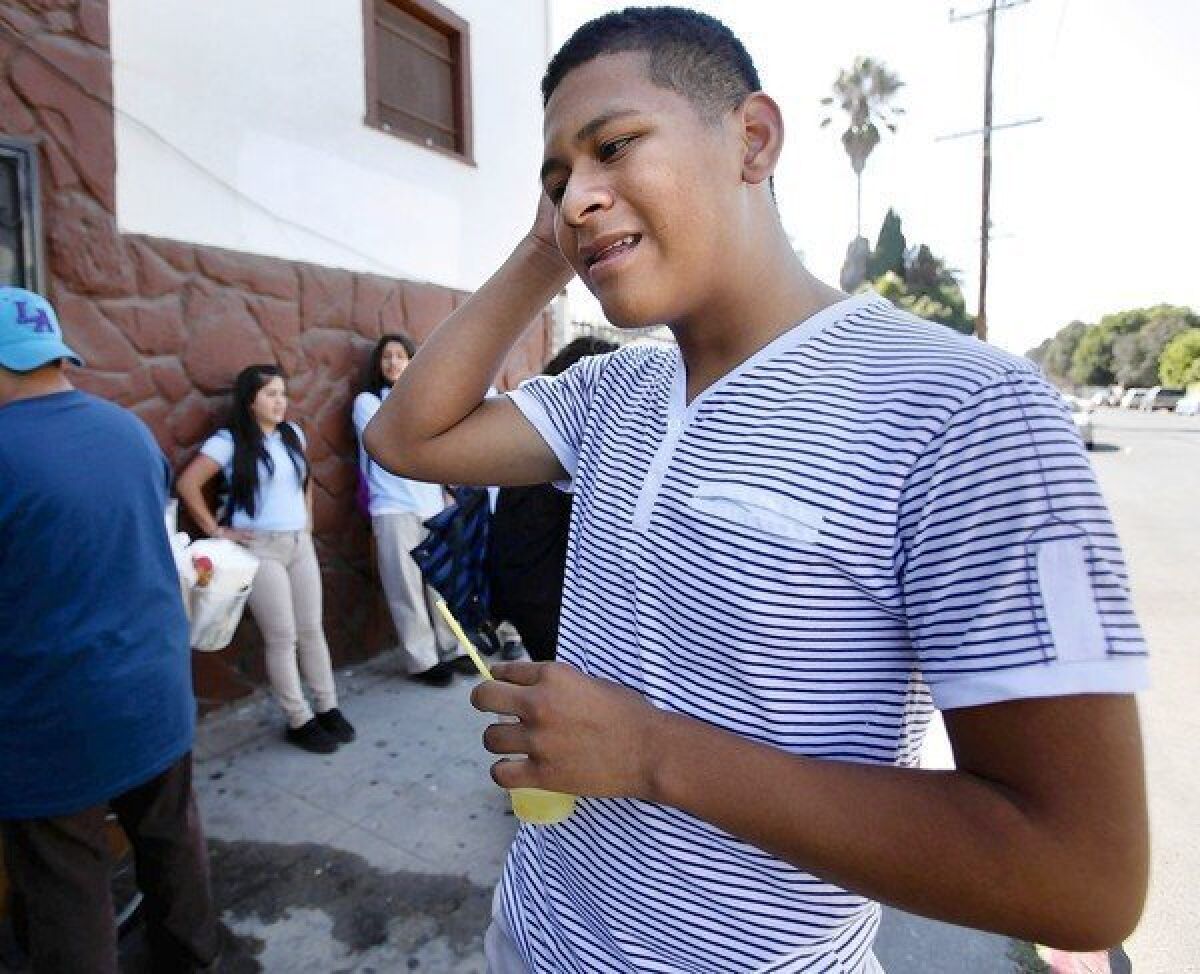 At a taco truck near Maya Angelou Community High School in South Los Angeles, senior Ramiro Gonzalez showed off his school-issued iPad tucked into his backpack Tuesday, excited that he still has it.
"They're saying we might have to give them back now," he said. "But I hope we get to keep them."
Nearby, Eliazith Lorenzo, a senior at a different school on the same campus, had his iPad taken back only days after receiving it. He'd used it a little in class but said he'd mostly played a soccer game on it at home.
Ramiro and Eliazith represent the confusion and complexities in the Los Angeles Unified School District's $1-billion effort to provide all its students with the Apple tablets. The first rollout, at 47 campuses, has raised questions about whether the nation's second-largest district tried to do too much, too soon.
Teachers reported not being able to connect to the Internet in some classrooms. Students bypassed security measures and surfed prohibited websites. Parents aren't sure if they're liable if the $678 tablets get lost or break. District directives have been misinterpreted.
The latest: Students from three high schools — Angelou, Roosevelt and Westchester — have been told to surrender their iPads until further notice. Students elsewhere aren't being allowed to take them home.
The students themselves aren't even sure why some tablets were taken back while others weren't.
"They gave them to us, but then they said that we had to give them back," Eliazith said. "Somebody hacked into them or something."
Schools Supt. John Deasy, who has pushed for the iPads, remains undeterred and said the project is essentially on track.
"It's an astonishing success," Deasy said in an interview Tuesday. "I couldn't be more pleased to get [the iPads] in the hands of students and teachers. The feedback has been extremely positive.
"This is a civil rights issue," he said. "My goal is to provide youth in poverty with tools that heretofore only rich kids have had. And I'd like to do that as quickly as possible."
Others, however, have applauded the goal but not the execution.
"I think the district hurried the iPad rollout," said Scott Folsom, a member of the committee that oversees school bond spending. The tablets are being funded by bonds: about $500 million for the devices and the rest for wiring campuses and other costs.
"We strongly believe that students need access to technology as a tool," said Judith Perez, head of the association that represents principals and other administrators. "Nevertheless, there are unanswered questions regarding the iPad rollout, which need to be resolved before the distribution of additional devices."
She noted concerns about security, the curriculum on the tablets and what she called the need for a consistent, coherent policy on the use and handling of tablets.
Security issues emerged more than a week ago, when more than 300 students, including those at Angelou, Westchester and Roosevelt, evaded an Internet security filter when using the tablets off campus.
Technicians could tell which devices and which students were involved, but officials still were taken by surprise.
At Westchester, students reported that there were problems from the get-go, including tablets that were configured in different ways with different levels of security. Some students deleted the district security filter with two clicks. Others may have been unhindered in the first place from going wherever they wanted on the Web.
Principal Robert Canosa-Carr hauled in some of his best students, who were among the first to tinker with the filter, including Brian Young, a candidate to be valedictorian, according to students.
"He wasn't threatening me but he told me millions of dollars of technology had been compromised because of me," Brian said.
Canosa-Carr was not on campus Tuesday and a call to the school was not returned.
Brian said he'd deleted the security filter because he wasn't able to access the Web from home. He'd first hoped to download apps at school, but students were directed not to do so after the entire system crashed, Brian and another student said.
Students said they were told the crash might have been caused by classmates trying to download Apple's new operating system — something students had not been authorized to do.
The director of the tablet program, Bernadette Lucas, said that she was unaware of any crash at any school and that the students might be mistaken.
In any event, "there are network issues for schools," whether or not they have iPads yet, Lucas said. And it's natural for any technology project to confront problems, she said.
The three high schools where security was breached were the only ones that had allowed students to take tablets home, which is where those problems occurred, Lucas said. The tablets would be returned to students once these campuses work out a plan to issue and then reclaim the tablets on a daily basis.
Some staff members at Roosevelt said they had heard a different rationale for removing the tablets: the need to install new security software. That also was the reason cited by Deasy on Tuesday.
Until the day the tablets were returned to the school, Roosevelt students had continued to take them home with the school's blessing, in violation of a directive from Deasy to keep them at school.
Any transgression was unintentional and resulted from confusion and other problems that burned up too much instructional time, said teacher Lisa Alva.
The Angelou campus, which has several small, separate schools, had distributed tablets at two of them. Students at both had been taking tablets home, but only students at one had to return their iPads.
Ramiro and his friends still were taking their tablets home Tuesday.
howard.blume@latimes.com
stephen.ceasar@latimes.com
The stories shaping California
Get up to speed with our Essential California newsletter, sent six days a week.
You may occasionally receive promotional content from the Los Angeles Times.