Reinvention is ageless artist's passion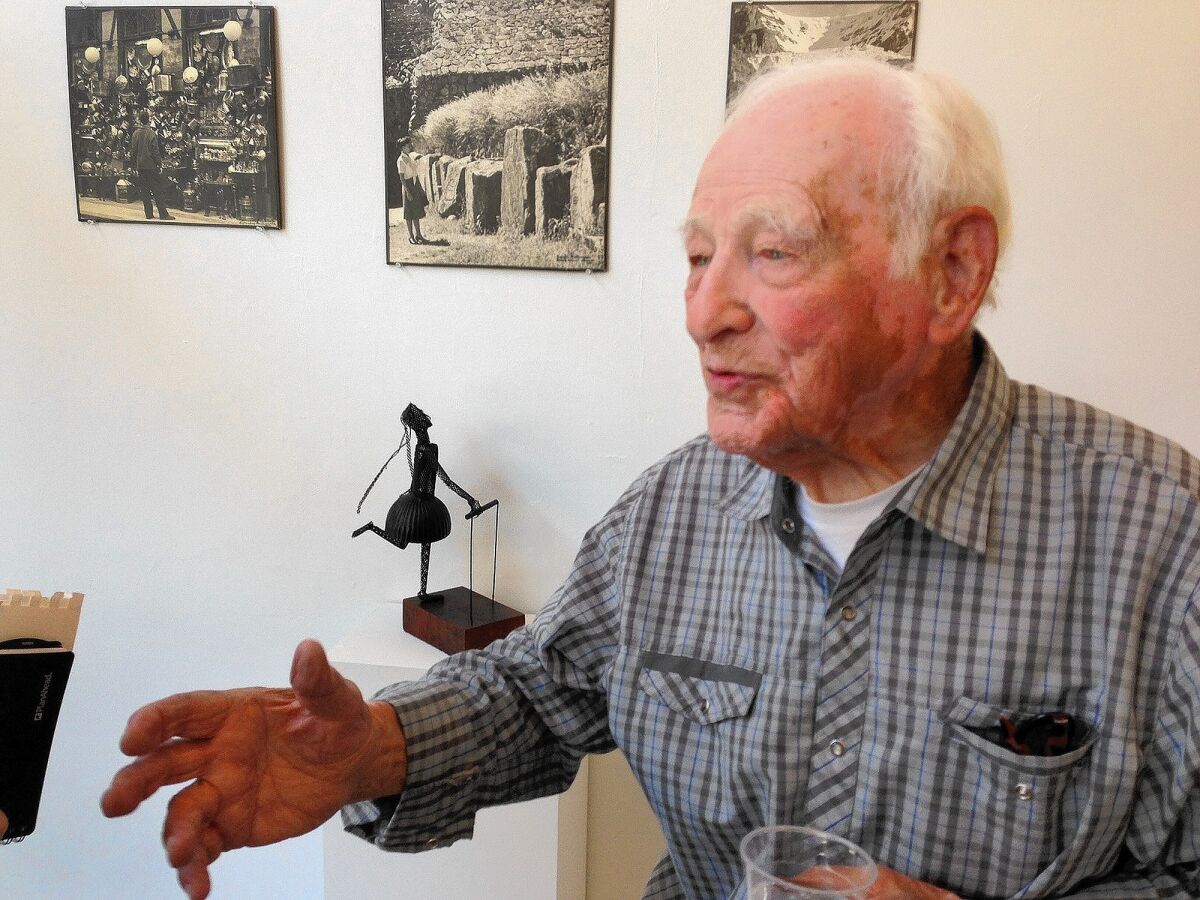 Morrie Markoff is not now and has never been a man of half measures.
When he saw Depression-era evictions in his New York tenement, he became a fiery political activist.
When he trained as a machinist, he was top of his class.
When he argued with his wife, he left nothing in the tank.
There's much to be learned from people like Markoff, who died briefly in 2012, but, true to his nature, clawed his way back to life.
"His heart stopped, his eyes shut, his mouth fell open and his tongue dropped out," Morrie's daughter Judy said to me in an email, adding that the grieving family retreated to Good Samaritan Hospital's meditation room. But 45 minutes later, a staffer called them back to her father's room.
"There Dad was," said Judy, "very much alive and joking."
The next day, the freshly resuscitated Markoff turned 99.
Last month, he hit 100, and what better way to celebrate a full century on the planet than to be discovered as an artist.
This week, Markoff's first-ever art exhibit has been extended due to popular demand, which comes as a bit of a surprise to him.
"I'm not an artist," he told me last week in his Bunker Hill condo. "I can't draw."
But he had just loaded two dozen of his sculptures into boxes for delivery to the gallery.
"They're very excited about having you," I told him.
"I'm very excited too," Markoff said. "Never did I expect this to happen."
Last year, when I wrote about Markoff reaching out to me regarding my own brief death and resuscitation, I briefly mentioned his art and photography hobbies. About the same time, Morrie and Betty, his wife of 75 years, had moved downtown from Silver Lake and were discovering their new environs. On the bus one day, they met Tracy Huston, director of the Red Pipe Gallery in Chinatown.
Markoff told Huston he had no artistic training but had used scrap metal from his shop — Freeway Appliance near Melrose and Vermont — to craft images from his lifetime that had lingered with him through the decades. Huston said she might like to exhibit the work, but then worried about having led Markoff on before seeing what he was capable of.
When she finally saw the sculpture — she exhaled.
"It was an extraordinary delight," Huston said. "He's got a kind of old-world gathering of people playing chess in the park, and then he's got archetypal transition points related to his own family, such as the coming of age of his daughter. So he chose moments that were intensely personal to him, but it transcends to a shared public cultural experience."
There's a spit-and-polish shoe shine boy Markoff used to see on a New York street; a braided ballerina limbering the gams; construction workers, backs arched, throwing their weight into a job.
"The execution and craft are fantastic, and he also developed what is his own style," Huston said.
It all began in the mid-1950s when Markoff was set to throw out an old toilet at Freeway Appliance but paused over the tank float. He and Betty had just been to the ballet, and it struck him that the float was pleated like the skirt of a ballerina.
"I cut it in half, I bent some screen and some wire, and I had it," Markoff said.
OK, but I could bend some metal too, and it wouldn't end up in a show. So how did Markoff get from machinist to artist?
"I always loved art," Markoff told me. "I can't always remember who did it, but I always liked it. If you're a machinist, you know what to do. I knew how to weld, and it all came together."
Markoff said he got a little better with each piece, but as a man of many curiosities, he was ready to move on to the next passion by the mid-1960s. So he stacked some of his scrap-metal creations on the shelves of his home, passed off the rest to family members and dived headlong into photography.
He wasn't half bad at that, either, traveling the world with Betty and friends and shooting black and whites of people and landscapes. Some of that photography is in the exhibit at the Red Pipe, and so are a couple of his paintings. Markoff is still putting brush to canvas in his home studio.
He had one misgiving about letting Huston show his work. He plans to leave all his art to his family when he dies, should that ever happen, and he felt badly about Huston taking the time to display work he doesn't want to be sold.
Huston said she was happy to stage an "exhibition-only" show, although, "I had some collectors in who were annoyed that nothing was for sale."
If you'd like to catch the exhibit and meet Markoff, he'll be feted at a reception Wednesday evening from 5 to 8 p.m. at Red Pipe (978 Chung King Road). The exhibit will be on again Saturday from noon to 8 p.m., when all the Chung King galleries celebrate the Chinese New Year.
Huston told me that after watching artists and others react favorably to the show, she's backing off the 100-year-old angle.
"People are reacting to the art," she said, and not the age of the artist.
Markoff himself had something to say about that.
"Please, ease up on this 100 business," he said Tuesday in an email. "I am trying to pass as 90."
The stories shaping California
Get up to speed with our Essential California newsletter, sent six days a week.
You may occasionally receive promotional content from the Los Angeles Times.