To combat hunger, Venezuelans in the U.S. ship food to relatives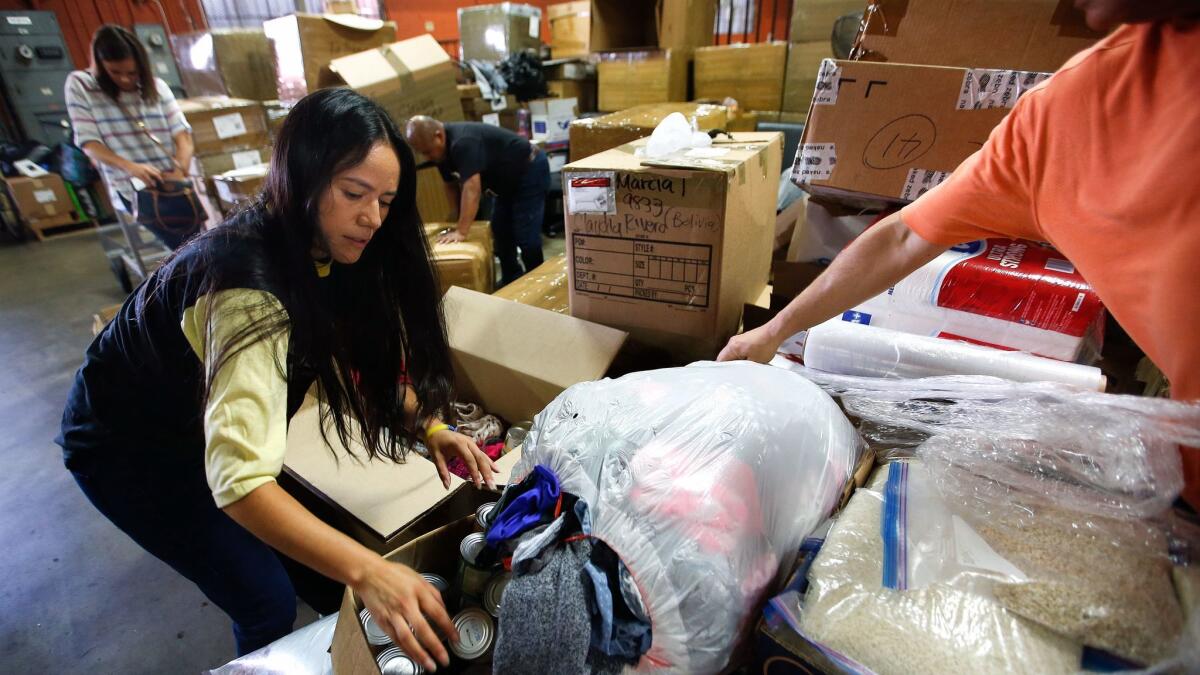 While video chatting with relatives in Venezuela, Tere Caicedo watched as they opened a package she had sent them stuffed with clothes, shoes and a large bag of oatmeal.
The bag had ripped during transport, spilling oatmeal all over. Caicedo, a Santa Ana resident who cleans houses for a living, told her relatives not to worry. She would send more.
But her uncle carefully picked out the package's contents, flipped the box over and dumped the oatmeal into a bowl.
"No," he told her. "This is food. We can't just throw it away."
That moment in January brought home to Caicedo, the only member of her immediate family in the U.S., the pressing needs of a country spiraling out of control amid skyrocketing food costs, political chaos and shortages of nearly everything.
Caicedo is one of a growing number of Venezuelans in the U.S. who regularly ship necessities — beans, rice and sugar — to Venezuela at great expense.
"Before it was out of enjoyment, a Christmas gift," Caicedo said of previous packages. "Now it's more serious. Now it's necessity."
Behind the efforts are individuals, large-scale organizations such as the nonprofit Humanitarian Aid for Venezuela Program in Florida, and grass-roots groups such as the one founded by Caicedo.
Los Angeles is far from the hub of Venezuelan American life in Miami, but expatriates in Southern California began organizing as their home country plunged deeper into disarray.
Their efforts caught the attention of one crisis response organization late last year, the Buena Park-based Giving Children Hope, which has since shipped more than 30,000 pounds of supplies to nonprofits in Florida, which sends them on to Venezuela. Venezuelan actors living in Los Angeles, including the telenovela star Carlos Montilla, have helped mobilize people through social media posts.
Venezuelans in the U.S. tend to be professionals with higher levels of education than other Latino immigrants. Experts say the crisis is forcing the Venezuelan population to become more like the rest of Latin America, where relying on remittances is the norm.
Caicedo's relatives never asked for help — they only spoke of how expensive things had become. Her father owns a farm, but shortages of pesticides and vitamins started about three years ago and have worsened, making them prohibitively expensive even when they were available.
As the humanitarian crisis in Venezuela grew, Caicedo asked her church for donations of food, clothes and money. She held a raffle and organized a carwash.
She and a group of volunteers have since shipped about 8,000 pounds of food, clothes and necessities, such as toilet paper, diapers and soap, to Venezuela. Her brother, Jose, and other relatives keep what they need and distribute the rest of the goods to needy families.
Several boxes from one of Caicedo's latest shipments went to the Providence San Antonio Asylum, a retirement home for low-income men located in southwest Caracas.
There's almost nothing the shelter isn't short on. The director, Sister Ana Medina Suarez, said that although there is space for 70 people, only 52 live there because the foundation can no longer afford to care for more.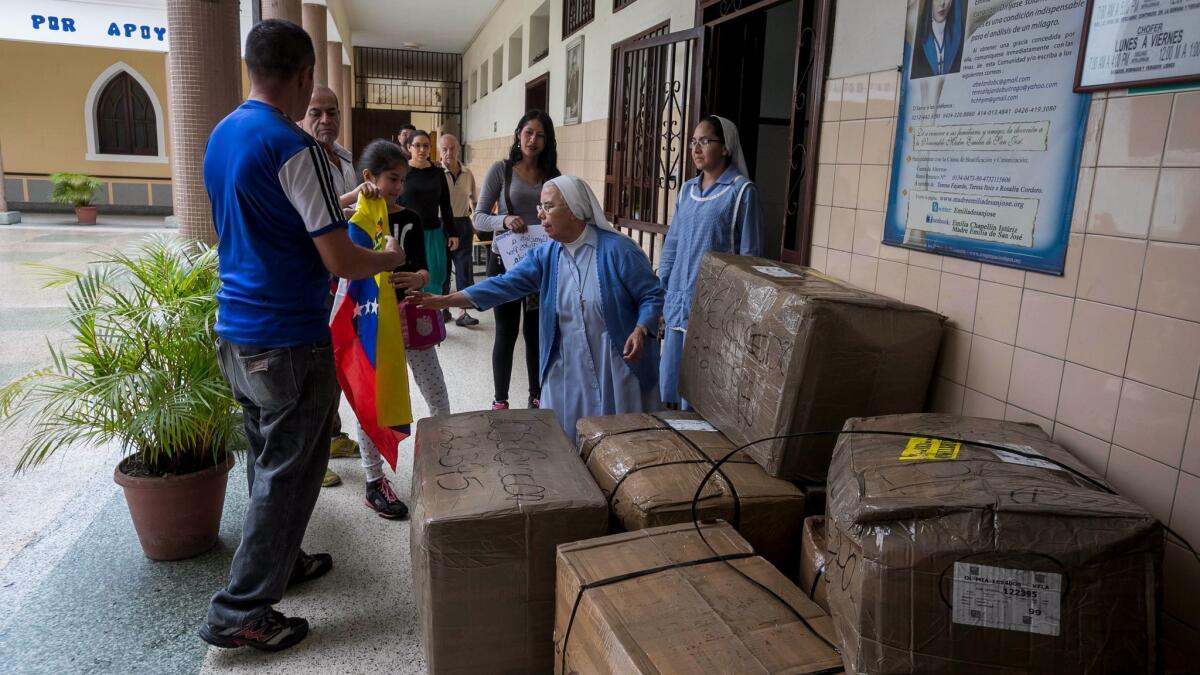 Suarez said that residents are losing weight and that food shipments are vital.
"There is no adequate phrase to describe what we are going through," she said.
The pantry's contents consisted of 22 pounds of rice, nearly 9 pounds of black beans, 4 ½ pounds of cornflour, several bags of salt and three avocados. The three freezers and two refrigerators were empty. Meat is impossible to afford.
Food prices in Venezuela have skyrocketed as production of oil, agriculture and cars has plummeted. Inflation since the beginning of the year has risen by more than 536%. This month, earnings for people who make minimum wage were the equivalent of just over $8.50 per month, at the black market exchange rate.
"People are dying of hunger now," Caicedo said. "Over there, a small bag of rice is like pure gold."
It costs $100 to ship a 7-cubic-foot box, which can weigh around 120 pounds. Caicedo has spent about $1,500 of her own money, plus more than $11,000 in donations.
Boxes are shipped by air and sea. As in other parts of Latin America, shipping to Venezuela through the postal service comes with a strong risk that packages could be stolen. In the U.S., shipping companies have popped up to meet the need for an alternative.
Ralph Olarte built his Los Angeles-based company, Olarte Transport, on Venezuelan retailers who bought goods in Southern California and shipped them home for sale. Shipments to Venezuela are now dominated by people sending food to relatives.
Olarte delivers in Caracas and surrounding areas, coordinating with people who live in high-risk areas to meet couriers at the nearest safe location. Other shipping companies have set up pickup locations so people can safely collect packages.
Olarte said some of Venezuelan entrepreneurs who used to fly to Los Angeles on business are now seeking asylum. Others who remain in Venezuela send him grocery lists to fill out and ship.
"Most of our customers actually live here in the States now," he said. "A lot of them, one of the first places they come to ask for work is here."
Caicedo and a volunteer from her church, Immaculate Heart of Mary Catholic Church in Santa Ana, hauled bags of donations into Olarte's company on a Friday in August. The sound of salsa music mixed with loud rips of packaging tape securing boxes addressed to "Jose Caicedo," her brother in Venezuela. They packed heavy cans of beans and tomato sauce at the bottom, then added bags of pasta, sugar, flour and white rice before a final layer of sweaters, underwear, pants and shoes.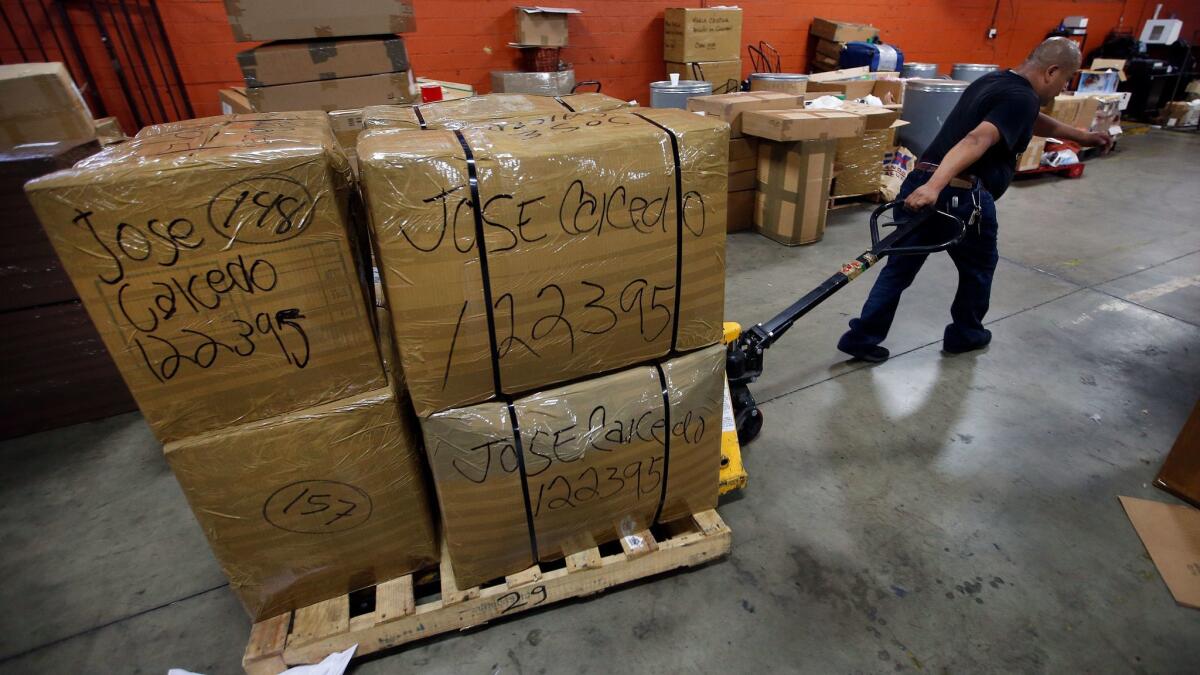 About 225,000 Venezuelan-born immigrants live in the U.S., according to the Pew Research Center — more than double the population in 2000. In 2014, Los Angeles was estimated to be home to about 5,000 Venezuelans.
Venezuelans top the list of asylum seekers in the U.S., with more than 21,000 such applications filed in 2017.
Nearly 75% of the population involuntarily lost an average of 19 pounds last year, according to a survey released this year by three of Venezuela's largest universities and a foundation that tracks nutrition. Venezuelans call the weight loss the "Maduro diet," a sarcastic reference to life under President Nicolas Maduro.
Severe malnutrition among children has risen most dramatically. Reports this year showed that 11.4% of children younger than 5 suffer from moderate to severe malnutrition. The Venezuelan health minister was fired in May after she released a report showing that maternal deaths had risen by 65%, while infant deaths were up 30%.
Across Venezuela, people are using Facebook and other social media to arrange food swaps— agreeing, for example, to hand over some sugar in exchange for cornflour.
The United Nations and the U.S. and Latin American governments have called on Maduro to accept humanitarian aid. But he has refused, instead offering $5 million in aid to Texas after Hurricane Harvey and then helping Caribbean island nations hit by Hurricanes Irma, Jose and Maria.
This year, the government banned a long list of imports, including first aid supplies and prescription medicine. Courier services keep shipments small to avoid the attention of authorities and, as needed, bribe customs officials to look the other way and let packages through.
Dassler Dazha, who runs a Facebook page called United Venezuelans in Los Angeles, recalled the story of a cousin who last year got into a store line in Caracas at 4 a.m. and finished shopping at 5 p.m. When she left the store, thieves were waiting. They beat her and stole her food.
Dazha used to send boxes of food but switched to cash because relatives could still find food in big cities or on the black market. He, like many expatriates, sends money home using an underground network of Venezuelans with U.S. bank accounts who trade dollars for bolivars at the black market rate.
But the country is running out of cash. Dazha said that to withdraw 30,000 bolivars from the bank in August, enough for less than a week's worth of groceries, his sister had to go several days in a row because the bank would only let her withdraw 5,000 bolivars a day.
The situation — and by extension, the best way to help — changes constantly.
Dazha's brother and sister had saved dry and canned food items in anticipation of hard times, but ran out of their stores in mid-September. He's now thinking about sending them boxes of food again. But he worries the shipments won't arrive.
"I don't know what to do," Dazha said. "That's the dilemma of all Venezuelans, the helplessness of not being able to do anything for our families."
To read the article in Spanish, click here
Twitter: @andreamcastillo
Special correspondent Mery Mogollon in Caracas, Venezuela, contributed to this report.
ALSO
Plans to rebuild hurricane-ravaged Barbuda reignite a decades-old land dispute
Driven by unrest and violence, Venezuelans are fleeing their country by the thousands
'I am full of anguish right now.' Thousands in Mexico remain without homes weeks after quake
Sign up for Essential California for news, features and recommendations from the L.A. Times and beyond in your inbox six days a week.
You may occasionally receive promotional content from the Los Angeles Times.