West Hollywood bars boycott vodka to protest Russian anti-gay laws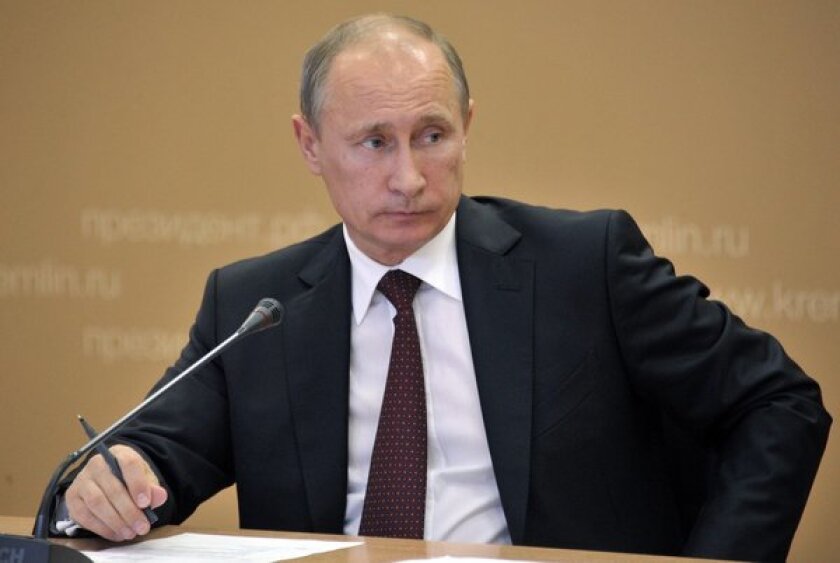 Several gay bars in West Hollywood have begun removing Stoli Vodka--made from Russian ingredients--from their shelves to protest recent anti-gay laws in Russia.
"Come on down and drink something other than Russian vodka!" said Brian Rand, an accountant at Eleven Bar & Nightclub, a gay bar on Santa Monica Boulevard.
Eleven stopped selling Stoli and all Russian vodka products Wednesday night, Rand said, with the enthusiastic support of its customers.
In a statement on its Facebook page, Revolver Video Bar, also on Santa Monica Boulevard, announced Thursday that it, too, would boycott all Stoli products "effective immediately."
"Revolver Video Bar could not support any brand associated with Russia at a time when the Russian government is implementing its anti-gay law that bans gay 'propaganda,'" the bar said in its Facebook statement.
Russian President Vladimir Putin recently signed legislation banning "propaganda of nontraditional sexual relations," including providing children with information on homosexuality and holding gay pride events. In June, the bill was overwhelmingly passed by Russia's parliament.
Human rights activists say the law has encouraged hate crimes against gays and lesbians and that attacks against gay people are increasing.
Putin also recently signed a law banning gay adoptions.
West Hollywood bars join a growing number of U.S. gay bars boycotting Stoli. Numerous Chicago bars have boycotted the vodka and other Russian products, according to the Windy City Times, a Chicago newspaper that focuses on the gay and lesbian community.
"Consumer action, for a long time, has been a part of any activism," Art Johnston, the co-owner of the gay bar Sidetrack Chicago, said in an interview with the Los Angeles Times.
Sidetrack--in Chicago's Boystown neighborhood, an LGBT hub–stopped selling Stoli earlier this week, Johnston said. The spaces on the bar where Stoli vodka bottles would sit remain empty so people will ask what used to be there, he said.
"I'm hopeful people will talk about this," Johnston said. "Either the lives of gay and lesbian people in Russia mean something, or they don't. Clearly, to us, they mean something."
The CEO of the SPI Group, which owns the Stolichnaya Vodka brand, responded to the boycott in an open letter "to the LGBT community" on Thursday.
"Stolichnaya Vodka has always been, and continues to be a fervent supporter and friend to the LGBT community," Val Mendeleev wrote in the letter.
The Stoli brand, he wrote, has no ties to the Russian government and is privately owned by SPI Group, headquartered in Luxembourg. The vodka, he wrote, is made from Russian ingredients.
"We fully support and endorse your objectives to fight against prejudice in Russia," Mendeleev wrote. "In the past decade, SPI has been actively advocating in favor of freedom, tolerance and openness in society, standing very passionately on the side of the LGBT community and will continue to support any effective initiative in that direction."
West Hollywood is home to a large lesbian, gay, bisexual and transgender population – about 40% -- and a large population of immigrants from countries of the former Soviet Union, who make up 11% of the city's population, according to a recent city survey.
Russian bakeries and stores line Santa Monica Boulevard -- as do gay bars. Public notices in City Hall, which has a rainbow flag flying outside, are in English and Russian.
Todd Barnes, the general manager of the Abbey, a gay bar on Robertson Boulevard, said he has received numerous emails from customers asking him to ban Stoli.
His bar, though, didn't sell it. If it did, he would have pulled it off the shelves immediately.
"Stoli is a big moneymaker," he said. "I think there is a possibility that the boycott could be something that could change policy. When it starts hitting a company's pocketbooks, they go to the government and say, 'We've got to do something about this."
Bob Yacoubian, the owner of Mother Lode on Santa Monica Boulevard, said his bar did not order Stoli this week from its distributors because of the Russian anti-gay laws.
"It's killing me to serve Stoli," he told one bartender in an email Yacoubian forwarded to The Times. Yacoubian is considering hanging a sign in the bar that the bartender made reading:
"Please enjoy one of our many other premium vodkas produced in other parts of the world. Russia's intolerance of homosexuality should not be supported by our hard-earned money!"
ALSO:
Two sought in car-to-car shooting on 91 Freeway in Bellflower
Guinness shoe record-holder beaten with baseball bat, D.A. says
Phony music exec sentenced; lured sex assault victim on Craigslist
hailey.branson@latimes.com
---
For reporting and exclusive analysis from bureau chief John Myers, get our California Politics newsletter.
You may occasionally receive promotional content from the Los Angeles Times.