Many Haitians have been arriving in San Ysidro, hoping to get into the U.S.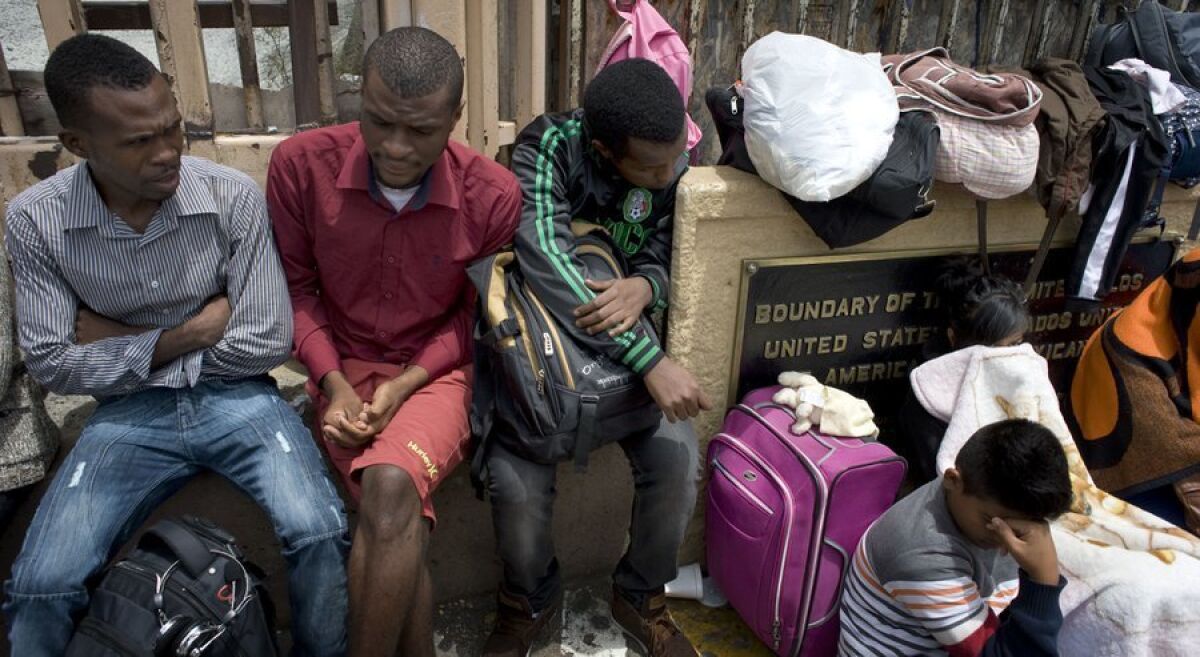 Reporting from San Ysidro, Calif. —
Surging numbers of Haitians and migrants from other countries have been arriving at the San Ysidro Port of Entry in recent days, hoping for admission to the United States.
More than 200 men, women and children were huddled together inside the port's pedestrian entrance Thursday, sleeping under blankets on the tile floor as they awaited processing by U.S. Customs and Border Protection. Outside the facility in Tijuana, about two dozen people seeking U.S. entry had gathered — a group that included Haitians, Mexicans and French-speaking men who said they were from Congo.
There have been so many people ....There are some that don't even have a blanket to cover themselves.
— Yuleni PĂŠrez, who sells newspapers in Tijuana, speaking of the migrants
One, who gave his first name as Cédric, said he was a 25-year-old mechanic from the Haitian capital of Port-au-Prince who had been working in Brazil. "I have left my country to look for a better life, like a lot of people," he said in French. He did not provide details as to how he had arrived at the border, except to say that he flew into Tijuana.
Another man, who did not give his name, communicated in broken Portuguese and Haitian Creole that he had left Haiti in 2013 for work in Brazil. To get to the San Ysidro border, he had crossed through several countries, including Ecuador, Colombia, Panama, Nicaragua, Honduras, Guatemala and Mexico. He said he was not seeking political asylum but was searching for a better life.
U.S. officials do not authorize interviews or photographs inside the port of entry, where inspectors on average process close to 25,000 northbound pedestrians a day. A statement issued by Customs and Border Protection said that "recently, we have seen an uptick in the number of Haitians arriving at San Ysidro with no status in the United States." While asylum-seekers routinely present themselves to authorities at U.S. ports of entry, the reasons for the recent spike were not clear.
The Haitians "are being processed on a case-by-case basis," according to the statement. After that, U.S. Immigration and Customs Enforcement makes a determination on admissibility into the United States.
Haitians traditionally have crossed to South Florida by boat, risking treacherous waters to get to the United States. Often they are intercepted by the Coast Guard and returned home. "Very few Haitians make it to dry land," said Cheryl Little, a Miami immigration attorney.
Brazil welcomed large numbers of Haitians after an earthquake devastated the island in 2010. But some have been leaving after encountering hard times in Brazil, Little said. The South American nation is enduring one of its deepest recessions in years.
In Tijuana, merchants near the border crossing said they began seeing a significant spike in the number of migrants walking up to the port without immigration documents last weekend. "There have been so many people, since Sunday," said Yuleni Pérez, who sells newspapers. "There are some that don't even have a blanket to cover themselves."
The head of the Tijuana office of Mexico's National Migration Institute, Rodulfo Figueroa, said that some migrants claim to be from non-European countries in Asia and Africa with whom Mexico has no diplomatic relations, and thus cannot be deported. In those cases, the migrants typically are released from immigration custody and given a set period of time, often about 20 days, to leave Mexico or else legalize their status by launching a political asylum application or other means.
Figueroa could not say whether the migrants were arriving on their own or through smugglers. "It's a mixed bag. I'm sure some are connected to smuggling networks, but some are not."
The crowding at the San Ysidro Port of Entry, he said, was the result of U.S. Customs and Border Protection receiving more asylum requests than it can process in a short time period. In the meantime, migrant shelters, the Tijuana city government and Mexico's federal migrant protection unit, Grupo Beta, have offered assistance.
"Some of them don't want to move because they don't want to lose their place in line," Figueroa said.
U.S. officials are using the old Customs facility at San Ysidro to process the migrants, said Jackie Wasiluk, an agency spokeswoman. In the interim, Mexicans and other tourists needing an I-94 form — for U.S. visitors who are traveling more than 25 miles from the border — are temporarily being directed to the Otay Mesa Port of Entry, she said.
After an initial processing, ICE officers — from the agency's Enforcement Removal and Operations division — "are responsible for determining whether [the migrants] will remain detained or released while their immigration cases undergo further review by the immigration courts," ICE spokeswoman Lauren Mack said.
sandra.dibble@sduniontribune.com
Dibble writes for the San Diego Union-Tribune
The stories shaping California
Get up to speed with our Essential California newsletter, sent six days a week.
You may occasionally receive promotional content from the Los Angeles Times.