Animal control officers uncover 80 snakes and a pool full of alligators at Thousand Oaks home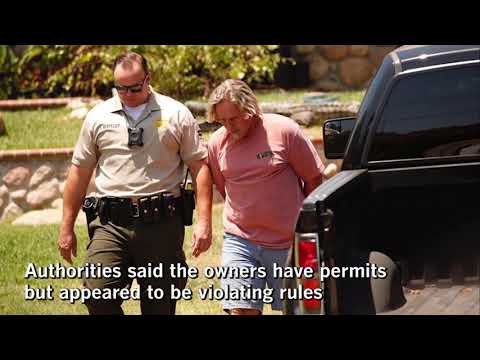 Animal control officers seized venomous snakes from a Thousand Oaks home. (July 7, 2017)
Animal control officers on Thursday discovered a congregation of alligators and dozens of venomous snakes inside a Thousand Oaks home where twice in the last three years a cobra has gotten loose and terrorized neighbors, officials said.
Hours after investigators searched the property and recovered at least 84 snakes, Ventura County sheriff's officials led the homeowner, Todd Kates, away in handcuffs, Sgt. Eric Buschow said.
Just eight weeks ago, Kates' next-door neighbor spotted a cobra slithering onto the property. The neighbor responded by driving a car over the snake, killing it, said Don Barre, a spokeswoman for the County of Los Angeles Department of Animal Care and Control.
Investigators determined the snake had come from the home next door, where in 2014, an albino monocled cobra had escaped and eluded capture for days while keeping locals on edge. That snake ultimately was captured but not before biting a 7-year-old whippet named Teko.
The more recent cobra "raised alarms" and prompted a new investigation, the director of the L.A. County animal control unit, Marcia Mayeda, told reporters.
Animal control officers and local authorities served search warrants Thursday morning at Kates' home in the 1300 block of Rancho Lane in Thousand Oaks and a rural address just outside the city limits, where Kates rented storage space for more reptiles, Barre said.
Inside a murky pool on the Thousand Oaks property, officers found eight crocodilians, each 2 to 3 feet long, Barre said. Mayeda identified them as American alligators.
Investigators had to drain the pool to see whether other predators were lurking at the bottom.
More snakes, some venomous, were found elsewhere on the property, Barre said. Altogether, about 84 snakes were recovered, as well as tortoises, birds and other animals, officials said.
Among the "very dangerous, venomous reptiles" were spitting cobras, king cobras and at least one moncoled cobra, Mayeda told reporters.
Kates was permitted to possess dangerous and highly regulated reptiles at the off-site storage site — where at least 20 snakes were kept — but he appeared to be in violation of the rules, Barre said.
"He was well over what his permit allowed," Barre added. The homeowner was also not authorized to keep deadly snakes at the Thousand Oaks home, officials said.
"It appears that, despite the multiple levels of permits, approvals, and periodic inspections required, the permit holder was housing deadly venomous snakes in an unauthorized, densely populated, residential neighborhood, and in such a manner that they posed a substantial risk to public safety," the Department of Animal Care and Control said in a statement.
Kates, 55, was the sole person arrested by officials on Thursday. It's unclear if others are also under investigation.
He was booked on 16 felony counts of animal cruelty, and remains in Ventura County jail in lieu of $250,000 bond, according to jail records.
For breaking California news, follow @JosephSerna on Twitter.
ALSO
Meet the Lassen Pack: New family of gray wolves found in Northern California
Ask Laz: Can customers bring dogs into Starbucks and other coffee shops?
'A travel ban for a pug? I don't think so!' How an abused puppy made the trip from Iran to America
---
UPDATES:
7:05 p.m.: This article was updated with details on Todd Kates' arrest.
This article was originally published at 12:45 p.m.
Sign up for Essential California for news, features and recommendations from the L.A. Times and beyond in your inbox six days a week.
You may occasionally receive promotional content from the Los Angeles Times.