Deportation looms for man arrested while dropping daughter off at L.A. school
Romulo Avelica-Gonzalez has been held at a detention facility since Feb. 28.
Sitting in an immigration detention center less than two hours from his home in Lincoln Heights, Romulo Avelica-Gonzalez counted up all the family events he has missed since his arrest Feb. 28.
There's the Los Angeles Marathon, for which he helped his 14-year old daughter, Fatima, train for several months. And the joint celebration they share every year — their birthdays are one day apart. He also missed his 28th wedding anniversary and his daughter's eighth-grade graduation.
"These five months have felt like five years," Avelicia-Gonzalez, 49, said in an interview Friday at the Adelanto Detention Facility in San Bernardino County.
His orange detainee jumpsuit stood out in sharp contrast to the interview room's bare, white walls. A large braided cross and two other religious necklaces hung around his neck. After an interview with The Times, his lawyer said guards confiscated the items, declaring them contraband.
Immigration agents arrested Avelica-Gonzalez minutes after he dropped off his daughter, Yuleni, 12, at school. Fatima, who was also in the car, sobbed as she recorded cellphone video of the encounter. The family's story has drawn international media attention.
In June, his lawyers settled Avelica-Gonzalez's 2-decade-old misdemeanor convictions — for driving under the influence and for receiving stolen car tags — that prompted the deportation order leading to his arrest. He pleaded guilty to lesser vehicle code violations.
His lawyers hoped that with the changes, ICE would grant his release and cancel his deportation order. When ICE agents detained Avelica-Gonzalez, his attorneys filed an emergency stay of removal with the U.S. 9th Circuit Court of Appeals, preventing his immediate deportation. The court reviewed the case and dismissed the stay in June.
The stay expired Saturday and now he could be deported to Mexico as early as Monday.
Avelica-Gonzalez has been in the U.S. illegally for more than 25 years. He had been an accountant in his hometown in the state of Nayarit, a job that doesn't require a college education in Mexico. Friends and family members spoke of how much more he could attain across the border. Over time, his family built a life in the northeast Los Angeles neighborhood of Lincoln Heights, where he also worked as a cook at a restaurant.
He doesn't think about the possibility of returning to his home country.
"I don't even want to think that they'll deport me. What would I do half my heart and mind in another place? Half here, half there," he said. "It would be too difficult."
Avelica-Gonzalez's detention has drawn reaction from local officials. In a March 15 letter to the Los Angeles field office director for ICE, Mayor Eric Garcetti said, "I have consistently expressed my opposition to an enforcement approach that expends limited resources on operations that divide families with little or no public safety benefit."
His wife and children have become symbols of the way immigration enforcement can separate families. The video of his crying daughter illustrated the impact of such events.
Avelica-Gonzalez said the agent who detained him pulled open his car door without identifying himself and demanded he get out of the vehicle. The agent drove an unmarked black car and wore a jacket that said "POLICE" on the back.
When Avelica-Gonzalez got out, he said the agent pushed him against the car and tightened the handcuffs tightly around his wrists. That's when he told his family to record video.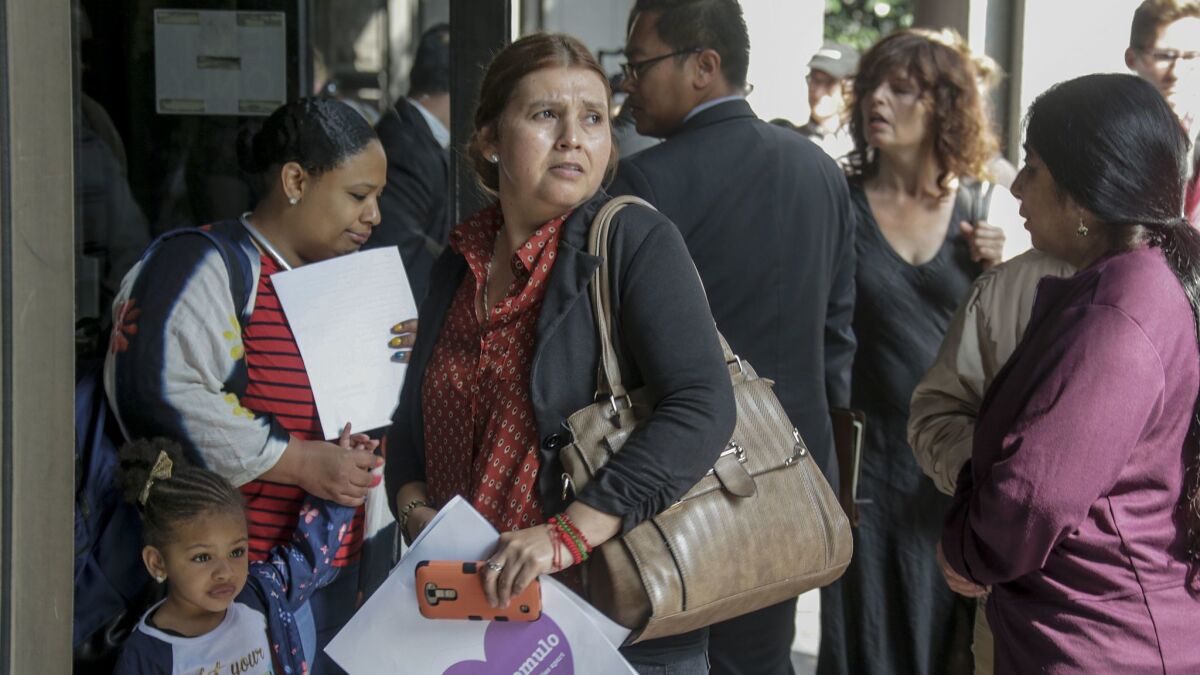 "We have to fight against these situations," he said. "We have a right to be here too, because of the roots we've built here. I've now lived more than half my life in this country."
An ICE official said the agency can no longer comment on Avelica-Gonzalez's case because of his pending U visa application.
At a news conference early last week announcing his potential deportation, his daughters told a sea of cameras why their father should be released.
"My dad is no criminal — in fact, he's a caring and hardworking father," Fatima said. "He didn't come to the U.S. looking for trouble, he came in search for a better life for his family. Yes, he made mistakes, but don't we all?"
Also last week, three of Avelica-Gonzalez's four daughters and his wife had Polaroid photos taken to send to him as gifts. As Monday neared, the family was still filled with hope. They wrote notes on the back of each photo.
"I love you dad," wrote 20-year-old Jocelyn. "We'll see each other very soon and we'll make you the carne asada that you like so much."
"I want you to know I love and miss you a lot," wrote Fatima. "We won't rest until we have you at home with us."
At Adelanto on Friday, Avelica-Gonzalez smiled as he read the notes. "Ay, God," he said, his eyes brimming with tears.
ALSO
Do you live in Lincoln Heights? We want to hear from you | Vives en Lincoln Heights? Queremos escuchar de ti
Mixed message from Trump on DACA sparks frustration from Dreamers as well as critics of illegal immigration
Robin Abcarian: It's a familiar calamity: Dad is in immigration jail, baby No. 4 is on the way, and Mom is struggling
---
The stories shaping California
Get up to speed with our Essential California newsletter, sent six days a week.
You may occasionally receive promotional content from the Los Angeles Times.