Lawyers settle criminal cases against Los Angeles father detained by ICE in front of daughter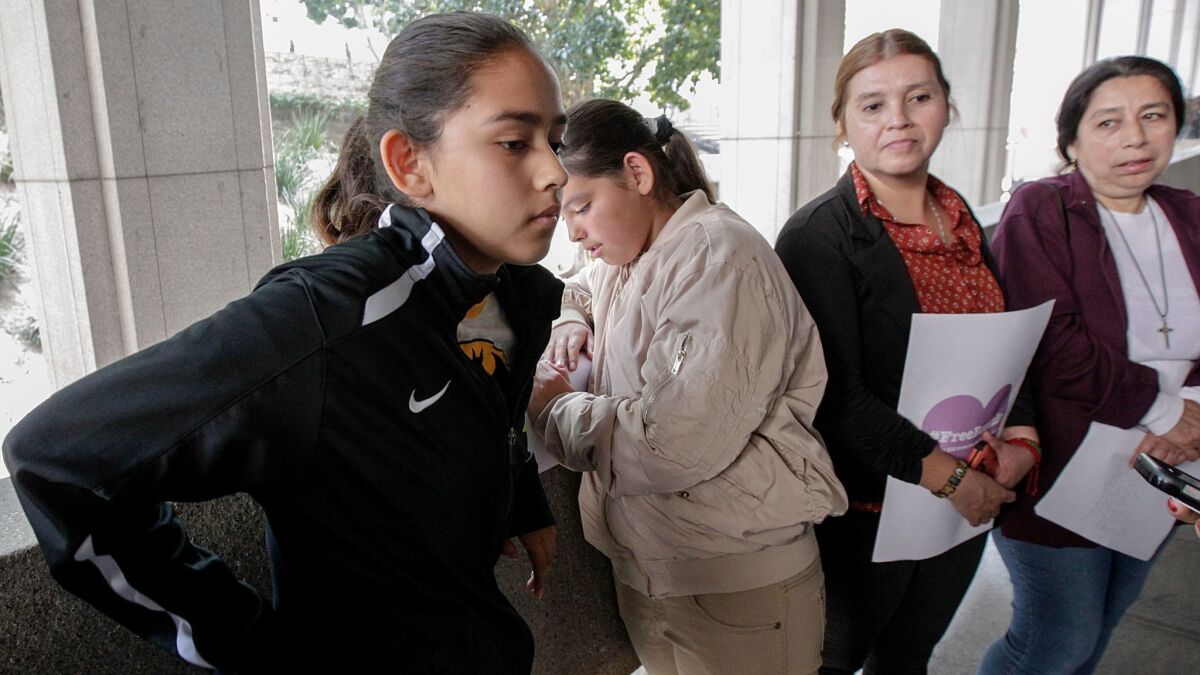 Lawyers for a father detained by immigration officials after dropping off his daughter at school in Los Angeles settled the two decades-old misdemeanor convictions that prompted his arrest.
Romulo Avelica-Gonzalez, 49, instead pleaded guilty to lesser vehicle code violations.
ICE officials had cited a deportation order based on the former misdemeanor convictions as the reason for picking him up. His lawyers hope that with the changes, ICE will grant his release and cancel his deportation order.
Avelica-Gonzalez, a Mexican citizen who has lived in the United States for 25 years, has remained in immigration detention for nearly four months. Immigration and Customs Enforcement agents pulled him over and detained him in Highland Park, six blocks from the Lincoln Heights school where he had dropped off his 12-year-old daughter minutes before. Another daughter in the car with him, now 14, sobbed as she recorded cellphone video of the encounter.
Some criminal convictions can place immigrants in line for deportation proceedings. But a new state law that went into effect in January allows immigrants to have their convictions vacated if they weren't adequately advised of those consequences at the time of their guilty or no contest pleas.
Avelica-Gonzalez's original misdemeanor convictions were for receiving stolen property in 1998 and for DUI in 2008.
In the first case, Avelica-Gonzalez said that because immigrants in California illegally were ineligible at the time for driver's licenses, and therefore unable to register a vehicle, he obtained an auto registration tag not issued by the Department of Motor Vehicles from a friend.
Steve Escovar, one of Avelica-Gonzalez's attorneys, said that conviction was vacated Friday then settled as a registration violation. The DUI case, which a judge had vacated last month, was settled as a speed exhibition. Both are violations of the state vehicle code.
Escovar called it a wonderful result.
"Reasonable efforts by prosecutors can accommodate the needs of law enforcement, while still striving to keep families intact — and not inadvertently disintegrated — as a result of poorly understood immigration consequences of criminal convictions," he said.
In a 77-page brief last month, City Atty. Mike Feuer said there was no legal basis or evidence to support Avelica-Gonzalez's request to vacate his receipt of stolen property conviction. But Rob Wilcox, Feuer's spokesman, said Tuesday that the judge last week focused on facts that hadn't been presented earlier to the court.
"The judge concluded, and our office agreed, that the waiver form was not fully consistent with wording required by state law," he said.
On Wednesday, Avelica-Gonzalez' attorneys moved for the Board of Immigration Appeals to consider reopening his immigration case as a result of the decision. They are also asking ICE to stay his deportation and release Avelica-Gonzalez in the meantime.
---
The stories shaping California
Get up to speed with our Essential California newsletter, sent six days a week.
You may occasionally receive promotional content from the Los Angeles Times.