Ferrari seized by FBI and featured in TV show sells for $760,000 at U.S. Marshals auction
Alan Moskovitz, 65, checks out Corvettes on the auction block at Apple Auctioneering Co., which manages government assets and auctions them off online.
(Irfan Khan / Los Angeles Times)
Ezequiel Deanda, 51, checks out a 1967 Chevrolet Caprice at Apple Auctioneering Co.
(Irfan Khan / Los Angeles Times)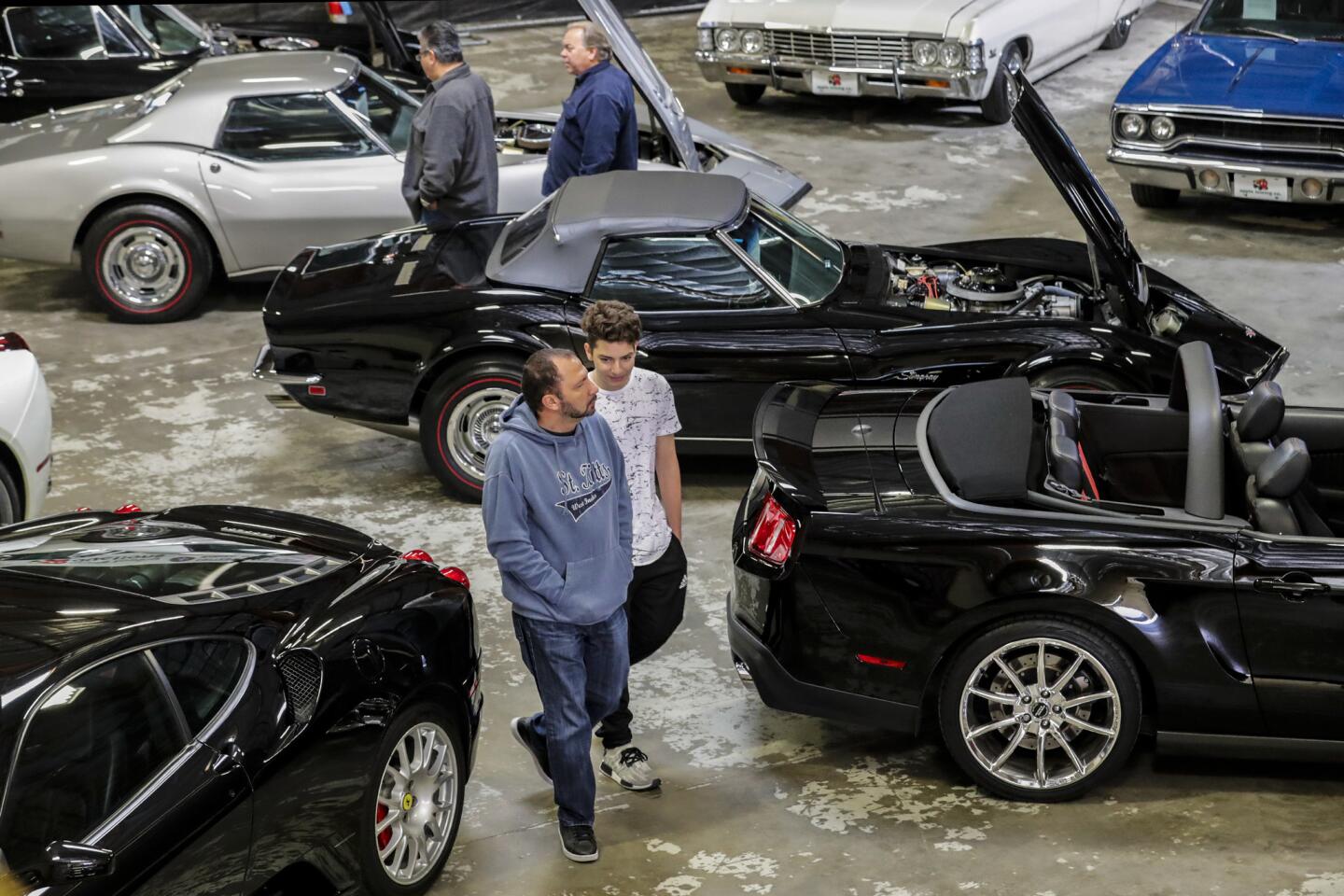 Mark Elias, 52, left, with his son Paul Elias, 14, preview cars on the auction block at Apple Auctioneering Co. High-end cars such as Ferraris and Corvettes that have been seized by the FBI are for sale.
(Irfan Khan / Los Angeles Times)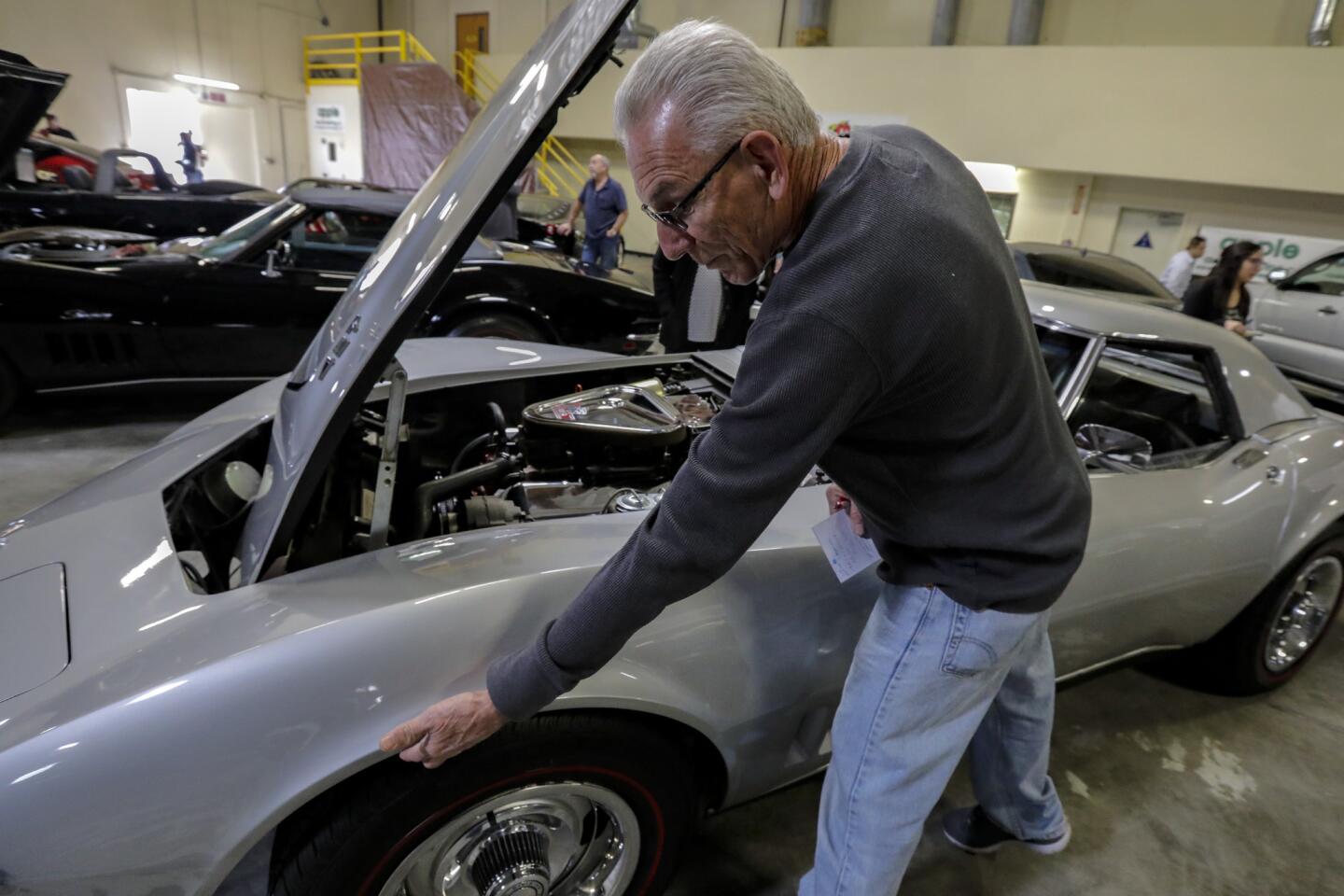 Rudy Klutschkowski, 69, checks out a 1968 Corvette Roadster at Apple Auctioneering Co.
(Irfan Khan / Los Angeles Times)
The owner of Gas Monkey Garage and TV personality Richard Rawlings, left, Dennis Collins and his cohost Russel Holmes check out a 1991 Ferrari F40 at Apple Auctioneering Co., which manages government assets and auctions them off online.
(Irfan Khan / Los Angeles Times)
Richard Rawlings, right, the owner of Gas Monkey Garage and a TV personality, checks out a 1991 Ferrari F40 at Apple Auctioneering Co.
(Irfan Khan / Los Angeles Times)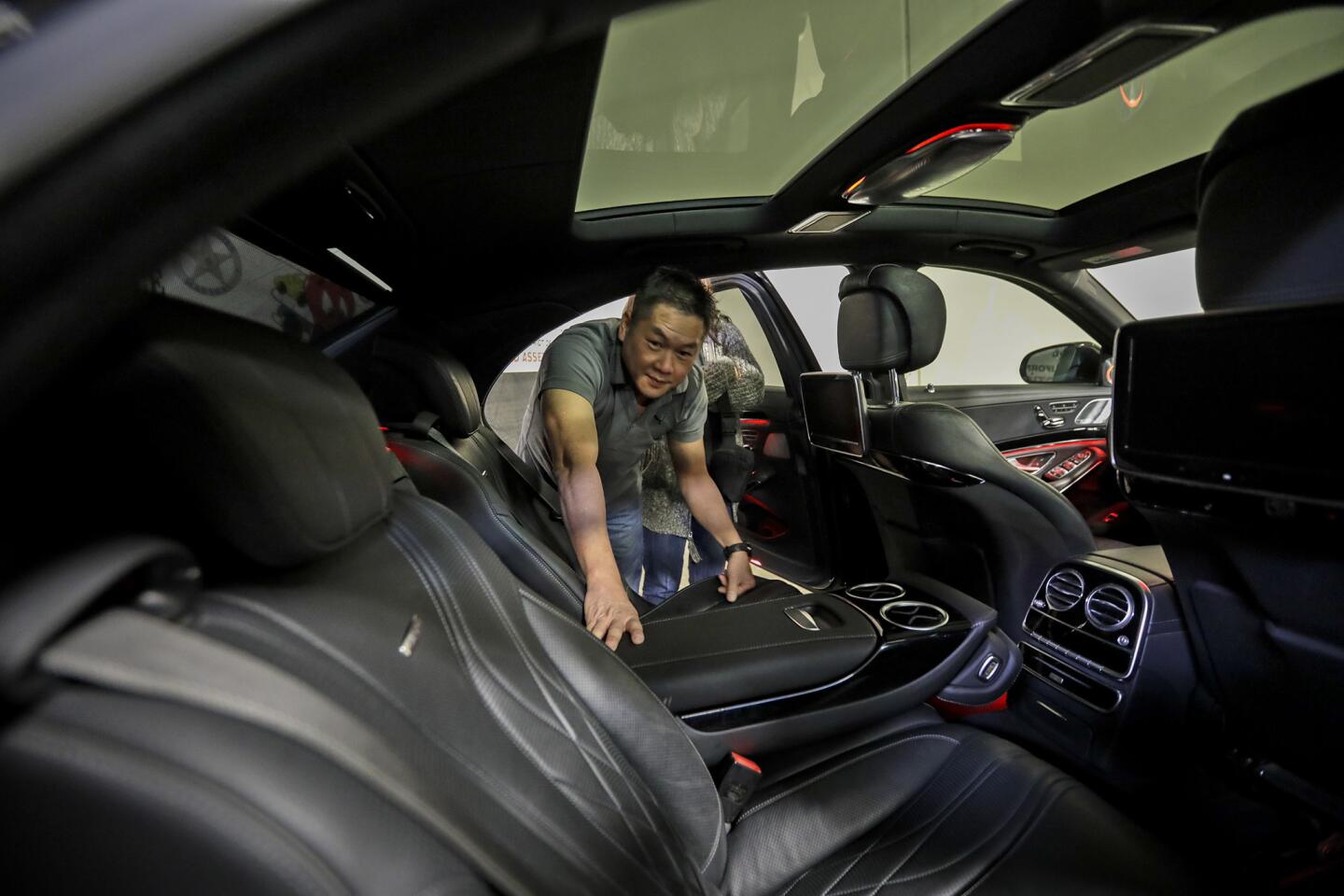 Rick Tran checks out a 2015 Mercedes-Benz S65 AMG V12 Biturbo at a preview held by Apple Auctioneering Co., which manages government assets and auctions them off online.
(Irfan Khan / Los Angeles Times)
In 2013, "Fast N' Loud" reality television star Richard Rawlings and his business partner Dennis Collins bought what people told them was an unfixable, totaled 1991 Ferrari F40.
The pair refurbished the car in about 40 days and documented it on the TV show.
Last week, the same sleek F40, painted black, ended up parked in a cavernous warehouse in Chino Hills — the star of a different kind of show: a U.S. Marshals auction.
The Ferrari belonged to Richard Scott, a Santa Monica parking lot operator who bilked the U.S. Department of Veterans Affairs out of more than $13 million, pleading guilty last year to conspiracy and wire fraud charges.
The FBI seized his assets, and Scott was forced to relinquish his collection of high-end vehicles — including three Ferraris and several vintage Corvettes — to pay millions in restitution as part of his plea deal.
Eight of his 19 cars were for sale at the online auction that closed Monday. Before the auction's climax, a slow but steady stream of visitors piled into the warehouse to preview the classic cars.
Among them was Cynthia Medina, 58, who eyed a candy apple red 1951 Chevrolet appreciatively.
"This is nice," she said, drawing out the last word. "They don't make cars like this anymore."
The U.S. Marshals' Asset Forfeiture Unit for the Central District of California has collected a slew of luxury cars over the years. Cities like Los Angeles, where white-collar crime and wealth live in symbiosis, are a regular source of such auctioned seizures, said Anthony Moseley, supervisor of the unit.
"Ferraris and Corvettes are pretty much common in our seizures," Moseley said, though he acknowledged the F40 model was on another level of rarity. Over the years, the unit has auctioned off a two-seater airplane, boats, real estate, diamond rings, expensive art and even an oxygen chamber similar to the one Michael Jackson had.
In Scott's case alone, seized assets also included three Santa Monica condos, a Cigarette "Top Gun" racing boat, bank accounts and cash.
When a U.S. Department of Justice agency such as the FBI or Drug Enforcement Administration seizes assets alleged to be connected with a crime or the proceeds of a crime, the items are turned over to the Marshals Service, Moseley said. That agency becomes the custodian responsible for holding those assets while the case is litigated.
The Department of Justice and U.S. Treasury contract with companies like Apple Auctioneering to store, manage and eventually sell some of these assets. The money from the sales is funneled back into law enforcement as well as compensation for victims of crime.
Michael Scully, president of Apple Auctioneering, said federal contracts make up about 60% of his company's business, and the rest comes from state and local work out of Houston.
Various pockets of the federal government, as well as local and state, use auctions.
Charlie Wheeler reclined in the red-accented seat of the 2010 Ford Mustang Shelby. He said he's an old hand at them.
He used to go with his parents to all manner of auctions — sheriff's office, U.S. Customs, the IRS. Wheeler's parents were schoolteachers, Wheeler said, and to supplement their income they would buy cars and flip them. That's how he got into buying and selling.
"Now I'm retired and looking for some toys to play with," Wheeler said, adding that he frequently runs into people he knows from other auctions.
"The people who go to these run in the same circles," he said. "As you get older it's nice to see familiar faces."
Civil asset forfeiture programs are not without critics. Criminal justice system reformers have long held that law enforcement agencies often exploit civil forfeiture laws, seizing property, cash or cars without being required to secure a criminal conviction, said Beth Colgan, an assistant professor at UCLA School of Law.
California has worked to toughen its laws to reduce such forfeitures. In 2016, a landmark state law passed requiring that police agencies obtain a criminal conviction before they can keep proceeds of a seizure worth $40,000 or less.
Still, in 2017, the state received a D grade from a nonprofit law group assessing civil forfeiture laws across the U.S. One of the paper's authors, Jennifer McDonald of the Institute for Justice, told the San Diego Union-Tribune that California should publicly report spending from forfeiture funds.
The auction of Scott's high-priced former belongings evoked no controversy, given his guilty plea.
Ezequiel Deanda, who came to the auction last week to examine a white 1967 Chevrolet Caprice, flips property he finds at foreclosure auctions for a living. He said there's no question that government auctions have carved out more space for this type of business.
Rawlings and Collins stopped by the auction on Thursday, camera crew in tow, to visit the F40.
Seeing the car brings back a lot of memories, Collins said. He wishes they'd never sold it, but they acquired the car in the early days of the show and it was a massive investment. They had to sell it.
Rawlings pointed out the red F40 emblem on the right side of the black Ferrari, all that's left of the original red paint it had when they first purchased it.
"It's kind of a faux pas to paint that car anything other than the original red," Rawlings said. "Frankly everyone was freaked out we were going to paint it black."
They planned to see how bidding unfolded before they made their pitch.
When the auction ended Monday, the red 1951 Chevrolet that Medina had her eye on went for $20,575, while a Ford Mustang Shelby that Wheeler tested last week was bought at $65,125. Two of the Ferraris sold for $113,025 and $138,025 respectively.
As for the F40, it sold for $760,000, a significantly higher price than it commanded the last two times it changed hands. But whoever bought it would remain a mystery, at least this day.
Sign up for Essential California for news, features and recommendations from the L.A. Times and beyond in your inbox six days a week.
You may occasionally receive promotional content from the Los Angeles Times.