Ex-official gets 5 months in prison for lease-for-bribery scheme at West L.A. veterans campus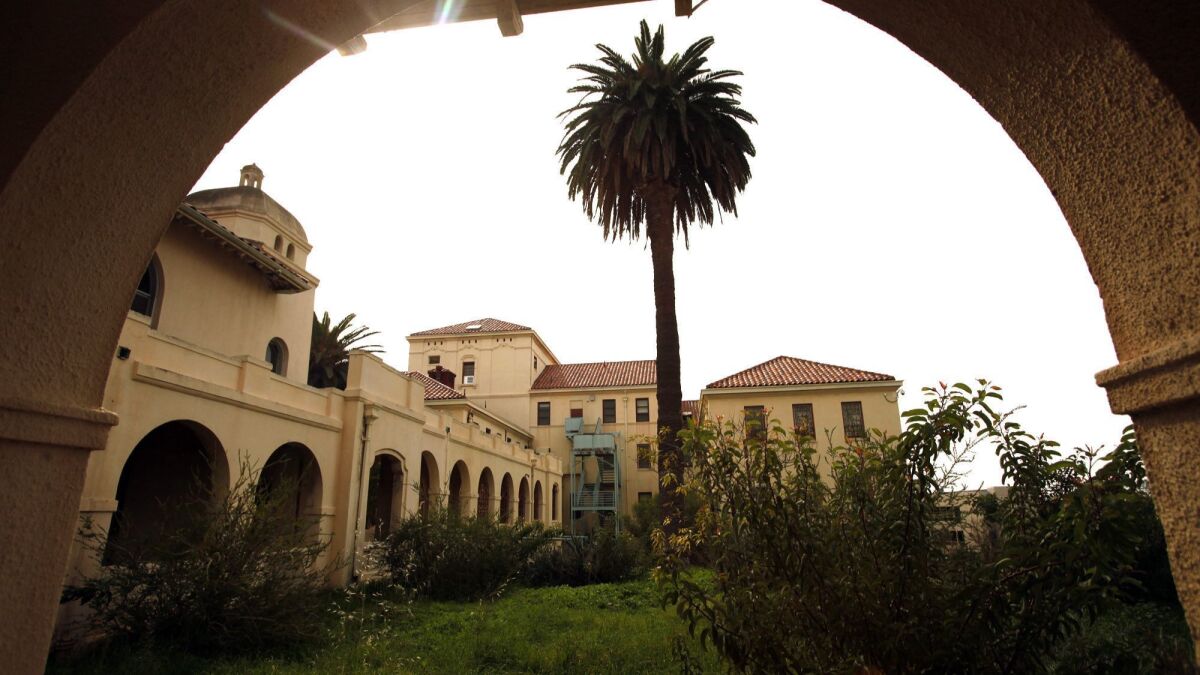 A former U.S. Department of Veterans Affairs contract officer who had been accused of accepting $286,000 in bribes from a parking lot operator at the VA's West Los Angeles campus was sentenced Monday to five months in federal prison.
Ralph J. Tillman, who spent 14 years with the VA, pleaded guilty to tax fraud and making a false statement to the VA inspector general.
Tillman's voice broke as he apologized to his family, the veterans agency and his former employees for his role in the bribery scheme.
"There's no excuse for what I did," Tillman during the sentencing hearing. "I'm an Army veteran and when I look in the mirror I'm ashamed of what I did."
U.S. District Judge R. Gary Klausner rejected defense attorney David Elden's request to have Tillman serve his time in a halfway house instead of prison. But Klausner agreed with the government's recommendation to reduce the custody time to five months from 15 to 21 months in light of Tillman's early cooperation in the bribery investigation.
"This was a reprehensible crime," Klausner said. "The defendant should do some time in prison."
Tillman was also sentenced to five months of house arrest.
Elden said his client was "extremely remorseful" and had "paid a price" for his crimes. Elden also said that Tillman, who was ordered to pay the IRS $62,000 in restitution, did not receive $286,000 in bribes, but declined to name another figure.
Asst. U.S. Atty. Ruth C. Pinkel said Tillman's cooperation, which included recording conversations with the parking lot mogul Richard Scott, was "very crucial" to the investigation, which is now closed.
Scott, owner of Westside Services, was sentenced in August to nearly six years in prison after pleading guilty to conspiracy and wire fraud charges.
But veterans advocates on hand for the hearing said the sentence did not offer much of a deterrent to future corruption.
Tillman "apologized to the court, he apologized to the Department of Veterans Affairs, but he never apologized to the veterans," said Terence Lyons, a veteran and journalist who has followed controversy over use of the West Los Angeles campus for more than a decade. "And that is what is at the root of what caused this problem: ignoring that the whole purpose of this is to fulfill a trust to the veterans."
The government had accused Scott of bribing Tillman for more than a decade to overlook him skimming more than $11 million in revenues from parking lots leased from the VA at the 387-acre campus. The lots were used for event parking for UCLA baseball games, the Wadsworth and Brentwood theaters and the PGA golf tournament at the Riviera Country Club.
The charges follow a long and contentious history of leases at the site, which was originally deeded as a home for older soldiers.
In 2013, a federal judge ruled in a suit brought by the ACLU Foundation of Southern California that the VA had abused its discretion by leasing land for purposes "totally divorced from the provision of healthcare."
The VA agreed to settle the case by ending some commercial leases and developing the property as a model veterans residential community.
Meghan Flanz, the executive director of the campus draft master plan, had asked Klausner to consider in sentencing Tillman the "profound and lasting damage" that the corruption scandal had inflicted on veterans, the campus and the VA's reputation.
The community "remains skeptical and cynical about our ability to implement our redevelopment plans because these men misused our campus for so long," Flanz said in a letter to the court.
The VA has said it is has taken steps to forestall future misuse of leases and is moving forward with campus building plans.
Twitter: @geholland
---
The stories shaping California
Get up to speed with our Essential California newsletter, sent six days a week.
You may occasionally receive promotional content from the Los Angeles Times.