Police arrest more than a dozen amid protests in Berkeley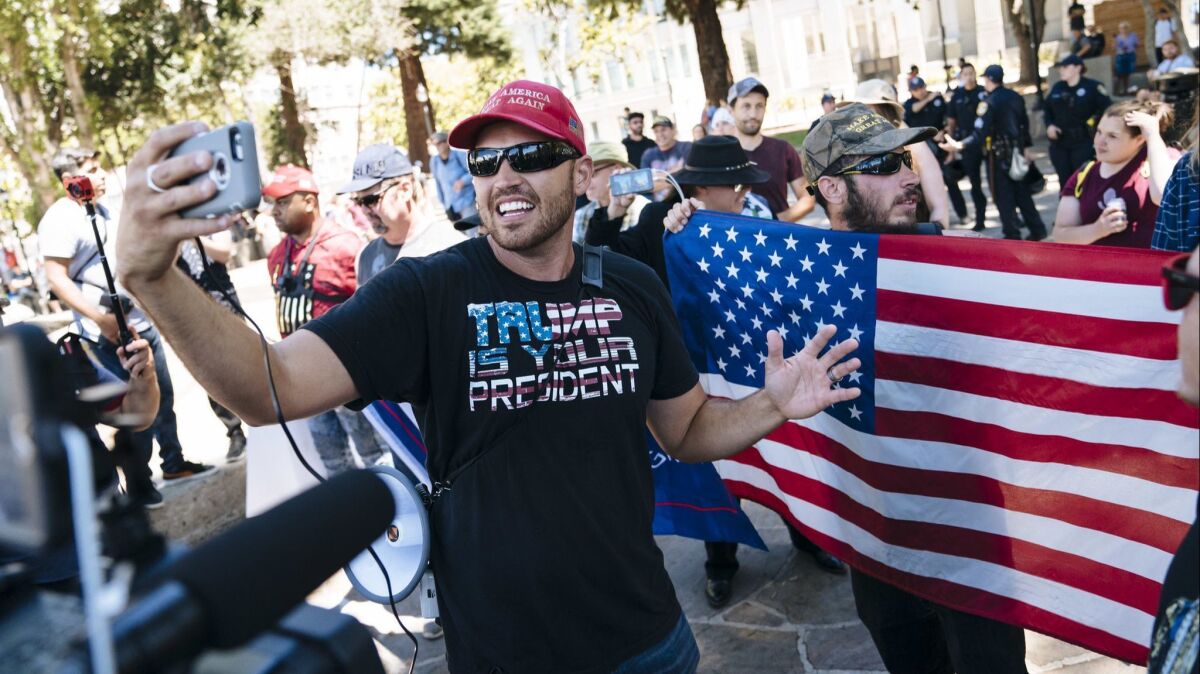 More than a dozen people were arrested Sunday afternoon amid a tense right-wing rally and counter-protest in Berkeley that officials worried might see the kind of violence that broke out last year during showdowns among demonstrators after President Trump's election.
About 500 people representing various groups showed up to the protests, said Berkeley police spokesman Officer Byron White. According to news reports, the several dozen right-wing demonstrators were vastly outnumbered by counter-protesters.
By about 4 p.m., police had made about 17 arrests, most for possession of banned weapons, and there were reports that some protesters were throwing fireworks.
"There's been some scuffles," White said. "It's not anything like the violence we've had in the past in terms of people fist-fighting in the street."
Ahead of the protests, Berkeley banned a long list of items — baseball bats, flags on poles, ice picks, dynamite and other objects that might be used as weapons — from a large part of the city, including two parks where the protests were scheduled.
In addition to confiscating weapons and arresting the people who brought them, police worked to keep opposing groups apart.
"That's where we've seen violence happen in the past," White said.
Sunday's right-wing rally, dubbed "No to Marxism in America 2 / Exposing Communism," was organized by Amber Gwen Cummings as a follow-up to a similar protest she organized in August 2017. She eventually called on attendees not to show up, but a number of protesters who did were arrested and some people were seriously injured.
Counter-protesters, meanwhile, organized a "Stop the Hate" rally that was endorsed by a number of anti-fascist groups — including SAFEBay (Solidarity Against Fascism East Bay and Refuse Fascism Bay Area) — and several other organizations.
The Berkeley event and one in Portland that saw clashes on Saturday came in the run-up to the one-year anniversary of rallies in Charlottesville, Va., which were among the largest U.S. gatherings of neo-Nazis, white supremacists and other extremist groups in years.
On the last day of the Charlottesville event, Heather Heyer, a counter-protester, was killed when a car plowed into her. James Alex Fields Jr., who federal prosecutors say attended the protest and chanted white supremacist and other racist and anti-Semitic views, was arrested and charged with her murder.
For more Inland Empire news follow me @palomaesquivel
---
UPDATES:
5:16 p.m.: This article was updated with new arrest numbers and details from the protests.
This article was originally published at 12:20 p.m.
---
Life is stressful. Our weekly mental wellness newsletter can help.
You may occasionally receive promotional content from the Los Angeles Times.