Berkeley braces for 'riot-like' protests even without Ann Coulter
Just a day earlier, Coulter had told UC Berkeley student groups that she intended to speak on campus Thursday.
After weeks of debate, conservative commentator Ann Coulter won't speak at UC Berkeley.
But protesters are still expected to be out in force. Here's what could happen today:
Extremists looking for trouble
UC Berkeley Police Capt. Alex Yao said authorities expect extremists to arrive on campus "to have violence against each other." He said students should expect a heavy police presence Thursday and "a very, very low tolerance of violence."
Among those contemplating their own Berkeley events on Thursday were Proud Boys founder Gavin McInnes and Canadian alt-right blogger Lauren Southern, according to Southern.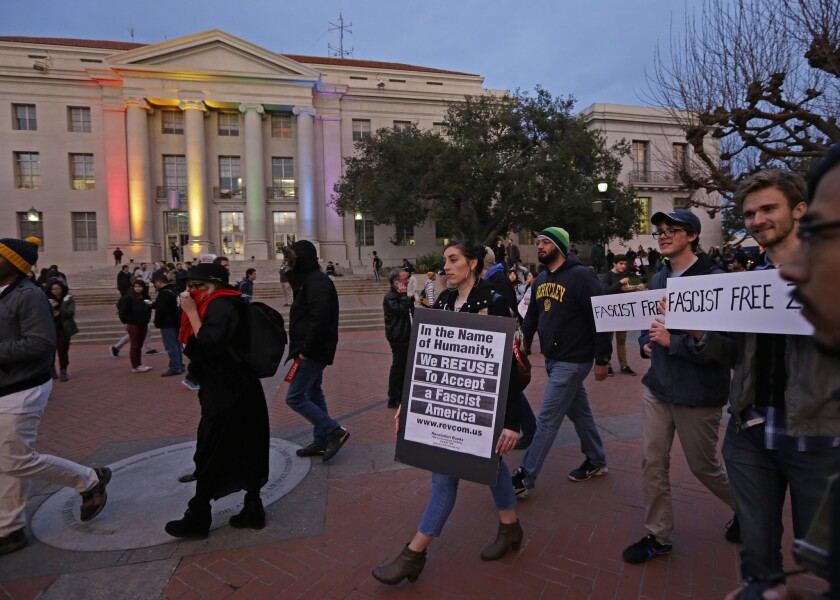 More fallout from Coulter cancellation
"I'm so sorry for free speech [being] crushed by thugs," Coulter posted on Twitter in announcing that she had abandoned efforts to find a campus venue where she could speak Thursday.
Coulter had been invited by two student groups to speak on immigration policy as a counterpoint to a Clinton administration advisor. The address became a campus-freedoms rallying point for conservative groups when administrators first canceled Coulter's visit, then rescheduled it to an unpopular date.
Administrators cited unspecified threats of violence in limiting Coulter to a daytime engagement off the main campus. The Berkeley campus and adjacent downtown has been the scene of three violent clashes since February between alt-right demonstrators and white nationalists on one side and anti-fascist and anarchist groups on the other.
Coulter had pledged to show up anyway, even contemplating an outdoor address. But she discarded that idea Wednesday in the face of continued threats, the university's refusal to find her a building and the withdrawal of her sponsors.
Coulter gaining some unexpected support
The American Civil Liberties Union raised its own concerns Wednesday. National Legal Director David Cole said he was troubled by how threats of violence effectively silenced Coulter.
"If the government gets to decide which speech counts as hate speech, the powers that be may later feel free to censor any speech they don't like," Cole said in a statement. "For the future of our democracy, we must protect bigoted speech from government censorship.
"On college campuses, that means that the best way to combat hateful speech is through counter-speech, vigorous and creative protest, and debate, not threats of violence or censorship."
UC Berkeley Chancellor Nicholas Dirks released a public statement that stressed the university's "commitment to free speech" and attributed the risk of mayhem and free speech challenges "to outside groups."
"This is a university, not a battlefield," Dirks said. "The strategies necessary to address these evolving threats are also evolving, but the simplistic view of some — that our police department can simply step in and stop violent confrontations whenever they occur — ignores reality."
To read the article in Spanish, click here
Twitter: @paigestjohn
ALSO
Ann Coulter, free speech and UC Berkeley: How a talk became a political bombshell
Opinion: Why are leftists targeting troll columnists like Ann Coulter instead of institutions?
The Bill O'Reilly case shows how much Fox News and UC Berkeley have (horrors!) in common
---
Life is stressful. Our weekly mental wellness newsletter can help.
You may occasionally receive promotional content from the Los Angeles Times.