After raising tuition, Cal State trustees grapple with smaller budget increase in governor's latest proposal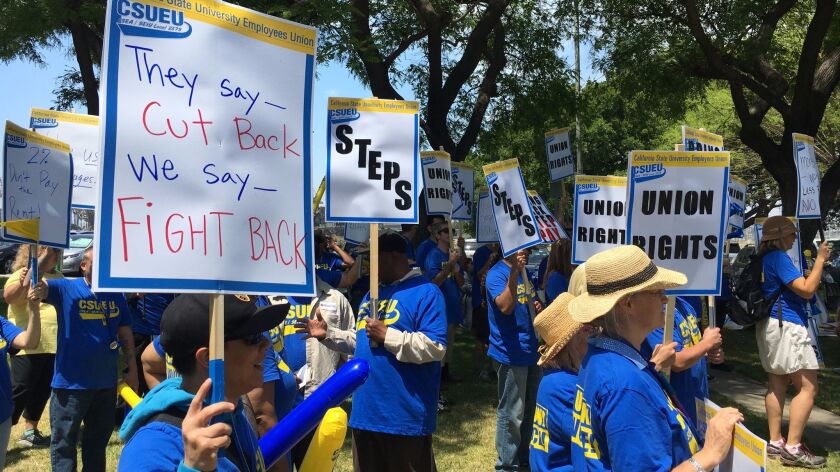 California State University's Board of Trustees, which recently approved a controversial tuition hike, grappled Tuesday with Gov. Jerry Brown's revised budget proposal, which takes away some additional funding on the grounds that the rise in tuition will cost the state more in aid to low-income students.
Brown's proposal would reduce additional funding for the system by $4 million to help offset an anticipated increase in such state grants.
The $4 million would be be redirected to maintaining current levels of state support for low-income students who choose to attend private colleges.
"When the public universities raise tuition," Brown's May budget revision said, "there is less funding available for other financial aid programs."
Brown initially had allocated about $157.2 million in additional funding to Cal State for the next fiscal year, which would have raised the system's total state support to about $3.6 billion. University officials have said they need an extra $324.9 million to improve graduation rates, enroll more students, tackle a $2-billion backlog of building upgrades and accommodate salary raises for faculty — agreed upon last year to avert a systemwide strike.
Even with the tuition increase, which will bring in about $75 million, administrators of the largest public university system in the country say they still will have to do more with less. Faculty, students and staff said they would continue to lobby legislators for more funding until the budget is finalized in June.
Administrators on Tuesday also updated trustees on their efforts to double the system's four-year graduation rate, from 19% to 40%, by 2025.
Each campus will get funding from the new tuition revenue to hire more faculty, offer additional high-demand courses and provide more advising, mentoring, tutoring and other supplemental instruction and support, said Loren Blanchard, executive vice chancellor for academic and student affairs.
Administrators also are looking into providing micro-grants to students who are close to graduating but are struggling financially and prioritizing their jobs over coursework.
"A sum as small as $150 … can really make the difference between a student dropping out or earning a degree," Blanchard said.
During Tuesday's meeting in downtown Long Beach, trustees also heard impassioned public comments from members of the California State University Employees Union, which represents about 16,000 staff — including office workers, nurses, custodians and library assistants. The union is negotiating a new contract and demanding reforms to what representatives describe as a "broken compensation system." Members are seeking a host of improvements including more predictable salary raises, promotion opportunities and flexibility in work schedules.
"Staff are underpaid as well as unequally paid," Neil Jacklin, an instructional support technician at Cal State Stanislaus, told the trustees. "There seems to be no limit to the workload. ... Our skills and talents are not often recognized, utilized, credited or appreciated."
As Jacklin and his colleagues addressed the board, dozens of employees from across the state rallied outside, chanting and waving signs with messages such as, "They say cut back, we say fight back," and "2% don't pay the rent." Union leaders said they have received no response to a proposal they presented to the chancellor's office in March.
"Compensation for CSU employees will be a critical factor in upcoming negotiations," Cal State spokesman Michael Uhlenkamp said. "We look forward to engaging the CSUEU leadership on this topic and others at the bargaining table."
The board is scheduled to continue its meeting Wednesday morning. The meeting is open to the public, and a live stream can be viewed here.
To read the article in Spanish, click here
Follow @RosannaXia for more education news
ALSO
How #TrumpBudget cuts school funding, a new LAUSD board president, Cal State budget shortfall: What's new in education
Frustrated with campus discourse limits, California Republicans take on 'free speech zones'
Border Patrol detains 22-year-old Cal State L.A. student activist; her lawyer says it is retaliation
---
For reporting and exclusive analysis from bureau chief John Myers, get our California Politics newsletter.
You may occasionally receive promotional content from the Los Angeles Times.