Straws. Bottle caps. Polyester. These are the new targets of California's environmental movement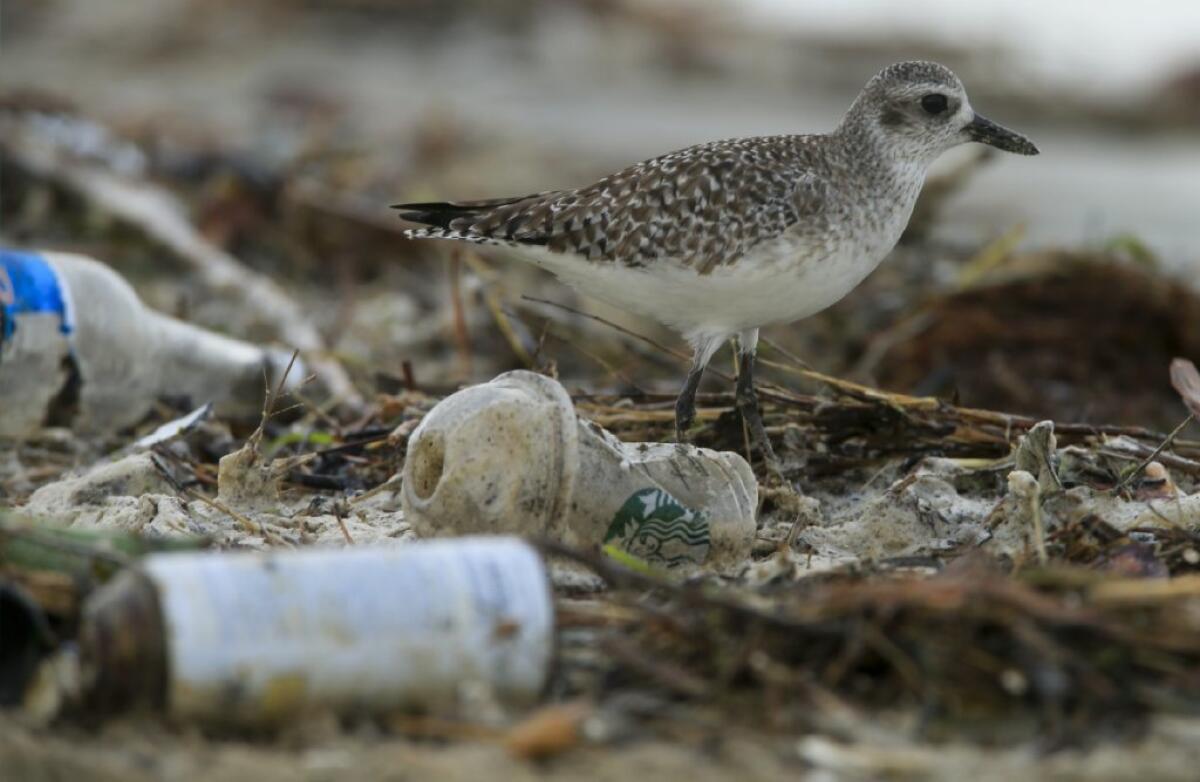 Reporting from Sacramento —
It took years of activist campaigns to turn the plastic bag into a villain, and hard-fought legislation to reduce its presence in oceans and waterways. Now, environmentalists and lawmakers are deploying similar tactics against a new generation of plastic pollutants.
There are drinking straws, which as a viral video shows can get stuck in a sea turtle's nose. The hundreds of thousands of bottle caps that wind up on beaches. And the microfibers that wash off polyester clothes, making their way into the ocean, the stomachs of marine life and ultimately our seafood.
Each is the subject of statewide legislation under debate in Sacramento, as California again considers new environmental law that's at once pioneering and controversial.
Their action comes as plastic takes center stage as the environmental concern du jour.
There could be more plastic by weight than fish in the world's oceans by 2050, according to a widely cited World Economic Forum report. A recent UC Davis study sampled seafood sold at local markets in Half Moon Bay and found that one-quarter of fish and one-third of shellfish contained plastic debris.
A survey comparing 150 tap-water samples from five continents found synthetic microfibers in almost every sample — 94% in the United States. The Great Pacific Garbage Patch is at 1.8 trillion pieces of trash, most of it plastic, and counting. The European Commission on Monday proposed new across-the-board rules, including a ban on single-use plastic products "where alternatives are readily available and affordable."
The call to break the world's disposable-plastic habit is resonating, especially in California. More than half a dozen bills aimed at plastic pollution were introduced in Sacramento this year alone — by both coastal legislators and more moderate inland colleagues who see the potential damage not just in oceans but also rivers, lakes and the state's water supply. No one, they said, wants to drink a glass of water and wonder if they're also downing a glass of plastic.
As the White House pulls back on environmental issues, California leaders say it's on them to push forward. The state, after all, was the first in the nation to ban single-use plastic bags, setting the stage for others to follow. When a state law barred exfoliating beauty products with plastic microbeads, the industry impact was so large the ban was adopted at the national level in President Obama's final year.
"What we do has not just national, but international implications. We're the fifth-largest economy in the world," said Assembly Majority Leader Ian Calderon (D-Whittier), who introduced a bill this year that bars sit-down restaurants from providing plastic straws unless a customer requests one. "You better believe that if we do something and it works here, everyone's going to adopt it."
Read more: Plastic trash could top 13 billion tons by 2050. And recycling doesn't help much »
Calderon has also teamed up with Assemblyman Mark Stone (D-Scotts Valley), a longtime environmental leader, on a law that would prohibit retailers from selling single-use plastic bottles with caps that do not remain tethered to the container after opening.
A bill by Assemblyman Richard Hershel Bloom (D-Santa Monica), who had authored the microbeads bill and is a co-author on the straws and caps bills, requires all new clothing made with more than 50% synthetic material have a label that warns of microfiber shedding during washing.
All three have passed committee and are expected to go to the Assembly floor this week.
These bills have sparked intense pushback by conservatives and a coalition of manufacturers and industry groups. Assemblyman Travis Allen (R-Huntington Beach), not shy to use Trumpian tactics in his campaign to be California's next governor, took to Twitter to lambaste the straw proposal.
"California Democrat Leader Ian Calderon wants to ban PLASTIC STRAWS. Is there any part of your life that Democrats don't want to control? As Governor, this is exactly the type of legislation that I will VETO."
The concerns from the Plastics Industry Assn., California Chamber of Commerce, International Bottled Water Assn. and dozens of others have been more measured. Most have backed off on the straws bill, acknowledging that giving customers the option to request one was a reasonable compromise.
Their opposition questions the limited existing research on microfiber pollution and the approach of the bottle cap bill, saying these changes "would negatively impact tens of thousands of manufacturers and retailers that do business with California."
"We understand the desire to reduce plastic waste, but feel that this will not solve the problem," they said in a joint statement on the connect-the-cap bill. "A more effective approach would be to educate consumers about recycling lids with the bottles."
And while the microfiber issue is important, another coalition said, a label doesn't solve the problem, which needs more study, and would just cause confusion for consumers and create potential liability for producers.
Nate Herman, senior vice president of supply chain for the American Apparel & Footwear Assn., said an additional label would also "add extensive cost" to product development and ultimately would force companies to "add labeling to all impacted products even if being sold in other states."
Supporters say this year's suite of bills present a range of actions that could be taken to address plastic pollution: Encouraging change in consumer habits, requesting a redesign by manufacturers and raising public awareness — especially with microfiber.
Synthetic fabrics such as polyester, nylon, acrylic and spandex are everywhere, and so are their sheddings. A Patagonia study found that a microfleece jacket could release more than 1,000 milligrams of microfibers per wash. Laundry machines today are not equipped to filter out microfibers, usually less than 5 millimeters long, and up to 40% of microfibers pass through wastewater treatment plants.
The study, conducted with UC Santa Barbara, found that a single treatment plant discharged 3.73 billion microfibers, estimated at 179 pounds, per day.
Some environmentalists were disappointed the bills — AB 1884, AB 2779 and AB 2379 — didn't go further. Others say any step toward a fundamental consumer or manufacturing change helps.
This is Stone's second year trying to get bottle manufacturers to redesign lids. In last-minute efforts to work with opposition before the bill went before Assembly, he scaled back the requirement to just plastic water bottles, not all beverage bottles. Smaller companies that sell bottled beverages will also be exempt.
"Californians are becoming more interested in being responsible toward the impacts that plastics have on our environment, but trying to push through policy in Sacramento is a very different calculation," Stone said. "It took more than 125 local jurisdictions doing the plastic bag ban for the Legislature to finally say 'OK, we're going to step in.'"
The state's plastic bag ban, which set off one of the fiercest lobbying battles in 2014, took eight years and has paved much of the way for today's bills. In 2016, plastic bag makers spent $6 million in an effort to convince voters to overturn the bag ban through two ballot measures. Californians upheld the ban, which went into effect at the end of that year.
Shoppers have adapted with little grumbling and the economic impacts so far have not been dramatic, advocates say. The decline in bags found on beaches has been substantial: The number of plastic bags collected on the most recent annual Coastal Cleanup Day dropped more than 60% compared to 2010.
Justin Malan of Ecoconsult, which works with the Clean Seas Lobbying Coalition, says California has come a long way from the days when it was a political "pitchfork battle against just about everybody except the coastal advocates."
"This issue has become much more mainstream," Malan said. "We don't have to fight some of those earlier environmental fights."
Helping the momentum are the many cities that have already banned plastic straws: Malibu, Santa Monica, Manhattan Beach and San Luis Obispo.
Considering the magnitude of the plastic problem, however, this item-by-item, city-by-city approach isn't a long-term solution, Heal the Bay President Shelley Luce said.
"It's still cheaper for the manufacturer and the consumer to use single-use disposable plastic everything than it is to use a bamboo replacement or metal replacement or something that is more easily reused or recycled," Luce said. "We have to think about incentivizing new designs and helping manufacturers move toward new materials."
Sara Aminzadeh, a state coastal commissioner and executive director of California Coastkeeper Alliance, agrees that the more complete solution is part cultural, part market-driven.
"Companies will need to take responsibility for the amount of plastic that they're producing," she said, "and we need to proactively acknowledge that and include them as part of the solution."
In Malibu, where restaurants and coffee shops have been testing paper and bamboo straws before the city's ban begins this summer, owners said the new rules might be a little more costly but worth it in the long run.
Colette Richardson, manager of Le Cafe de la Plage by Point Dume, said she's also switching to wooden spoons to serve the cafe's handcrafted ice cream.
Her last 10 boxes of plastic straws will be donated to a local artist, who's collecting from businesses around town to create a public sculpture.
Sitting outside, Jimmy Summerall considered what it would be like using a paper straw for the smoothie and iced coffee he had just purchased from SunLife Organics. Wouldn't it get soggy?
He's good about recycling but admits straws are not the first item he thinks of when it comes to being environmentally friendly. Summerall is not one to ask for straws, he said, and only finds himself using them when a shop sticks one in his beverage.
"I'll definitely be thinking about straws more," he said. "You really can't unsee it."
Interested in coastal issues? Follow @RosannaXia on Twitter.
---
UPDATES:
3:50 p.m.: This article was updated to include the European Commission's proposed ban on single-use plastic.
This article was originally published at 3 a.m.
Sign up for Essential California for news, features and recommendations from the L.A. Times and beyond in your inbox six days a week.
You may occasionally receive promotional content from the Los Angeles Times.