Early Rose Parade traditions that failed: chariot races, ostrich riding, elephant vs. camel races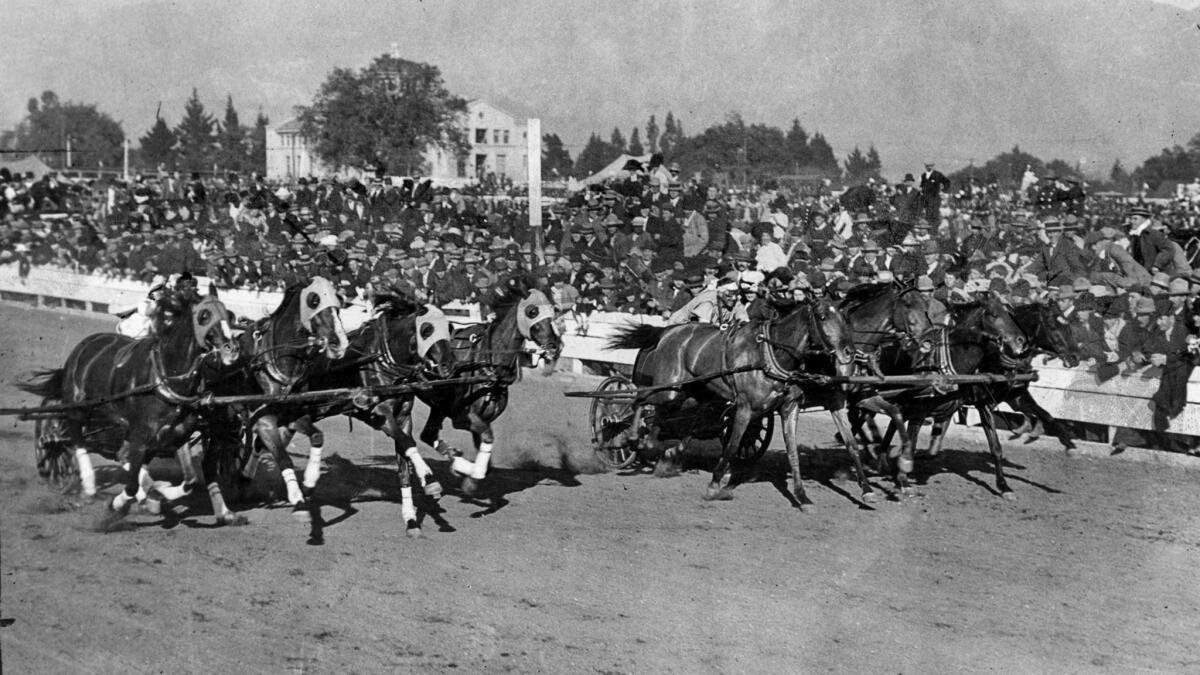 By 1901, the Tournament of Roses parade was a big success, and a search for post-parade activities began in earnest. In 1902, an East-West football game was tried. The first Rose Bowl game, called the Tournament East-West football game, ended eight minutes early as Stanford, losing 49-0 to Michigan, conceded.
After the lopsided game, the Tournament of Roses tried other post-parade events, including chariot races from 1904 through 1915.
Fans flocked to what was then Tournament Park in Pasadena — the southwest corner of California Boulevard and Wilson Avenue, now part of Caltech's campus — to see toga-clad "centurions" driving horse teams.
The Times years later described it this way:
The idea was suggested by Tournament of Roses President Dr. Charles F. Holder. E. T. Off, one of the directors, took a fancy to the idea and entered as a competitor.
The initial race was held in Tournament Park on Jan. 1, 1904. It pitted chariot and four-horse teams in a mile race. Competing were Off, Max Wiggins of El Monte, C.C. West of Arcadia and E.E. Turner.
When the dust cleared and the excited spectators looked at their stopwatches, Wiggins had nipped the other three in the fast time of 1:57.
Crowds of more than 20,000 attended, but chariot racing was very expensive — few could afford to put together horse teams. Also, there was the danger of accidents.
In the early days, special events after the parade included tug-of-war games, polo, bronco-busting demonstrations and races between camels and elephants. (According to one Times report, the elephant won.)
Famously, there was even ostrich riding. An early advertisement for the Cawston Ostrich Farm encouraged patrons to "stop at the Farm and see the Ostriches Plucked."
As The Times reported:
In 1913, an unlucky ostrich rider named Melville Bush drew a particularly spirited bird.
"Bush was thrown from his mount in front of the judge's stand, and in attempting to capture the runaway bird was kicked 20 feet across the racecourse," one newspaper recounted. "The ostrich . . . became peeved and took the aggressive, causing hundreds of spectators . . . to climb fences in the immediate vicinity of the track."
Melville Bush survived, but the racing era did not. Tournament organizers looked for a similarly exciting, but less dangerous, sideshow to parade.
Football would eventually fit that bill.
Sign up for Essential California for news, features and recommendations from the L.A. Times and beyond in your inbox six days a week.
You may occasionally receive promotional content from the Los Angeles Times.