Casa Libre: State officials step up enforcement against L.A. group home for migrant children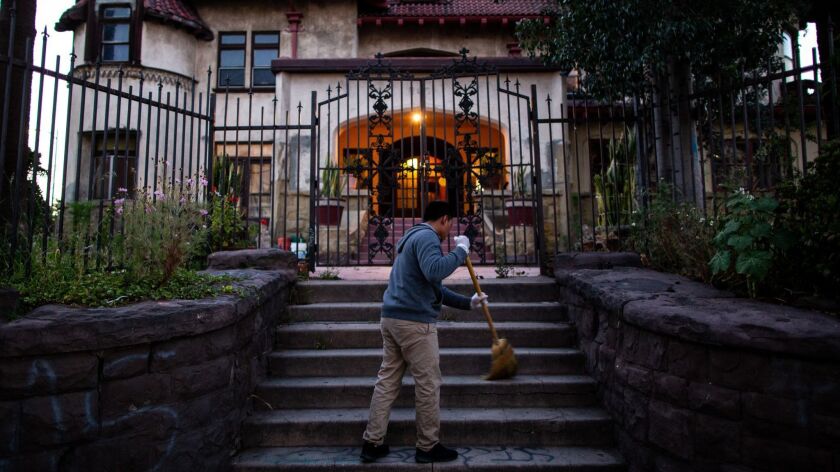 State officials have warned a Los Angeles group home for migrant youth that it could lose its license if it doesn't comply more fully with state rules for the protection of children.
A Times investigation published in late May found that Casa Libre had been cited by state officials 143 times for failing to meet standards for state-licensed group homes.
Eighty-nine of those citations were for issues that posed "an immediate risk to the health, safety or personal rights of residents."
Casa Libre was founded in late 2002 by Peter Schey, a Los Angeles attorney and longtime immigrant rights champion.
The Times also reported that children had been locked out of the home for hours because there was no staff on-site, forcing some to take shelter outside in a broken-down van, according to former residents. And that there were times that there was not enough food, former residents said.
Earlier this month, state licensing officials held a "non-compliance" conference with Schey to address a long list of ongoing concerns about the program, which is licensed to house boys ages 12 to 17.
Such a meeting is held when a group home shows a pattern of not complying with state rules and is considered a first step before more punitive actions.
By holding the conference, officials were telling Schey and his staff that "we're taking this seriously. We want you to take it seriously as well. This could lead to a revocation if you don't," said Adam Weintraub, a spokesman for the Department of Social Services, which oversees licensed group homes.
Some of the concerns raised by officials include not reporting unusual incidents as required, "repeated" deficiencies at the property, failure to retain a qualified administrator, "intake procedures and level of care," and failing to fix problems in a timely manner after citations are issued.
The officials also faulted the program for not informing the board of directors about licensing reports and other important issues.
Current and former board members told The Times that they had been unaware of Casa Libre's numerous citations, even though state law requires the board to "review and discuss licensing reports," which would have included the citations Casa Libre had received.
Schey said the program was under new leadership since 2018 that had "shifted its focus back to its original goals, strengthened internal policies, and raised funds and resources" to house more residents.
Weintraub said officials held the conference because of the large number of citations in recent months. Since June 2018, the home has been cited 18 times for failing to comply with state rules.
The non-compliance conference was an "attempt to correct the problem before we move to that more punitive process," Weintraub said.
Schey and his staff now have to come up with a detailed "plan of correction," which must be submitted to licensing staff by July 19.
Schey is well known for helping to secure the Flores settlement — a landmark 1997 agreement to safeguard migrant children held by the government, which gave his legal foundation the right to inspect those shelters.
The settlement is still seen today as vital to the protection of children in government shelters. And one of its key results is the requirement that the government house migrant children in state-licensed facilities, which Schey has said is "critical" to ensuring that shelters comply with standards for the safety and well-being of children.
Schey did not respond to requests for comment on the state's latest compliance actions.
---
Get breaking news, investigations, analysis and more signature journalism from the Los Angeles Times in your inbox.
You may occasionally receive promotional content from the Los Angeles Times.