Celerity charter school founder who misspent $3.2 million gets 30 months in prison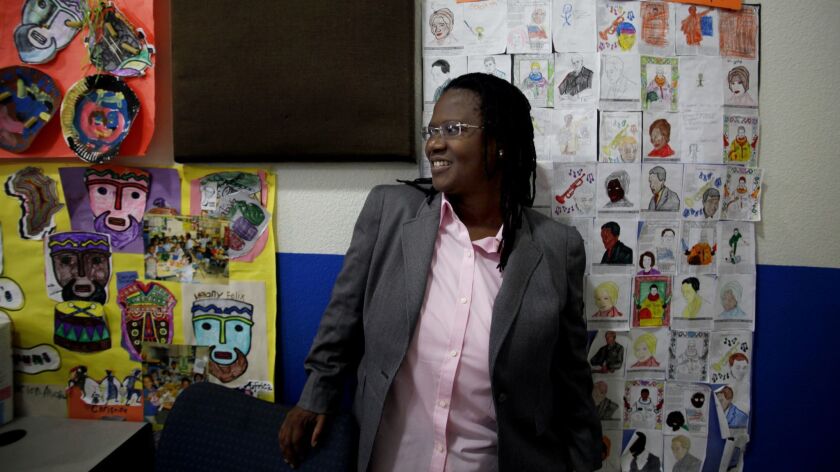 The founder of Los Angeles-based charter school network Celerity Educational Group was sentenced to 30 months in federal prison for misspending $3.2 million in public funds.
In January, Vielka McFarlane pleaded guilty to one count of conspiracy to misappropriate and embezzle funds for personal use. McFarlane, 56, had for years used her charter schools' credit card and spent taxpayer money on expensive clothing, luxury hotel stays and first-class flights. The bulk of the money spent was for the purchase and renovation of an office building in Columbus, Ohio, where McFarlane intended to open another charter school.
McFarlane was also ordered to pay restitution of $225,138.15 within 60 days.
The case dates to 2012. A routine request for Celerity's financial records from L.A. Unified's charter schools division revealed credit card statements of lavish purchases beginning in 2009 — five years after McFarlane had founded the first charter school. The school district's inspector general opened an investigation and eventually, the federal government got involved.
Purchases included:
— $9,299 for two recumbent bicycles for her and her spouse
— $7,742 for plane tickets to Washington, D.C., for President Obama's second inauguration
— $3,347 at luxury brand Salvatore Ferragamo in Beverly Hills
— $914 at the Arroyo Chop House in Pasadena
— $800 on Blacklane, an Uber competitor that pulls from a network of licensed chauffeurs with high-end cars
— $425 at the Lobster, a seafood restaurant in Santa Monica
In addition to her use of Celerity's public funds, McFarlane created a web of for-profit companies that worked with her charter schools, including Celerity Global Development, which received 10% to 12% of the charter schools' revenue. Global spent thousands on a recording studio that McFarlane planned to use for a for-profit media-production business.
"If you want to help your students, you can teach them that if they make mistakes, they have to pay the price and be responsible for their own actions," U.S. District Judge R. Gary Klausner said during the sentencing.
In 2013, McFarlane earned $471,842 — about 35% more than Michelle King, the superintendent of the Los Angeles Unified School District, was making in 2017.
In January, a 23-count federal grand jury indictment alleged that the former chief executive of Celerity participated in the scheme with McFarlane. Grace Canada was charged with conspiracy to misappropriate and embezzle public funds. She has pleaded not guilty and is scheduled to go on trial on Nov. 12.
Attorneys representing McFarlane were not immediately available for comment.
Times staff writers Anna Phillips and Adam Elmahrek contributed to this report.
---
The stories shaping California
Get up to speed with our Essential California newsletter, sent six days a week.
You may occasionally receive promotional content from the Los Angeles Times.