Celerity charter school founder to plead guilty to conspiracy charge, prosecutors say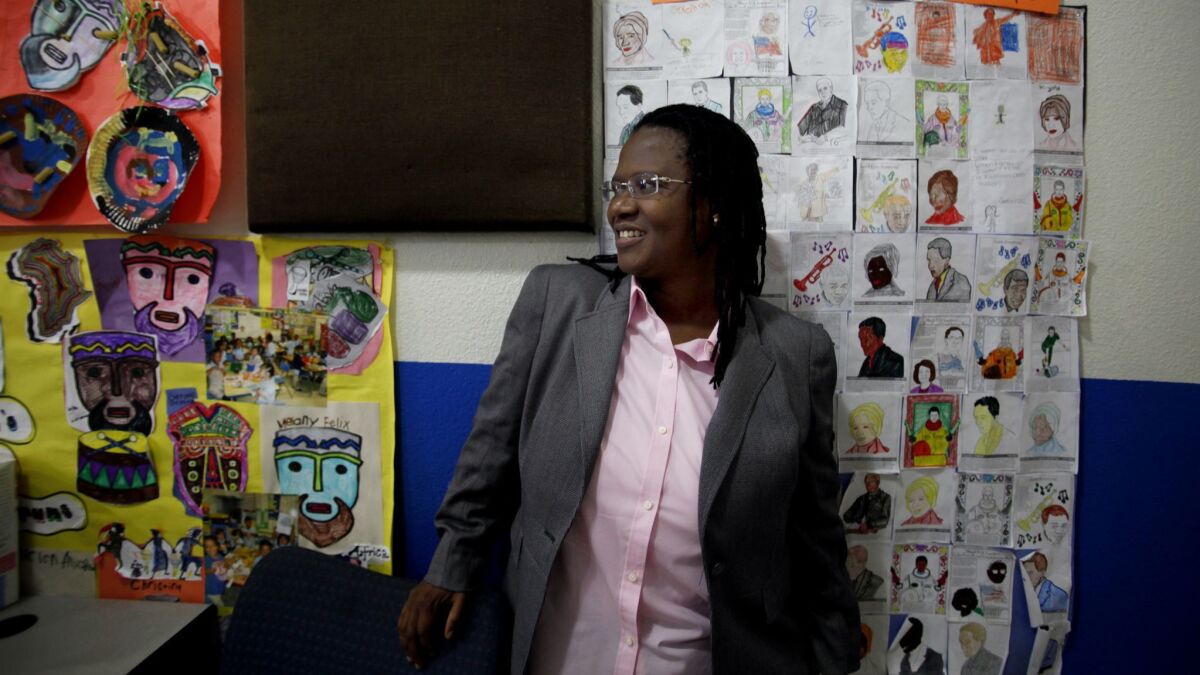 The founder of Los Angeles charter school network Celerity Educational Group has agreed to plead guilty to one count of conspiracy to misappropriate and embezzle public funds, federal prosecutors said Friday.
The felony charge stems from Vielka McFarlane's years-long habit of using her charter schools' credit card to pay for expensive clothing, luxury hotel stays and first-class flights for her and her family.
According to the plea agreement made public Friday, she admitted to misspending about $2.5 million in public funds — all of which had been intended for her students.
This tally included taxpayer money meant for McFarlane's California charter schools that she used to buy and renovate an office building in Columbus, Ohio, where she opened another charter school. At about $2.3 million, the purchase represented the bulk of the misspent funds, prosecutors said.
McFarlane, 56, who served as Celerity Educational Group's chief executive until 2015, faces a maximum possible sentence of five years in prison. She is scheduled to appear in court Jan. 7.
"When anyone repurposes public school funds for self-serving reasons, students suffer," said First Assistant U.S. Atty. Tracy L. Wilkison. "This case involving the former CEO of Celerity demonstrates our ongoing efforts to protect and safeguard public funds, and to hold accountable those who improperly use those funds for their own gain."
Prosecutors chose to take a softer approach to her network of charter schools.
According to a non-prosecution agreement reached in June 2017, the government will not file charges against Celerity Educational Group, which has renamed itself ISANA Academies. The nonprofit organization continues to operate six charter schools in L.A. and Compton and has agreed to cooperate with the federal investigation.
Attorneys representing McFarlane and Celerity Educational Group did not respond to requests for comment.
It was Los Angeles Unified School District employees who first stumbled across McFarlane's misuse of taxpayer dollars. In 2012, the district's charter division made a routine request for financial records from Celerity.
When the charter network's credit card statements arrived that fall, many of the transactions had been blacked out. Concerned district staff grew even more alarmed when they received the full records, which showed that McFarlane had paid for lavish meals and out-of-state travel with the nonprofit's credit card.
The school district's inspector general opened an investigation and the federal government eventually stepped in. Nearly two years ago, federal agents raided Celerity's offices and McFarlane's home, confiscating computers and copying records.
In her plea agreement, McFarlane admitted that she used public funds meant for her L.A.-area charter schools to pay for personal expenses and to start the Ohio charter school. The document details how, beginning in 2009 — five years after she founded the first Celerity charter — she began to treat her organization's credit card as if it was her own.
Among the items she paid for with public funds were $3,347 worth of goods from luxury brand Salvatore Ferragamo in Beverly Hills, $7,742 for plane tickets to Washington, D.C., for President Obama's second inauguration, and $9,299 for two customized recumbent bicycles for her and her spouse. There were flights to Miami and Panama and stays at high-end hotels.
McFarlane wasn't alone on these trips. Federal prosecutors wrote that at various points, she was joined by a Celerity board member — referred to in the plea agreement as "Board Member 1" — as well as several of her employees and their spouses.
Though her travel and clothing purchases got regulators' attention, McFarlane's misuse of public funds went well beyond the credit card.
She created a web of for-profit companies that did business with her charter schools. She also founded another nonprofit group, Celerity Global Development, which was ostensibly providing office services. The charter schools gave Global between 10% and 12% of their revenue for bookkeeping, payroll and other tasks.
Shielded from prying district employees, Global became a vehicle for McFarlane to enrich herself.
Prosecutors wrote that in 2013, Global spent thousands of dollars to lease and renovate a recording studio in Canoga Park. The charter schools rarely used the studio but McFarlane had her own plans for it, which included using it to launch her for-profit media-production business, The Muse Collective.
It is unclear whether any other Celerity executives or board members will face criminal charges. Court documents filed in the case refer to unnamed "co-conspirators." A spokesman for the U.S. attorney's office for the Central District of California said its investigation is ongoing.
Twitter: @annamphillips
The stories shaping California
Get up to speed with our Essential California newsletter, sent six days a week.
You may occasionally receive promotional content from the Los Angeles Times.