Chinatown's swap meets once opened a door to the American dream. Now, their future is uncertain
Chinatown's swap meets offer some of the best bargains to be found in Los Angeles. Here's what $100 can buy.
Jimmy Ho gulps tea from a metal canister and places $10 in the cash register at his clothing store in the Chinatown swap meets.
It's 3 p.m., and he's made one of the few sales he'll make all day.
He squats in front of a clothing display, sweeps aside a blue shirt with a bunny on it, then places a Tupperware container in the microwave hidden there. As the oven begins to drone, Ho sits on a metal stool and does what has become the only way to make a living in the swap meets these days: Wait.
"Minutes, hours, days can pass without making a sale," he explains. "You just can't make a living in Chinatown anymore."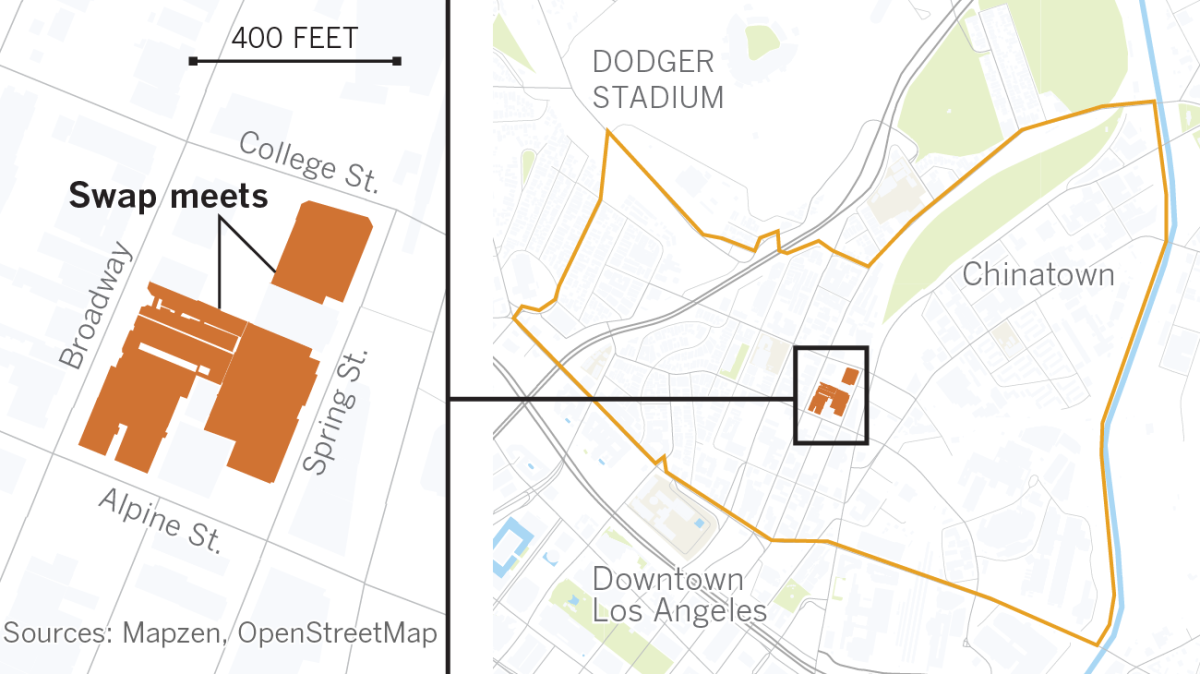 When they were established nearly 30 years ago, Chinatown's swap meets were important economic lifeboats for immigrants finding their way in America. Small storefronts and cheap rents gave many a chance to own a business without having to master English. They sent their children to futures brighter than their own.
But as tourism to the neighborhood declined and online retailers and Chinese commercial centers in the San Gabriel Valley siphoned customers away, the swap meets froze in time. Today, you can find backpacks from the first "Toy Story" movie, old Pokémon and Yu-Gi-Oh! cards and fashions from the 1990s.
Business is slow and getting slower, stall owners say.
Now change has arrived at the swap meets' doorstep. Parts of them were recently sold, replaced by a creative office space and a planned seven-story mixed-use residential complex marketed to downtown millennials. Wine bars and fancy restaurants are on the way, accelerating a neighborhood transformation that has brought hipsters flocking to Far East Plaza and upscale units at the newly opened Blossom Plaza apartment complex.
Many swap meet owners say they don't see themselves in the neighborhood's evolution. If the meets were sold, Ho said, he would simply retire.
"We have enough to eat, to have a house, to live, make car payments, that's enough," Ho said. "We don't have ambition for more."
The microwave dings, and Ho withdraws a steaming Tupperware of ground beef over rice. There's no one to watch over his store, but he walks the food over to his wife's shop, unconcerned about thieves or missed customers.
---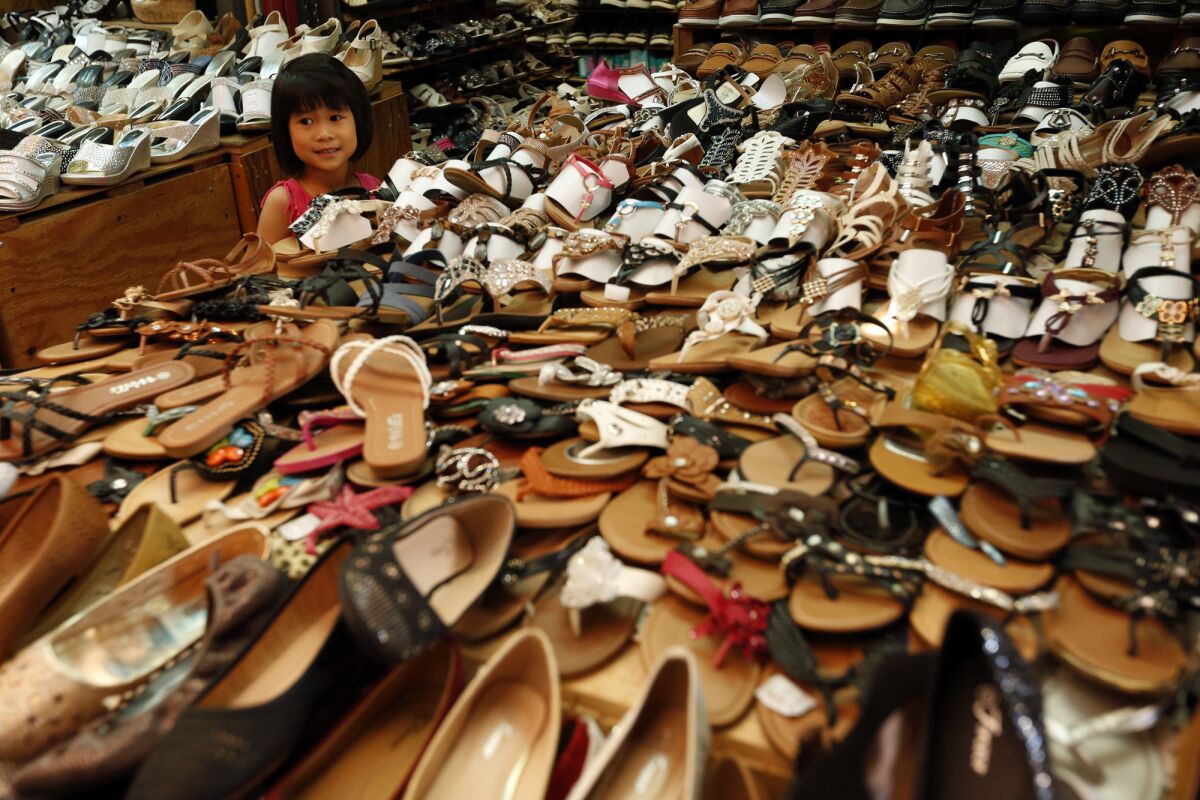 The Chinatown swap meets consist of the Shop, Dynasty Center, Saigon Plaza and Chinatown Plaza — four informally connected retail centers forming an intricate commercial warren along one of the most densely developed blocks in Chinatown.
Around noon or on the weekends, the swap meets are alive with the sound of stall owners bargaining their way to the American dream a few dollars at a time. Among certain immigrants and working-class families, the meets have enjoyed a reputation as the best place to socialize and shop in their own languages without breaking the bank.
Even though there are no Filipino shops, Lizette Dejesus, 38, of West Covina said the meets make her feel as if she's back in Manila shopping in the open-air Divisoria Market. On a recent weekday, she sipped iced sugarcane juice as she browsed the markets with her children, one of whom was clutching a new toy, a shiny plastic gun Dejesus bought for $17.
"It's way cheaper than you can find anywhere else," Dejesus said. "And it kind of reminds you of home."
Vietnamese pop music, Cambodian political talk shows and Chinese-language news reports issue from radios and televisions stashed amid piles of unsold goods, the soundtrack of the swap meets' many diasporas. Many of the entrepreneurs are refugees from the Vietnam War, the Cambodian genocide or the Communist takeover of China.
Dynasty Center, created when a developer renovated and combined two single-room-occupancy apartment buildings, contains mostly Chinese and Vietnamese people, while Saigon Plaza is a mix of Cambodian and Vietnamese. Chinatown Plaza contains more than 20 businesses owned by members of a single extended Cambodian family, and behind Saigon Plaza, the Shop, a two-story shopping complex, has a mix of Chinese, Vietnamese and Cambodians.
These are some of the smallest businesses crushed under the heels of online retail giants. Most of them buy mass-produced goods for rock-bottom prices from manufacturers overseas or in downtown Los Angeles and sell them at small markups.
They offer few products that Amazon cannot deliver to your door. Once, there were more than 300 tenants in the swap meets, making up an estimated 70% of all the business owners in Chinatown. Their ranks have dwindled to half of that — though they still represent a majority of Chinatown's business owners.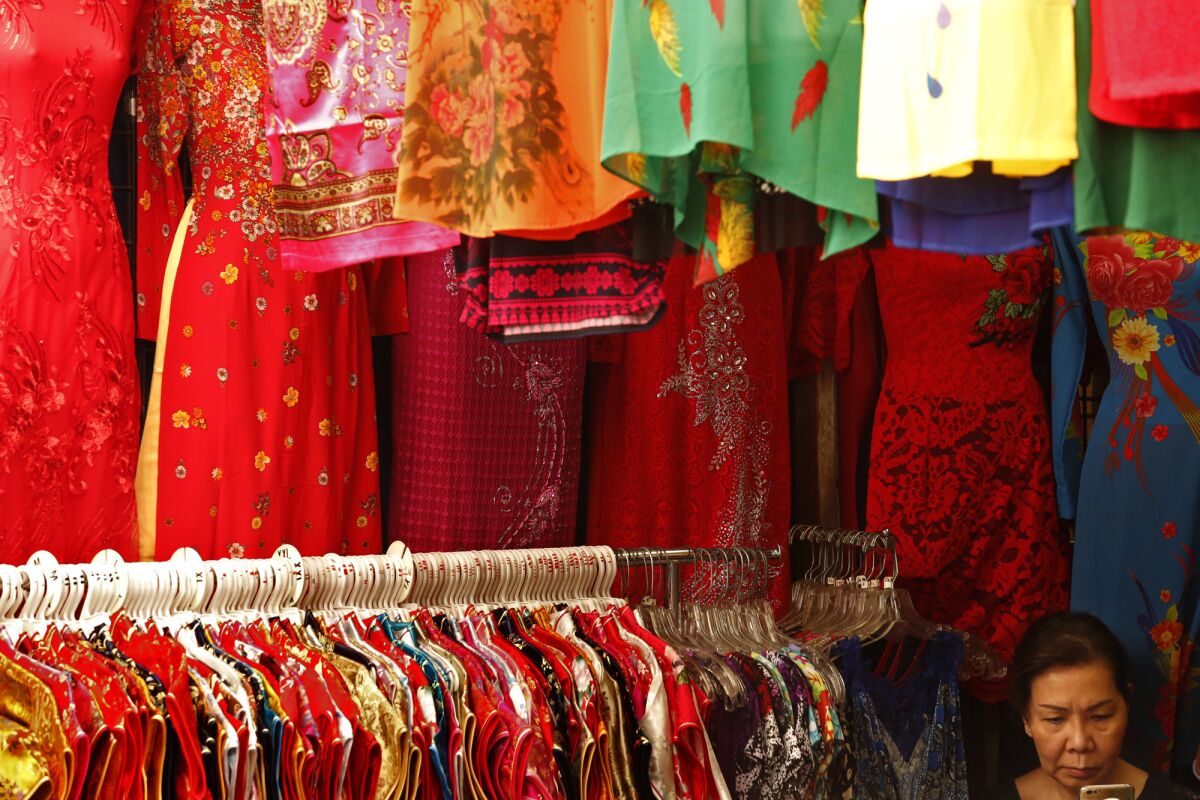 Their facilities have aged about as well as their business model. In the Shop, water-damaged tiles have been replaced with mismatched colors, giving the space the look of a TV screen covered in dead pixels. In Saigon Plaza, canvases are haphazardly draped over metal girders to form a roof, mummifying the building's original architecture. In Dynasty Center, sunlight filtered through drooping blue tarps casts an eerie glow over a hallway dotted with shuttered storefronts awaiting new tenants.
Some merchants blame the Internet. Others blame declining tourism in Chinatown. Some point squarely at one another. Nearly all of the shops sell either clothing, toys, cellphone cases, luggage or Chinatown souvenirs, and the stall owners sometimes fight over customers, causing such a ruckus that management has to intervene.
Many of the stall owners struggle to understand and be part of the forces reshaping Chinatown. They read articles about the reemergence of the area as a popular eating destination, a revival that has yet to touch their part of the neighborhood. They commute past shiny, boxy residential developments renting for $2,000 to $3,000 a month, but they don't know anyone who can afford them.
"We don't have English, so we don't have those dreams," said Zhuo Xie, who sells traditional Chinese qipao — ornate patterned silk dresses — out of two adjoining storefronts in Dynasty Center.
Xie's qipao sell for as little as $15, the price of a chicken sandwich and a lemonade down the street at Howlin' Ray's in Far East Plaza, where business owners seem to have no problems with foot traffic.
In Saigon Plaza, Harry Ng sells five T-shirts for $10, less than half the price of a single T-shirt in the boutique clothing shop next to a Roy Choi restaurant that always seems to have a line.
Many say they are too poor to revamp their business toward the people renting the fancy new apartments and too old to learn enough English to communicate with them. Some hold on because they can see retirement on the horizon.
Others, like Ng, a refugee from Vietnam who arrived in the U.S. when he was 18, have accepted struggle as part of life in America.
"This is what America is," Ng said. "Some get rich, some stay poor."
At her bedsheet and blanket store in the Shop on a recent weekday, Cynthia Lu watches the hallway for customers as a Gold Line train screeches to a halt at the station across the street.
A few years ago, when the swap meet behind Saigon Plaza was sold and renovated into office space, the gate that connected her shopping complex to Saigon Plaza was closed. That walkway was illegal because the gate opened onto a city street, but it and several other informal connections between the plazas had persisted for more than a decade.
"Customers don't know how to find us anymore. They don't want to come this far. Sometimes I don't see a customer all day," Lu said.
Another connected swap meet, Alpine Center, was bought a few years ago, and developer Izek Shomof, who owns several properties downtown, plans to build a seven-story, 122-unit mixed-use apartment complex geared at luring downtown millennials. A wine bar is proposed for the property across the street from the Shop, one of three Chinatown wine bars proposed for Spring Street alone.
"We don't have money, so we don't have power to control everything," Lu said. "They have money, so whatever they want to do, we can't do anything about it."
Still, though stall owners say they struggle, they wouldn't rent the spaces if it weren't profitable, said Dynasty Center building manager Song Jackson. She said she's even seen Mercedes-Benzes in the staff parking lot, though lately it's mostly older-model Japanese cars.
Even some of the business owners think the swap meets are dated.
"People around here don't want change," said Long Ta, who owns a jewelry store in Chinatown Plaza. "And the problem is that they just want to die and give it to their children who might not even want it."
Ta and his family came to the U.S. as Cambodian refugees. He began washing dishes at a Chinese restaurant in Michigan when he was 13. He left the restaurant business after working so many long shifts that he fell asleep at the wheel and almost died in an accident.
"I know how hard you have to work to make money," Ta said.
---
In 1985, he moved to Los Angeles, where he opened his first jewelry store in a tiny swap meet storefront in Saigon Plaza. Business boomed, and he gradually expanded to a bigger space in Chinatown Plaza next door. As storefronts in the two-level strip mall became available, he'd buy them or help family members take them over. Now all of the nearly two dozen jewelry stores in the plaza are run by Ta's relatives.
Ta is one of the few swap meet business owners who are in a position to shape the meets' future.
If he hadn't decided against it, the building across the street from Saigon Plaza might now be a SoulCycle facility. Instead, it houses an acupuncturist and a pho restaurant.
Ta once considered buying Saigon Plaza from owner Frank Mak, who declined to comment. He said he would make big changes if he were the owner: extensive renovations, a new food court and restrictions on the number of businesses that can sell identical products.
He's worried about Chinatown losing its identity, but in the face of the tectonic changes coming to the neighborhood, he doesn't have time or money to spend on sentimental value.
"Something happening is better than nothing happening," Ta said.
Many stall owners accept that what happens to the swap meets is beyond their control. The shops were a means to an end, and many, like Ho, have reserved their greatest ambitions for their children.
Underneath Ho's cash register, he keeps a newspaper wrapped in plastic from the time his son Tom was featured for an academic honor. Tom went on to attend UC Berkeley and got a job at Deloitte.
Xie's sons graduated from UC Riverside and Cal State Los Angeles.
Wendy Wei's clothing store in Dynasty Center helped pay for her son to study biochemistry at Berkeley, and he plans to become a doctor.
And as for Ta's son James, he went into the family business after graduating from UCLA.
Last year, he opened a jewelry store in a familiar location: at Chinatown Plaza, in a storefront above his father's.
Twitter: @frankshyong
ALSO
From wonton nachos to boba tea in IV-drip bags, 626 Night Market continues to evolve in its sixth year
How Cambodians became the kings of beloved South L.A. fried chicken chain
Before Asian Americans could be 'woke,' they had to shed the 'Oriental' label
The stories shaping California
Get up to speed with our Essential California newsletter, sent six days a week.
You may occasionally receive promotional content from the Los Angeles Times.