How much will cities profit from California's marijuana legalization? We'll soon find out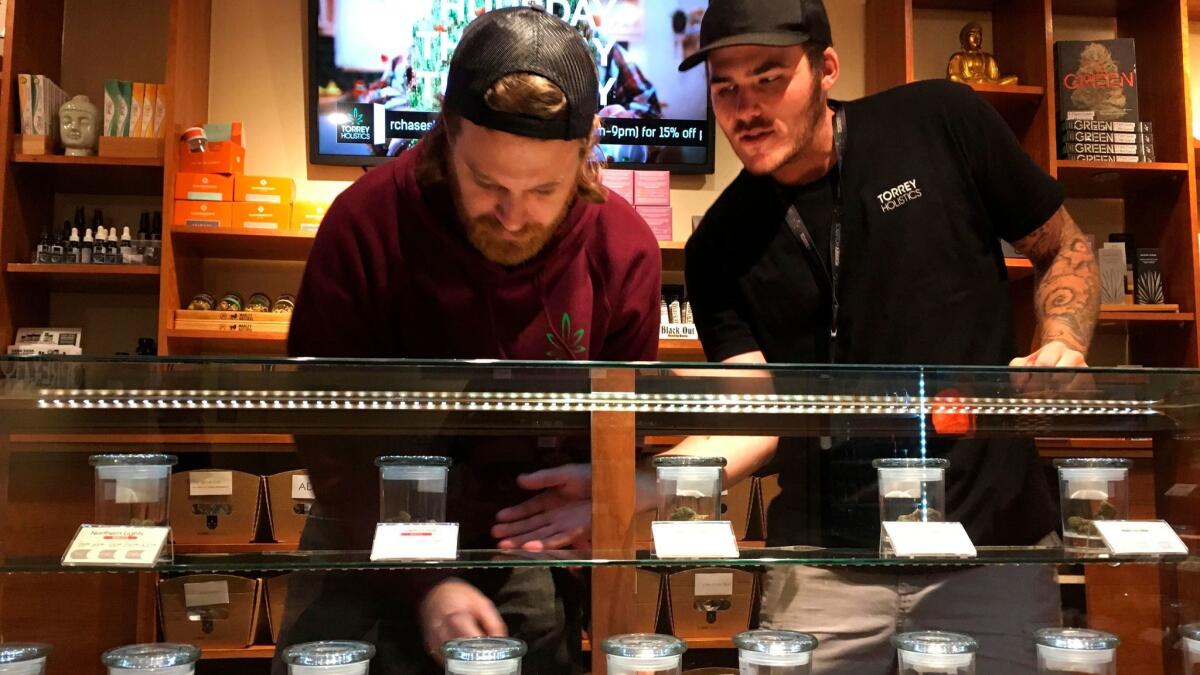 Reporting from San Diego —
San Diego expects to get a windfall of new revenue from the city's tax on recreational marijuana sales that begin Monday, but officials concede they are taking guesses at how many millions per year the tax will generate.
Estimates presented to the City Council this month predict $5.5 million per year initially, with steady increases up to $13.7 million in the budget year that ends in June 2023.
That's below the $22 million to $35 million of annual revenue predicted last year by the city's independent budget analyst, and the finance officials responsible for the new estimates say they erred strongly on the conservative side.
The numbers are based on sales tax the city now receives from medicinal marijuana sales at legal dispensaries, but most expect legalization of recreational sales to prompt a sharp surge in demand.
The estimates also only include tax from the roughly 20 legal dispensaries expected to operate in the city, not tax from as many as 40 businesses expected to operate marijuana cultivation, manufacturing and distribution businesses.
Revenue could also spike if San Diego sees a sharp increase in sales from marijuana tourism, which had a strong impact in the first two states to legalize recreational marijuana: Colorado and Washington.
Another variable is the rate of the city's marijuana tax, which was approved by 69% of city voters in November 2016.
It's slated to start at 5% and increase to 8% in July 2019, but the City Council has the discretion to boost it to 15% at any time.
The size of San Diego's marijuana black market, comprised mostly of illegal delivery services, is another factor.
If legalization of recreational marijuana significantly shrinks the black market, the city will collect more tax revenue. But if the city tax allows black market operators to charge significantly less for the drug, the black market could grow.
A state analysis completed last summer projects illegal marijuana in California, now estimated at 75% of the market, will eventually shrink to just under 30% after recreational sales begin next week.
The analysis, conducted by the UC Agricultural Issues Center at the request of the state Bureau of Marijuana Control, predicts recreational sales will eventually be 61.5% of the overall market and the black market will be 29.5%.
The analysis predicts sales of medicinal marijuana, now estimated at 25% of the market, will end up at about 9%. It also says legal sales will increase from $2 billion total to about $5 billion total.
City officials didn't use that analysis in their estimates, which were based only on sales at existing medical dispensaries and estimates of how many dispensaries beyond the current 11 would eventually operate in the city.
"We don't have a whole lot of data at this point to really come up with our projections," Matt Vespi, the city's deputy director of financial management, told the City Council during a recent public hearing.
Another factor that could affect revenue from San Diego's marijuana tax is medicinal purchases, which are exempt from the tax, making up a large share of the market despite the availability of recreational marijuana.
Critics of the city's tax say many customers will choose medicinal marijuana, which will remain available at local dispensaries, because its exemption from the tax will make prices lower.
Leaders of the local marijuana industry disagree. Alex Scherer, who owns and operates a legal city dispensary, said recreational sales are expected to significantly outpace medicinal.
That's because there are hassles associated with buying medicinal marijuana and because legalization of recreational marijuana will eliminate a stigma, prompting more people to try the drug.
Medicinal customers must continue to get a doctor's recommendation, which costs $40 to $60 and must be updated annually.
And California will begin requiring a state identification card on Monday that costs $100 per year and is necessary to avoid paying taxes on medicinal marijuana.
The final variable affecting revenue from San Diego's marijuana tax is whether the city continues to have a near monopoly on the legalized industry, making it a sort of mecca for sales. San Diego is the only city in the county to have legalized an entire supply chain for the drug.
david.garrick@sduniontribune.com
Twitter: @UTDavidGarrick
ALSO
California's top marijuana regulator talks about what to expect Jan. 1, when legal pot market opens
Labor unions see organizing California marijuana workers as a way to grow
First rule of California pot legalization: Don't smoke in public
Sign up for Essential California for news, features and recommendations from the L.A. Times and beyond in your inbox six days a week.
You may occasionally receive promotional content from the Los Angeles Times.