Cities, states and businesses want to cancel out Trump's climate rollbacks. But how much pollution can they actually cut?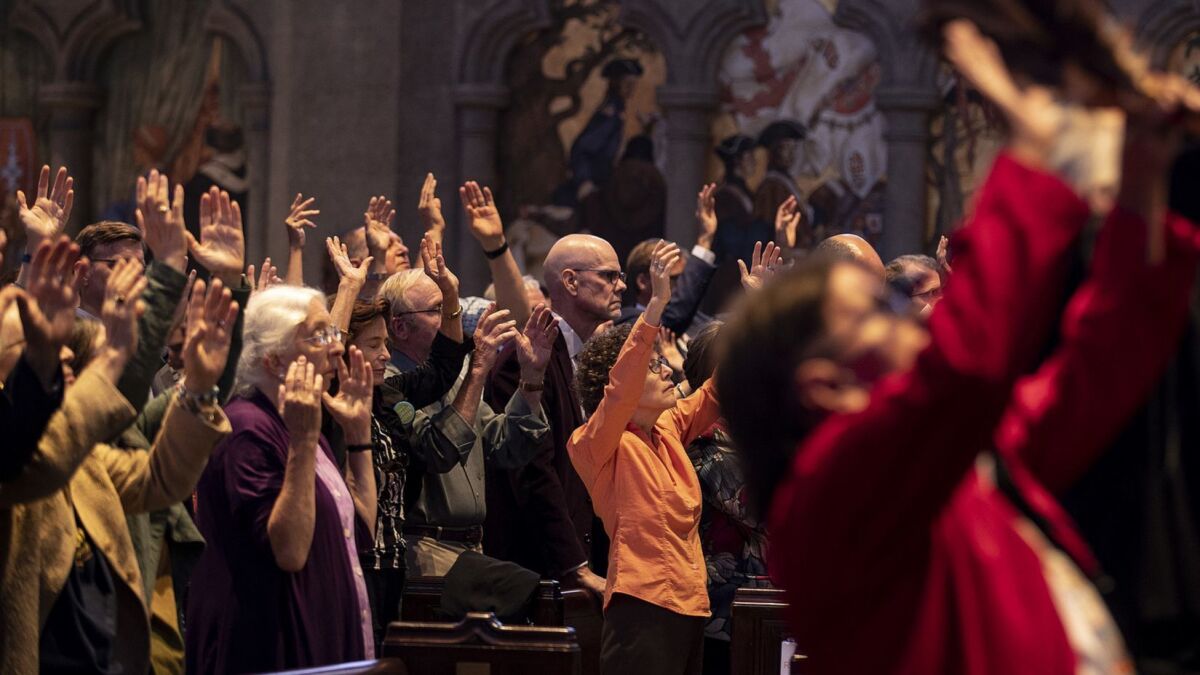 Two years ago, California and the federal government were close partners in the battle against climate change.
Today, the state is at the center of a more fractured coalition.
With President Trump withdrawing from the international Paris climate agreement and scrapping Obama-era emissions rules, California has banded together with other left-leaning states, cities and green-minded businesses pledging to continue the fight to slow global warming, proclaiming, "We Are Still In."
As that coalition of governors, mayors and corporate executives from across the globe gathers in San Francisco this week for a climate summit, Gov. Jerry Brown and other leaders are expected to make a flurry of announcements on renewable energy, electric vehicles, fossil fuel divestment and other steps to slash greenhouse gas emissions. They'll try to demonstrate that local officials, state governments and large companies are capable of filling the void created by Trump.
But will those actions be enough to give the world a fighting chance against climate change when the U.S. government is sitting it out?
As several recent assessments show, there's little consensus on the extent to which local and state measures and industry pledges can make up for a lack of federal action — let alone cut enough pollution to make a meaningful dent in humanity's most existential threat.
One recent Yale University analysis found that if all the commitments made to date by cities, regions and companies are implemented, they have the potential to provide about half the emissions reductions needed to meet the United States' Paris pledge. But the report also warned that there is a risk those reductions won't materialize if local governments and businesses don't ultimately deliver on their promises.
"There's a big discrepancy between the ambition level of all the initiatives and the actual action on the ground," said Niklas Hoehne of NewClimate Institute, a German think tank that helped conduct the analysis. "We need more concrete commitments that follow the aspirations — and to be sure that they are really implemented and are more than just words."
The 2015 Paris agreement, considered a first step toward avoiding the most devastating effects of climate change, relies on commitments from nations to slash planet-warming emissions in order to keep the increase in global temperatures below 2 degrees Celsius.
The Obama administration promised under the agreement to cut the United States' emissions at least 26% below 2005 levels by 2025.
The U.S. is now on track to get only halfway to that target, according to an assessment by the research firm Rhodium Group.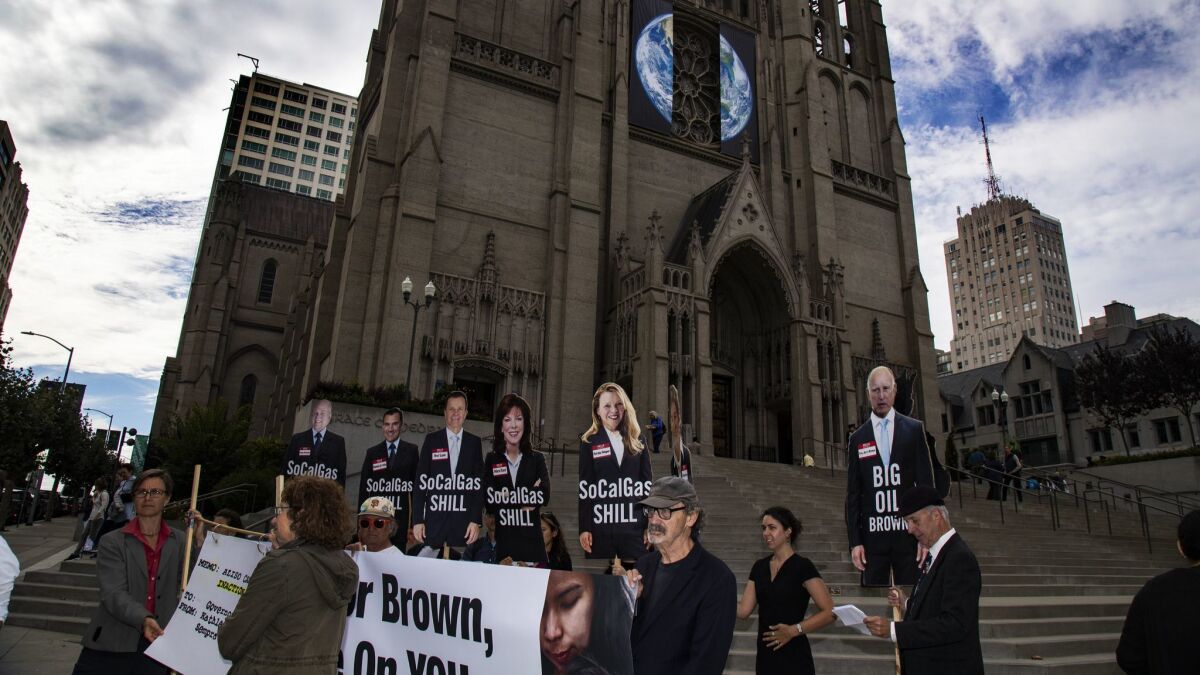 Trump's moves to abandon the Paris agreement and roll back pollution-cutting rules only explain part of that shortfall. There are other significant barriers, including slow progress on one of the most critical transformations needed: replacing the diesel- and gas-fueled cars and trucks with electric vehicles.
A report released Wednesday by Gov. Brown and former New York Mayor Michael R. Bloomberg, who are co-chairing the summit, acknowledges that achieving the emissions reductions America pledged in Paris may be out of reach, but still finds reasons for optimism.
That analysis, conducted by a team of researchers as part of the climate initiative America's Pledge, found that the U.S. is likely to miss its Paris target even with aggressive pollution reduction measures by cities, states and businesses. But it lays out a road map for how that coalition can bring the U.S. "within striking distance of the Paris pledge," even without cooperation from the federal government.
Existing policies, combined with additional measures by states, local governments and corporations and other market forces, will drive U.S. emissions down 17% by 2025 — about two-thirds of the way to the Paris target, the report found. By undertaking even broader initiatives "within realistic legal and political limits," there is the potential to further reduce U.S. emissions to nearly what was pledged in Paris.
Doing so would require expanding the coalition of governments and companies willing to tackle climate change without federal mandates and focusing on a few key strategies to quickly slash greenhouse gas emissions at the local level. That could include accelerating the move to renewable electricity, deploying millions more electric vehicles and adopting rules to detect and stop methane leaks.
"States, cities and businesses have the power to bring the nation to the brink of that ambitious target through their own authorities and acting in the interests of their citizens and shareholders," said Paul Bodnar of the Rocky Mountain Institute, a Colorado think tank that helped draft the report.
The contributions of local governments and other "subnationals" are taking on increased importance because few nations are anywhere close to reaching their targets in the Paris pact.
Even meeting the Paris targets would get the world only one-third of the global emissions cuts needed to keep warming this century within levels tolerable to humanity, according to the United Nations, which in a report last year warned that "the gap between the reductions needed and the national pledges made in Paris is alarmingly high."
If that gap isn't narrowed soon, the planet will almost certainly blow past what scientists consider a point of no return: the internationally agreed-upon emissions threshold to keep global temperatures from rising no more than 2 degrees Celsius above preindustrial levels to avoid the most calamitous effects of climate change.
The consequences of falling short of that mark are so significant that U.N. Secretary-General Antonio Guterres urged world leaders this week that they must quickly shift from fossil fuels before it's too late.
"If we do not change course by 2020 we risk missing the point where we can avoid runaway climate change with disastrous consequences," Guterres said Monday at U.N. headquarters in New York. "Every day we fail to act is a day that we step a little closer towards a fate that none of us wants — a fate that will resonate through generations in the damage done to humankind and life on Earth."
---
The stories shaping California
Get up to speed with our Essential California newsletter, sent six days a week.
You may occasionally receive promotional content from the Los Angeles Times.