L.A. residents reach for winter clothes as cold snap digs in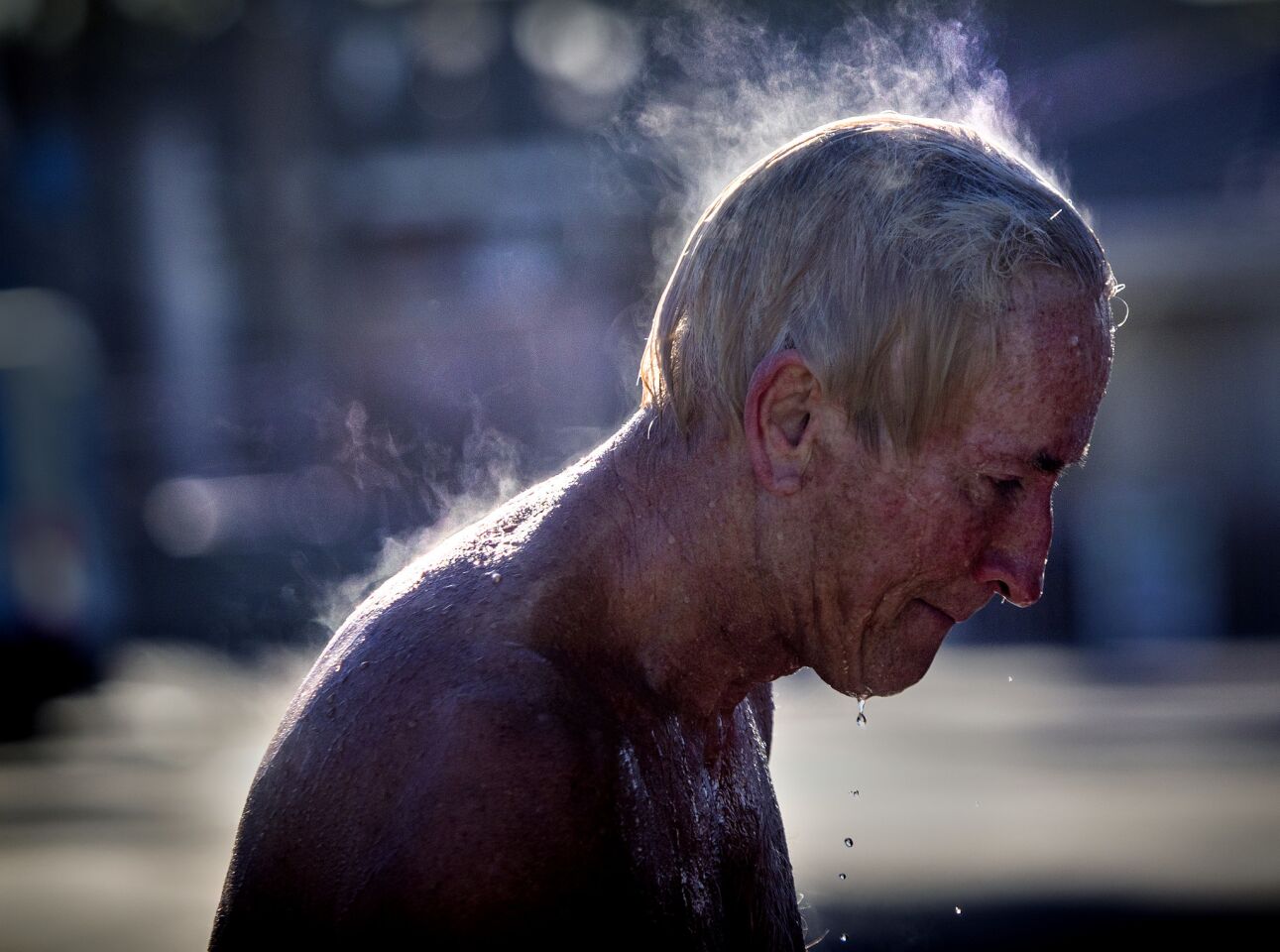 Steam rises off Rick Rzeszewski of Tustin after he poured hot water over his head following a surf outing amid frigid air and cold water temperatures at sunrise in Huntington Beach. "After being in that cold water, it feels wonderful," said Rzeszewski, a pastor who surfs early in the morning before the crowds arrive.
(Allen J. Schaben / Los Angeles Times)
Amid temperatures in the 20's and 30's, a snowboarder bundles up while snowboarding at Mountain High resort in Wrightwood.
(Allen J. Schaben / Los Angeles Times)
A snowboarder nears the end of the run at Mountain High resort in Wrightwood.
(Allen J. Schaben / Los Angeles Times)
Hikers take in a view of snow-capped twin-peaks of Mount Baldy from an overlook near Wrightwood.
(Allen J. Schaben / Los Angeles Times)
Skiers and snowboarders traverse down the mountain at Mountain High resort in Wrightwood .
(Allen J. Schaben / Los Angeles Times)
People bundle up Tuesday across Southern California as a cold air mass behind a storm generated frigid temperatures.
(Irfan Khan / Los Angeles Times)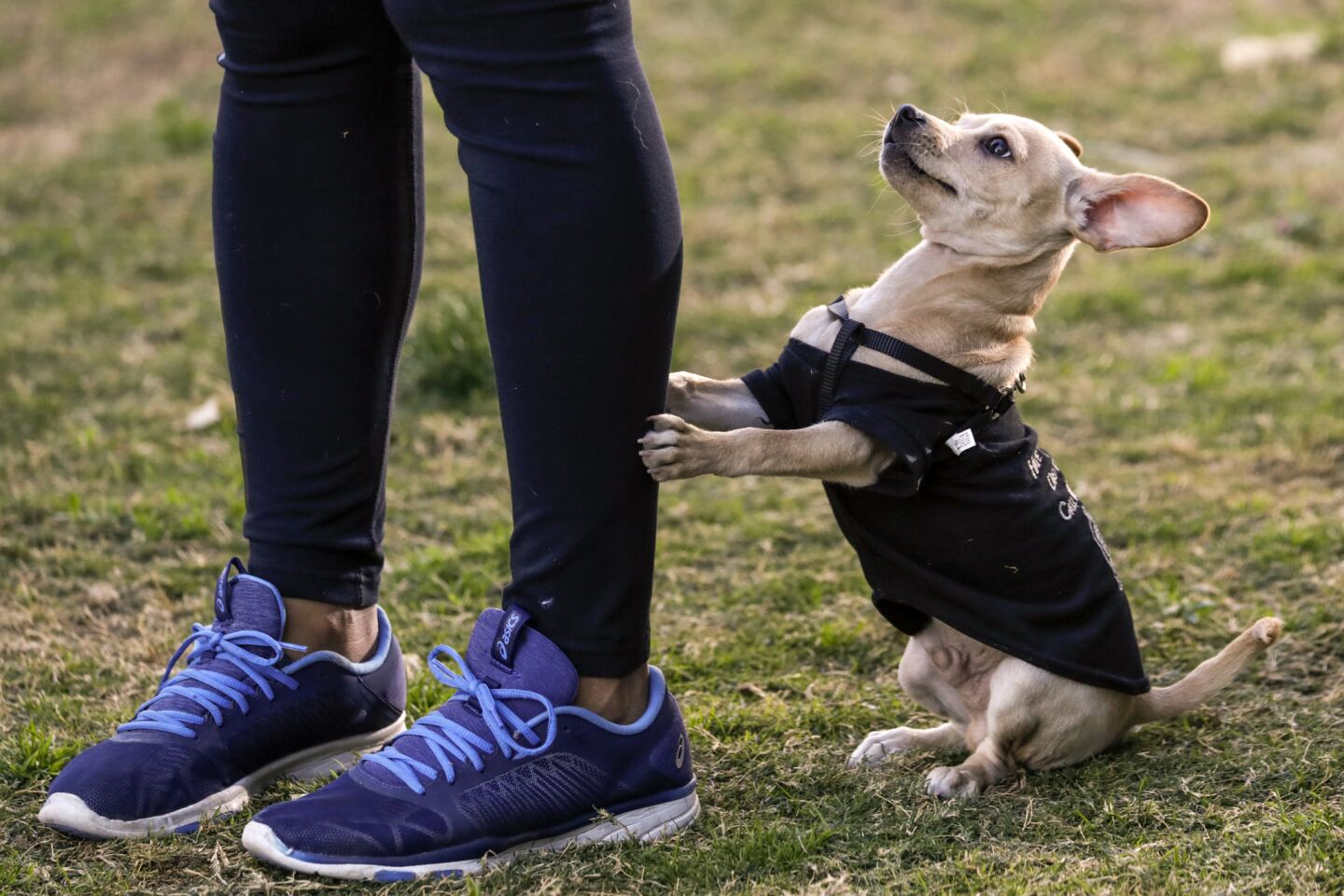 A pup named Golden wears a sweater to keep the cold at bay while playing at the dog park next to LAPD headquarters in downtown Los Angeles.
(Irfan Khan / Los Angeles Times)
Temperatures across Southern California will remain 12 to 18 degrees below normal for the next two days thanks to a heavy infusion of cold Canadian air.
(Irfan Khan / Los Angeles Times)
Clouds roll in over the Redondo Beach Pier as cold weather is settling in over the southland this week.
(Christina House / Los Angeles Times)
Hoodies and jackets were the uniform for residents and commuters in Los Angeles Tuesday, as a cold snap had Angelenos digging for little-used winter clothing.
The National Weather Service issued a freeze warning for parts of Los Angeles, Ventura, Santa Barbara and San Luis Obispo counties, with the coldest weather expected from 1 a.m. to 9 a.m. Wednesday.
Downtown had a low temperature of 40 degrees Tuesday, as Angelenos like Alex Garcia, 30, waited at bus stops in layers of clothes, hats and scarves.
The Cal State Los Angeles student, dressed in a navy and powder blue FUBU sweatshirt, said the cold has interrupted his regular schedule more than he anticipated. Garcia said he normally spends his evenings in the library, but the cold weather discouraged that. Socializing is also limited as more people are indoors.
"It feels a little uncomfortable," Garcia said of the cold, waiting for a bus at Olive and 5th streets.
Next to Garcia stood commuters with arms folded in thick jackets. One woman closed her eyes as the wind whipped across her face.
At Broadway and 4th Street, Michael Anderson moved briskly, enjoying the "refreshing" weather.
He had left his 7th Street apartment wearing a T-shirt and thermals underneath a navy sweatshirt. "I like to wear my winter clothes," he said.
"Only downside is at night, my arthritis tends to kick in," Anderson, 66, said. "But I like the different type of weather we have now."
For those without housing, the Los Angeles Homeless Services Authority has opened 14 winter shelters, providing food, beds and case management services.
The agency's director, Tom Waldman, said in an email that most winter shelters will remain open 24 hours until Saturday.
The Midnight Mission, at 6th and San Pedro streets, has a courtyard available with gas heaters and restrooms, said volunteer manager Joey Weinert.
"When it gets too cold, that's when we step it up and open our dining hall to let folks in out of the weather," Weinert said.
Freezing temperatures were also affecting crops on Central Valley farms and vineyards.
The citrus industry expected very little damage to its crops — about 45% to 50% of the navel and mandarin orange varieties have been harvested — and the remaining fruit has a higher sugar content, which can act as a natural defense against freeze damage, according to the California Citrus Mutual, an industry group.
Almond, peach and grape growers throughout the state have deployed helicopters and fans to help recirculate air, a tactic that can substantially change the ground temperature to prevent frost damage to fresh blossoms.
Citrus growers sprayed water to keep soil moist in their groves, and used wind machines to recirculate air as temperatures lingered below freezing for five to 10 hours overnight.
Growers are trying to protect blossoms that emerged several weeks early because of higher-than-normal temperatures before the cold front's arrival, Citrus Mutual said.
Scattered vines are emerging from their winter dormancy and are showing new buds, said Jennifer Putnam, executive director of Napa Valley Grapegrowers, a wine industry group. "It's not a lot, but there are some vineyards that have buds," Putnam said. "We're concerned."
The cold weather follows unusually warm weather in January and early February.
"It is normal for us to have warm winter days, but not to the extent we've experienced this year" in January and February, said Ryan Kittell, a forecaster with the National Weather Service.
michael.livingston@latimes.com
Follow me: @mikelive06 @LATgeoffmohan
---
The stories shaping California
Get up to speed with our Essential California newsletter, sent six days a week.
You may occasionally receive promotional content from the Los Angeles Times.