Prosecutors seek 13-month prison sentence for ex-Stanford coach in admissions scandal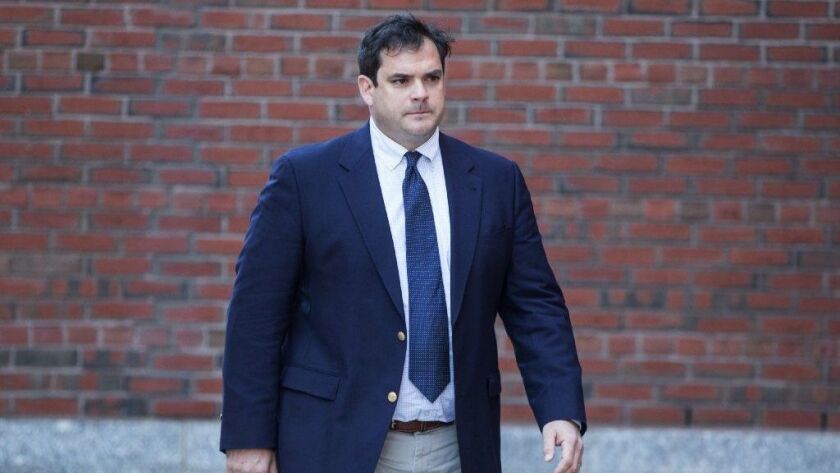 The fate of John Vandemoer, the former sailing coach at Stanford University who participated in the college admissions scandal, will take one of several very different turns Wednesday when he is sentenced in a Boston courtroom.
If U.S. District Judge Rya W. Zobel abides by federal sentencing guidelines, she will put Vandemoer behind bars for somewhere between three and four years.
Prosecutors, meanwhile, initially told the judge they believe Vandemoer deserves 18 months in prison and then, last week, downgraded their recommendation to 13 months.
And then there is Vandemoer himself. Through his attorneys, he has made a bid for leniency, asking Zobel to spare him prison time altogether.
How hard or easy Zobel comes down on the 41-year-old father of two rests in large part on how much she tries to deter others from committing similar crimes by making an example of Vandemoer in the high-profile case that has generated intense international interest.
Vandemoer is the first to be sentenced among the 50 coaches, parents and others charged in the federal investigation into what authorities say was a nearly decade-long, multimillion-dollar scheme to sneak children of wealthy families into top universities with bribes, doctored entrance exams and fake credentials. Like Vandemoer, many of the defendants have pleaded guilty and are awaiting sentencing, while others have maintained their innocence.
In March, when investigators unveiled their case, Vandemoer had already agreed to plead guilty to a charge of racketeering conspiracy. Such decisions to concede quickly are, at least in part, strategic moves defendants make in hopes they will win leniency at sentencing for taking responsibility for their crimes.
Vandemoer admitted to conspiring with William "Rick" Singer, the Newport Beach college admissions consultant who has confessed to running the scheme. The sailing coach designated three children of Singer's clients as competitive sailors he was recruiting to the Stanford sailing program, regardless of whether they could actually sail.
For Vandemoer's efforts, Singer paid $610,000 to the Stanford sailing program.
Zobel's decision could foreshadow what awaits Singer, who has also pleaded guilty and is awaiting sentencing by the same judge.
Early on, prosecutors wrote in a court filing that the deception should earn Vandemoer 18 months in prison. Then, on Friday, they submitted a memo asking Zobel to give Vandemoer just 13 months. Other than his transgressions with Singer, the disgraced former coach "has otherwise led a law-abiding life, did not directly profit financially from his crimes, promptly accepted responsibility for them, appears genuinely remorseful, and is unlikely to reoffend," wrote Assistant U.S. Atty. Eric Rosen.
Rosen called the proposed sentence "a meaningful term of incarceration." Beyond punishing Vandemoer, the prosecutor said it was necessary to imprison him as a way to deter others from committing similar crimes in the future.
"It is also the only way to begin restoring confidence in a college admissions system that most people agree is needlessly unfair," Rosen wrote.
Vandemoer's lead attorney, Robert Fisher, asked that his client be spared prison and given probation, characterizing his crimes in a court memo filed Friday as "a mistake he regrets dearly and one that he is determined not to let define him or his life."
Fisher argued that Zobel should not adhere to the federal sentencing guidelines, which call for between three to four years in prison. That calculation, he wrote, was a result of the prosecutors' decision to charge Vandemoer with conspiracy to commit racketeering — a serious crime that carries a hefty punishment. Fisher acknowledged the government's use of the charge was technically appropriate, but said it had skewed the reality of Vandemoer's crimes because there was no evidence that he was aware of the larger conspiracy Singer was operating.
Fisher also emphasized that unlike the 10 other coaches and administrators charged in the scheme, Vandemoer is not accused of profiting personally from Singer's bribes. Instead, both sides agree, the money was deposited into bank accounts controlled by the university and used to buy uniforms, pay an assistant coach's salary and other legitimate expenses.
That, Vandemoer's attorney wrote, shows his "intent, while misguided, was to help the sailing program he loved."
Prosecutors acknowledged the distinction, telling Zobel they believe it should be taken into account when he is sentenced.
Nevertheless, prosecutors contend Vandemoer still benefited from the bribes. Plumping his program's coffers, they said, "enhanced his own status within the university, gave him more money to use for the sailing program he implemented, and furthered his career."
His arrangement with Singer, which began in 2016, was "an illicit quid pro quo," prosecutors argued, one that violated his obligations to Stanford and harmed the university. Stanford filed a victim impact statement Monday, saying Vandemoer tried to subvert a highly selective admissions process that the school considers "vital to its mission and reputation."
Stanford took no position on Vandemoer receiving a particular sentence. The school views money that Singer funneled to the sailing program as "tainted," general counsel Debra Zumwalt said in the statement, and Stanford is in talks with California Atty. Gen. Xavier Becerra about finding "an appropriate way for those funds to be used for the public good."
Zumwalt said no student won a coveted spot at Stanford because Vandemoer endorsed them as a sailing recruit. One of the three applicants was offered admission, but chose to attend a different school and a second did not complete the application process, court records show. Zumwalt said the third student, who did enroll, had worked with Singer to falsely apply as a sailor, but ultimately did not win acceptance as an athletic recruit. The student was later expelled and credits were revoked.
The Times previously identified the student as Yusi Zhao, whose parents paid Singer $6.5 million after she was admitted to Stanford in 2017. Zhao's family has denied wrongdoing, and said through an attorney that they were duped into believing the seven-figure payment would go toward scholarships and programs to help low-income students.
Vandemoer has been fired from the head sailing coach post he held at Stanford for 11 years. He has also been evicted from his university housing, his attorneys said.
The attorneys have filed with the court dozens of letters from family, colleagues and people whom Vandemoer taught to sail, attesting to his character and describing a life spent in the service of student-athletes he has coached and the two young children he is raising.
Vandemoer's wife said he is taking online classes toward a master's in business administration so he can find work in a "new career field"; his attorneys say he can hardly hope to be hired by a university ever again.
In a letter to the judge who will either spare her husband or send him to prison, Molly O'Bryan Vandemoer said she was asked after her husband's arrest "how mad I must be towards John."
"The question really surprised me, as anger never entered my mind," she said. "I know he made a mistake. … But I know he will never do something like this again."
---
Get breaking news, investigations, analysis and more signature journalism from the Los Angeles Times in your inbox.
You may occasionally receive promotional content from the Los Angeles Times.