Why do some L.A. County sheriff's deputies have matching skull tattoos? It's a question Compton residents have been asking for years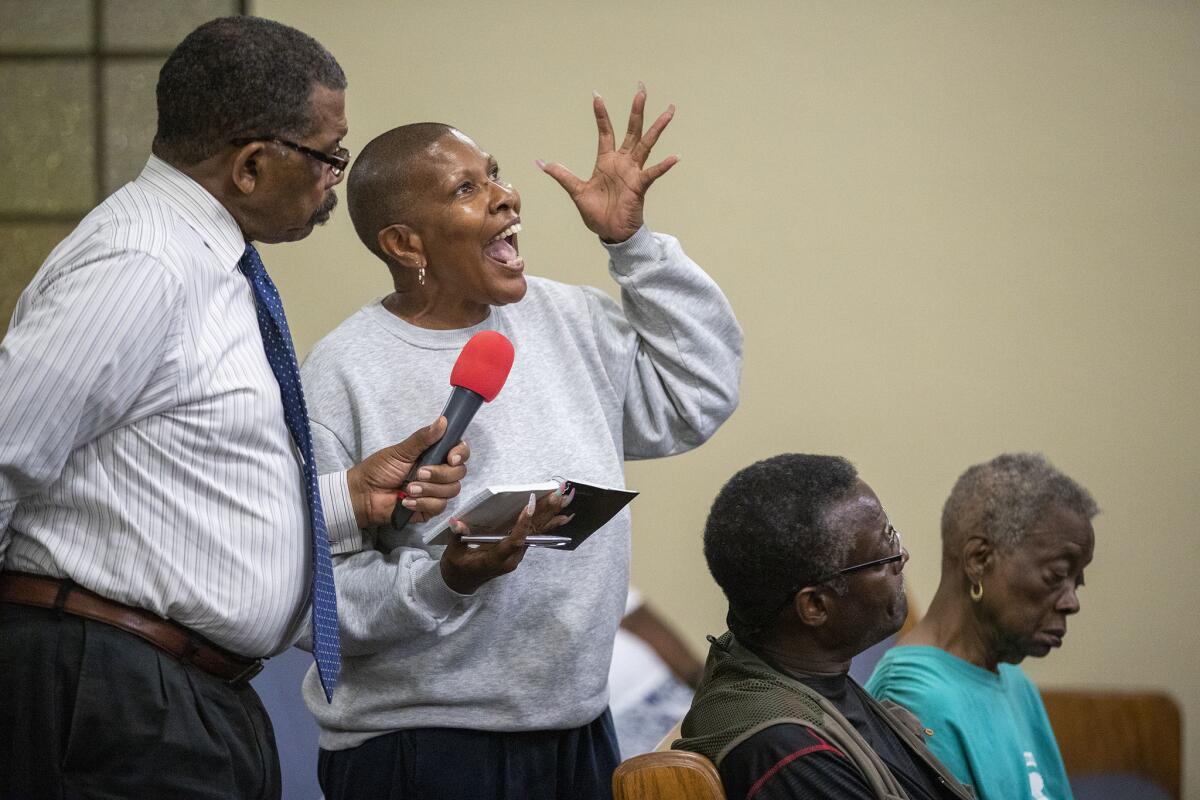 For some in the room, the problem was all too familiar.
At a church in Compton last week, community members spoke out about allegations of deputy gangs in the Los Angeles County Sheriff's Department — the topic of similar gatherings several years back.
The meeting was in response to news last month about a deputy's testimony that he and as many as 20 officers at the Sheriff's Compton Station have tattoos of a skeleton holding a rifle and wearing a military-style helmet bearing the letters "C P T."
"That's not the standard of conduct that we have for our deputies, or our law enforcement personnel," said Jonathan Taylor, an official with the National Assn. for Equal Justice in America, a Compton-based group that organized the meeting at Compton Community Seventh-day Adventist Church.
Several years ago, Taylor said, the association's anti-crime committee hosted regular meetings about the issue featuring command staff from Compton Station that were attended by hundreds of people, but the gatherings dwindled in recent years. He called them a "model for community policing."
This time, sheriff's officials weren't invited, but the group said it wants to include them at future meetings. Max Huntsman, L.A. County's inspector general for the Sheriff's Department, took questions from the crowd, making clear that he's a watchdog and not part of the department.
Huntsman said secret societies appear to be endemic in the agency despite being examined in the media and criticized by oversight groups for several decades.
"I've never seen another place with so many public airings of a problem like this and no solution come out of it," he said.
A second deputy said under oath last month that he and at least four other lawmen at the Palmdale Station have matching ink of a skull in a cowboy hat, The Times reported.
Sheriff Jim McDonnell said last month he was launching a comprehensive inquiry into secret deputy cliques and their coordinated tattoos. He debated the topic recently with retired Sheriff's Lt. Alex Villanueva, who's challenging him in his reelection bid for November.
Before he became sheriff, McDonnell served on a blue-ribbon commission that sharply criticized the department in 2012 for tolerating deputy cliques and allowing the groups to promote excessive force in the county jails and on patrol.
But some in the audience Thursday were skeptical that the Sheriff's Department can root out the problem.
"I don't trust the investigation, because they investigate their own," said Compton resident Jackie Venters. Her son, Tennell Billups, was shot by a deputy in 2011 and believes a gun was planted on him to justify the shooting.
His case was the focus of an investigative report by public radio station KPCC that found a small number of deputies were responsible for an outsized share of shootings in the department. The program spurred Huntsman to open a review of Billups' shooting investigation and others conducted by the department.
Officials determined the shooting was lawful.
The department has a long history of deputies branding themselves with matching ink, dating at least to 1971 with the Little Devils at the East Los Angeles station.
Other deputy crews, with names such as the Vikings, Grim Reapers and Jump Out Boys, have been accused of promoting excessive force, though many deputies say the groups and their tattoos signify good behavior.
Det. Ron Hernandez, president of the Assn. for Los Angeles Deputy Sheriffs, the union that represents rank-and-file deputies, said he has a tattoo associated with the now-shuttered Firestone Station and that it honored a fellowship of dedicated officers.
The topic of deputy tattoos on Thursday seemed to be an opening for people to vocalize a range of concerns about the Sheriff's Department.
"We pay the salaries of police officers," said Christopher Miller of Carson. "How is it that we pay these salaries and we have people shooting us, we have people beating us, we have people lying on us in court?"
A statement sent by department spokeswoman Nicole Nishida said the agency is committed to its examination — in partnership with the inspector general and county counsel — into deputy tattoos and the possible connection to secret societies.
"We agree that our community deserves the highest standard of conduct," the statement said. "And we would strongly affirm that we have very strong relationships with many well-respected Compton community groups who would attest to that positive relationship and the trust and understanding of what the station, the sheriff and the department is doing as it relates to the association of body art and behaviors."
Twitter: @mayalau
Sign up for Essential California for news, features and recommendations from the L.A. Times and beyond in your inbox six days a week.
You may occasionally receive promotional content from the Los Angeles Times.