Inked with a skull in a cowboy hat, L.A. County sheriff's deputy describes exclusive society of lawmen at California station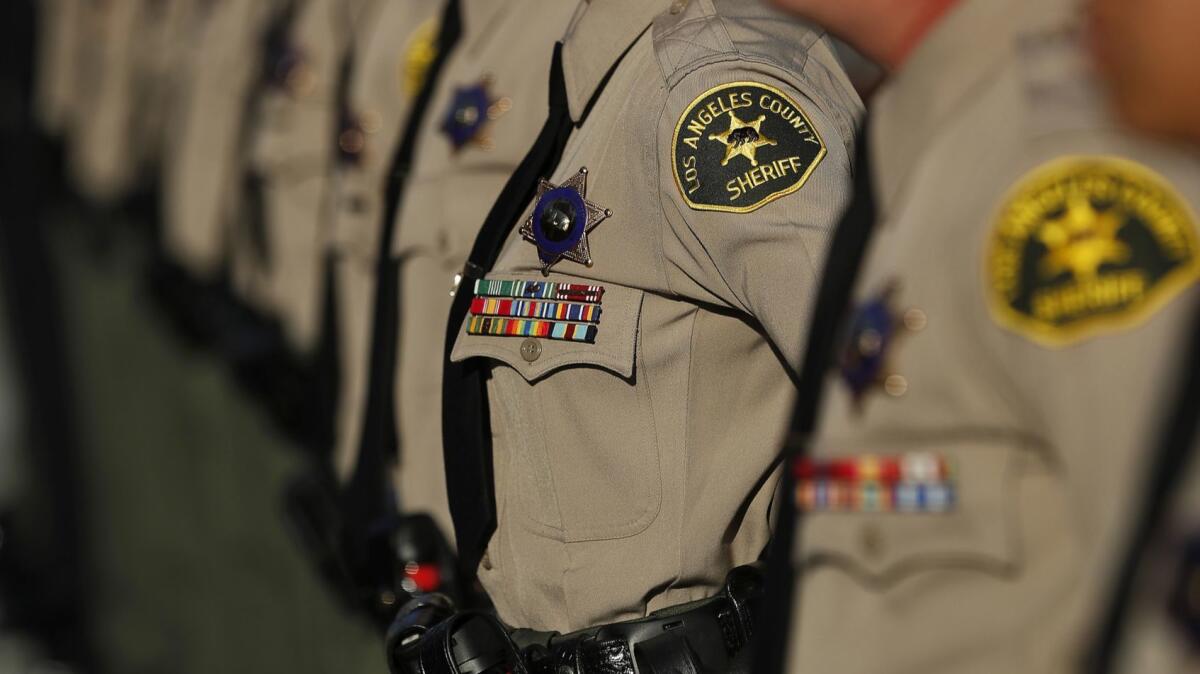 The lawman said he was taken to a local tattoo parlor as a reward for his integrity.
Other officers watched as his left ankle was etched with a symbol of a skull wearing a cowboy hat. The group drank and celebrated the inking of a fresh recruit.
He was now part of the club.
Los Angeles County Sheriff's Deputy Oleg Polissky said he acquired the skull tattoo a few years ago as part of an exclusive crew of deputies at the Palmdale station, according to a copy of his July 19 deposition obtained by The Times.
His statement is the latest account of the existence of secret societies of deputies, whose memberships may have increased in recent years.
The revelations have ignited concerns among watchdog groups and county officials that a toxic subculture has once again taken hold in the Los Angeles County Sheriff's Department — or was never rooted out.
A deputy at the Compton station recently admitted under oath that he was inked in 2016 with a logo of a skeleton holding a rifle about two months before he was involved in a fatal shooting. He said as many as 20 other officers at his station had the tattoo, The Times reported.
Polissky was deposed in connection with a lawsuit over a police shooting because he was the first to arrive on scene, but he is not named in the lawsuit or accused of wrongdoing in that case.
But the new disclosures about matching deputy tattoos raise fresh questions about the reforms initiated by Sheriff Jim McDonnell, who was elected in 2014 in the wake of several departmental scandals involving abuse of jail inmates and corruption.
McDonnell served on a blue-ribbon commission that sharply criticized the department in 2012 for tolerating deputy cliques and allowing the groups to promote excessive force in the county jails and on patrol. He confronted the topic of deputy tattoos during his first campaign, and the issue resurfaced for him during a recent debate against a challenger who has pushed him into a historic runoff in his reelection bid.
McDonnell said last week that he had launched a comprehensive inquiry into deputy cliques that will probe whether gangs that promote illegal behavior are operating in his ranks. The study will be conducted with the Sheriff's Department inspector general and county counsel, McDonnell said, and he invited the deputy unions to join the effort.
A leader of a union representing rank-and-file deputies, however, said that his group was not participating in the inquiry and that he opposed the intrusion into officers' private lives.
Det. Ron Hernandez, president of the Assn. for Los Angeles Deputy Sheriffs, said that he has a tattoo associated with the now-shuttered Firestone station and that it signified a fellowship of hard workers, not a rogue clique.
"I think the department should focus more on the value of a deputy's work product," he said. Hernandez declined to talk about his tattoo's design or any name associated with it.
Some L.A. County supervisors and members of the Sheriff Civilian Oversight Commission praised McDonnell for examining the deputy groups.
"We have to get to the bottom of it," Supervisor Mark Ridley-Thomas said. "It's putting the reputation of the Sheriff's Department at risk, and worse than that, it is causing the people of this county to have less public safety and law enforcement than they are entitled to."
For decades watchdogs have criticized the subculture of deputy cliques, saying the crews — with names like the Vikings, Grim Reapers and Jump Out Boys — promote a hard-charging style of policing and an "us versus them" mentality within the department and toward the residents they serve.
Some deputies have defended the tattoos as a way to honor fellow officers who abide by the rules governing a tough and dangerous job.
Polissky said his skull tattoo signified having good morals, following the law and avoiding heavy-handed tactics. He said fellow officers would invite new members based on how fair they were in their jobs.
"It means that no one person has any less rights than any other person. You treat the public equally and without bias," Polissky said in the deposition, which was taken nine days after the revelations about the Compton tattoos surfaced.
Polissky said he was accompanied by other deputies when he got the tattoo at a parlor in Lancaster three or four years ago, but he could not recall the exact date. Afterward, he and his colleagues celebrated at a deputy's house with about 20 other people, some of whom had the same Palmdale station ink.
He named four other deputies at the high desert station who he said also had the tattoo of a skull in a cowboy hat.
The description calls to mind tattoos belonging to other officer groups. Los Angeles police officers in the Rampart Division's notorious CRASH unit of the '80s and '90s wore ink depicting a skull in a cowboy hat framed by a "dead man's hand" of aces and eights.
Efforts to reach Polissky, who now works at the Santa Clarita station, were unsuccessful. A lawyer representing him in the deposition, Ronald Housman, did not reply to requests for comment.
Polissky was the first deputy to respond to a call about a late-night collision at a Palmdale Taco Bell on Dec. 20, 2015. He encountered Leroy Browning slumped over the wheel of a Ford Focus, reeking of alcohol, according to a district attorney's review of the incident.
While other deputies tried to put Browning in the back of a patrol car, Polissky went inside the Taco Bell to retrieve surveillance footage. During a struggle next to the vehicle, a deputy shot and killed Browning after another officer yelled that the man was grabbing his service weapon, the report said.
Polissky was still inside the establishment at the time of the shooting and did not fire any rounds, according to the report. His deposition was taken as part of a wrongful-death lawsuit filed by Browning's family members, who claim the deputies were poorly trained and could have avoided the shooting.
Prosecutors found that Browning was gripping a deputy's firearm despite the officers' efforts to yank him away. They ruled that the deputy who shot him had acted lawfully.
Polissky said he didn't know whether any of the deputies involved in the shooting had the skull tattoo.
Carl Douglas, the lawyer representing Browning's family, said the deputy's statements raised questions about how deeply entrenched matching tattoos are within the department.
"It was chilling to listen as the deputy spoke with such pride about wearing what he thought was the stamp of approval from his fellow deputies," he said.
Cliques that form within organizations can be a sign of poor morale and mixed messages coming from supervisors, said Jaclyn Jensen, an organizational psychologist and associate professor of management at DePaul University. Changing long-standing aspects of an institution's culture can be difficult and requires a strong leader, she said.
"Cliques form when people don't feel support from their leadership," Jensen said. "Absent a clear statement from leadership about what it stands for, groups are left to their own devices to figure out what they stand for."
Nicole Nishida, a spokeswoman for the Sheriff's Department, said she could not comment on ongoing litigation. She referred to McDonnell's statements last week that the department would not tolerate "renegade cliques" and was working to better understand and resolve the issue.
Twitter: @mayalau
---
UPDATES:
4:35 p.m. This article was updated with a statement from an attorney representing the family of Leroy Browning.
This article was originally published at 8:30 a.m.
Sign up for Essential California for news, features and recommendations from the L.A. Times and beyond in your inbox six days a week.
You may occasionally receive promotional content from the Los Angeles Times.