California moves closer to crafting specific water caps for urban districts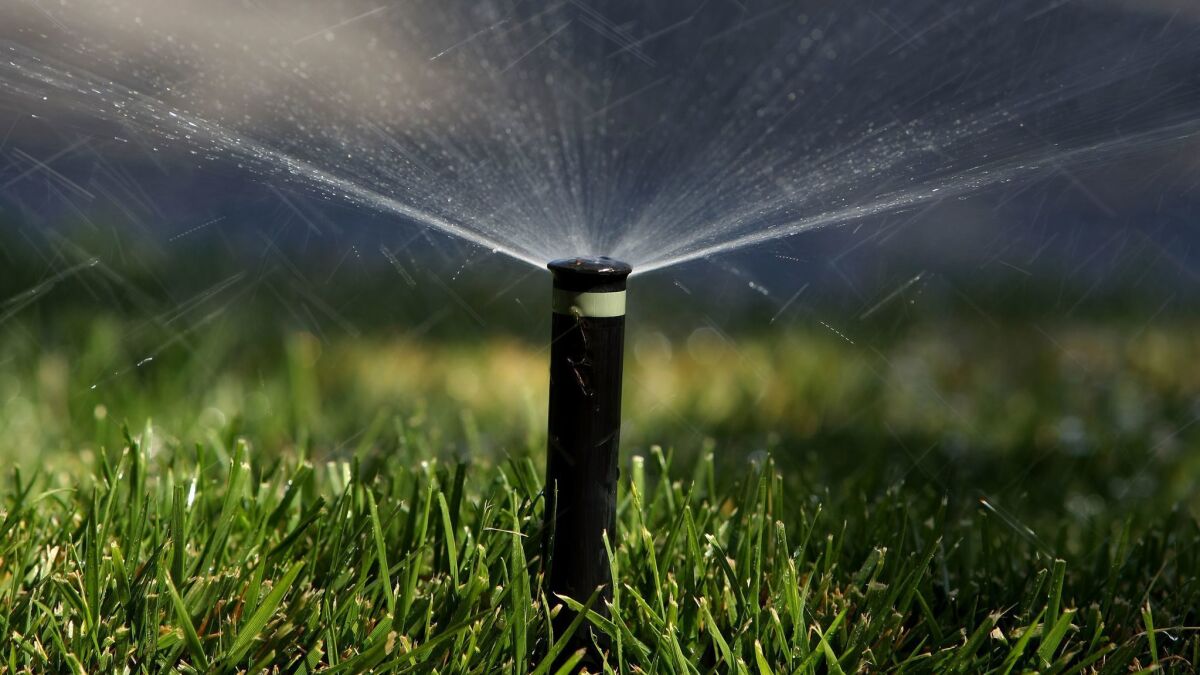 California cities and towns may find themselves on a water budget in the next decade under a pair of bills approved Thursday by the legislature.
The measures follow Gov. Jerry Brown's call to make water conservation a permanent way of life in a state long accustomed to jewel-green lawns and suburban tracts studded with swimming pools.
More than a year of legislative negotiations reflected the enduring conflicts over state and local control.
Though the bills establish a framework to end excessive urban water use, the proposals were substantially weakened by a series of amendments sought by water districts.
"I would say it was amended with so many exceptions and so many carve-outs … that I have serious doubts that it's going to reduce water use or lead to more efficient use," said Matt O'Malley, executive director of San Diego Coastkeeper, an environmental group.
Sen. Bob Hertzberg (D-Van Nuys), co-sponsor of one of the bills, said that despite necessary compromises, the measures represented a "gigantic move forward" in the state's approach to urban water use.
"Instead of having a governor that [issues] emergency orders when we have a drought, it sets standards in terms of indoor, outdoor water use and enforcement. So we're not just engaged in crisis management all the time."
Under the bills, which Brown is expected to sign, the state will set standards that will be used to create individual water budgets for the more than 400 water agencies that distribute supplies to cities and towns.
The budgets will in essence set a target for how much water a district should use in a year, taking into account such factors as the local climate, amount of irrigated landscape and population.
How the local districts meet the targets will be up to them. The budgets will be developed over the next several years, based on standards for indoor and outdoor use as well as leakage from water distribution systems.
If an agency doesn't meet its target, the State Water Resources Control Board can start issuing conservation orders after July 1, 2026.
A clause that would have allowed the board to issue cease-and-desist orders was dropped. But starting in late 2027, the board can impose fines of $1,000 a day on agencies that violate orders.
"This is the first legislation with a threat of a fiscal penalty," said Tracy Quinn, California water conservation director for the Natural Resources Defense Council, an environmental group.
"While it may not be the giant leap we were hoping for when we started this process, it's definitely a step in the right direction," she added.
The approach departs from the one taken during California's five-year drought, when Brown issued an unprecedented order to cut the state's overall urban water use by 25%.
Water districts complained that the order treated all districts the same, whether they were water hogs or models of conservation.
The mandate ended when Brown declared the drought over last year, but the governor directed state agencies to develop permanent urban conservation measures. The legislation is a step in that process.
Water districts and environmental groups were split on the bills, according to a legislative listing of supporters and opponents.
Supporters included the Metropolitan Water District of Southern California and Los Angeles, the Pacific Institute and the NRDC.
Opponents included numerous water districts across the state, which considered the measures overreach, as well as environmental groups such as the Sierra Club of California and the California Coastkeeper Alliance, which argued they didn't go far enough.
"It's really death by a thousand cuts," said Sara Aminzadeh, executive director of the Coastkeeper Alliance.
She complained that the indoor use standard was too high.
The measure sets an initial indoor standard of 55 gallons per person per day — which Aminzadeh said the vast majority of water suppliers already meet. The number drops to 52.5 gallons in 2025, and to 50 gallons in 2030.
The Sierra Club and the Coastkeeper alliance also objected to an amendment favoring water districts that include recycled water in their potable supplies. They can increase their annual water budget by 10% to 15%.
"We felt it was really bad public policy to set a precedent where uses of certain supplies… could essentially be wasted," Aminzadeh said.
Twitter: @boxall
The stories shaping California
Get up to speed with our Essential California newsletter, sent six days a week.
You may occasionally receive promotional content from the Los Angeles Times.