Dockless bicycles impounded in Coronado headed for scrap pile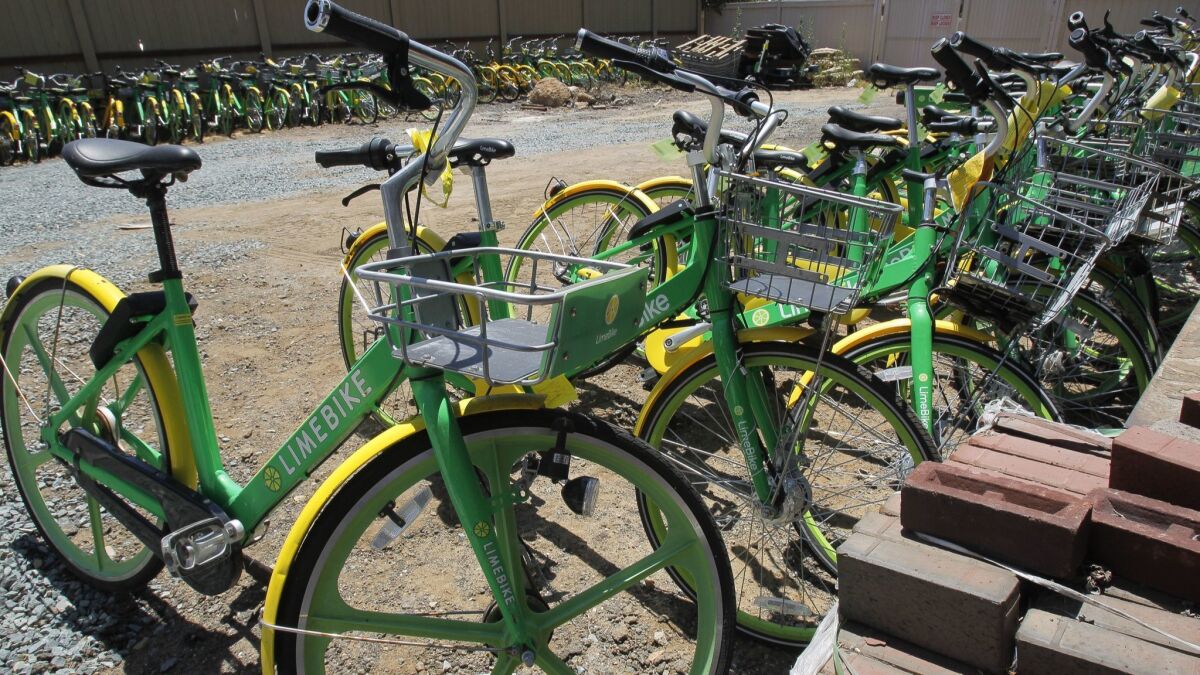 Reporting from San Diego —
The city of Coronado has impounded more than 100 dockless bicycles since March. Now it plans to recycle those that have been held in storage for more than 90 days.
The freestanding bikes have sprouted up all over San Diego County. They can be rented using a smartphone app for as little as $1 and don't have to be returned to a store or docking station. Instead, they lock in place when they are not in use.
Coronado's municipal code requires businesses that use the public right-of-way to get a permit. Because the dockless bike companies — Lime (formerly LimeBike), ofo and Mobike — don't have a permit, the city can impound their property.
Coronado had collected 106 bicycles as of June 29, according to Clifford Maurer, the director of Public Services and Engineering.
The companies have to pay a $45 impound fee and a $1-per-day storage fee to pick up their bicycles. Most of the bikes at the city's storage facility belong to Lime, Maurer said.
"For the most part, ofo and Mobike have been picking theirs up, they've been paying their fee," he said during a visit to the storage yard. "But LimeBike, to the best of my knowledge, has not picked up one."
Lime did not respond to questions about the impounded bicycles. The company's general manager of San Diego, Zack Bartlett, issued a statement: "We would like to work with the city to explore a more productive approach. Lime has never deployed bikes in Coronado, our smartphone app actively warns riders against parking in Coronado, and we collect and redistribute most of our bikes on a nightly basis. Rather than destroying perfectly good bicycles, we can work towards finding real solutions that benefit both residents and riders."
A representative from ofo said the city should donate the bicycles instead of throwing them away.
Coronado considered donating the bikes or selling them at auction. However, the bikes are unusable in their current state because of an electronic lock in the rear wheel and are painted as commercial property so ownership could be disputed.
Additionally, the city didn't want the dockless bicycle companies to be able to buy their property back at auction.
"We also do not want to reward companies who have not claimed their property to allow them to purchase the bikes at scrap metal prices and avoid paying the impound fees," said City Manager Blair King.
gustavo.solis@sduniontribune.com
Solis writes for the San Diego Union-Tribune.
---
Life is stressful. Our weekly mental wellness newsletter can help.
You may occasionally receive promotional content from the Los Angeles Times.