Ann Coulter says she will not speak at Berkeley: 'It's a sad day for free speech'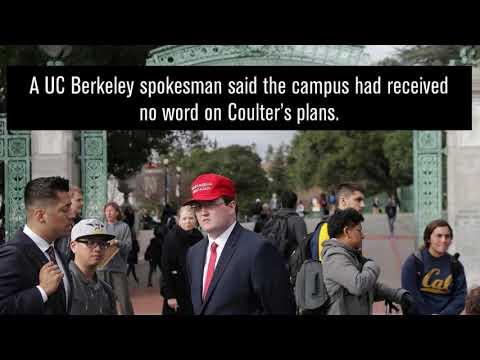 Just a day earlier, Coulter had told UC Berkeley student groups that she intended to speak on campus Thursday.
The controversy over conservative commentator Ann Coulter's planned appearance this week at UC Berkeley took another turn Wednesday when she and her sponsors pulled out — even as campus police readied anyway for "riot-like" demonstrations.
"I'm so sorry for free speech [being] crushed by thugs," Coulter posted on Twitter in announcing that she had abandoned efforts to find a campus venue where she could speak Thursday.
"It's sickening when a radical thuggish institution like Berkeley can so easily snuff out the cherished American right to free speech," she added.
Berkeley administrators and police countered that their first concern was safety in the face of increasingly violent demonstrations at the famously liberal university.
Coulter had been invited by two student groups to speak on immigration policy as a counterpoint to a Clinton administration advisor. The address became a campus-freedoms rallying point for conservative groups when administrators first canceled Coulter's visit, then rescheduled it to an unpopular date.
But even without a high-profile headliner such as Coulter, UC Berkeley Police Capt. Alex Yao said, authorities expect extremists to arrive on campus "to have violence against each other." He said students should expect a heavy police presence Thursday and "a very, very low tolerance of violence."
Among those contemplating their own Berkeley events on Thursday were Proud Boys founder Gavin McInnes and Canadian alt-right blogger Lauren Southern, according to statements Southern made.
Administrators cited unspecified threats of violence in limiting Coulter to a daytime engagement off the main campus. The Berkeley campus and adjacent downtown has been the scene of three violent clashes since February between alt-right demonstrators and white nationalists on one side and anti-fascist and anarchist groups on the other.
Coulter had pledged to show up anyway, even contemplating an outdoor address. But she discarded that idea Wednesday in the face of continued threats, the university's refusal to find her a building and the withdrawal of her sponsors.
The president of one student group, BridgeCal, said the escalating rhetoric surrounding what was intended as "discourse" contributed to the group's decision to rescind its invitation.
"Ann herself is using this a little to her advantage — to engage in the test of free speech," said Pranav Jandhyala. He said he found Coulter's recent public comments "unnecessarily provocative."
"We can't endorse an event like that," Jandhyala said.
The other student host, Berkeley College Republicans, also withdrew its invitation but said the issue always had been about free speech.
The group and Coulter's well-funded financial sponsor, the Virginia-based Young America's Foundation, filed a federal free speech lawsuit Monday accusing the university of using security concerns as a guise to censor conservative viewpoints. College Republicans President Troy Worden said he would pursue the litigation.
"The fact that we couldn't even get a speaker on campus, that's our primary concern," he said.
The College Republicans in February sought to host right-wing provocateur Milo Yiannopoulos, but the event was canceled when hundreds of demonstrators swarmed the venue — including some in masks who tore down barricades and smashed windows.
The group also invited controversial writer David Horowitz to speak this month but withdrew the request, citing poor attendance expected at the time and location the university required.
The American Civil Liberties Union raised its own concerns Wednesday. National Legal Director David Cole said he was troubled by how threats of violence effectively silenced Coulter.
"If the government gets to decide which speech counts as hate speech, the powers that be may later feel free to censor any speech they don't like," Cole said in a statement. "For the future of our democracy, we must protect bigoted speech from government censorship.
"On college campuses, that means that the best way to combat hateful speech is through counter-speech, vigorous and creative protest, and debate, not threats of violence or censorship."
UC Berkeley Chancellor Nicholas Dirks released a public statement that stressed the university's "commitment to free speech" and attributed the risk of mayhem and free speech challenges "to outside groups."
"This is a university, not a battlefield," Dirks said. "The strategies necessary to address these evolving threats are also evolving, but the simplistic view of some — that our police department can simply step in and stop violent confrontations whenever they occur — ignores reality."
Berkeley police have arrested 21 individuals and have warrants for an additional 11 suspected of being involved in the violent demonstrations in March and April, a spokesman said.
City Police Chief Andrew Greenwood said officers are dealing with combatants eager to fight, and any use of force might escalate the violence.
"We are rightly expected to not get swept into the volatility of the crowd," he wrote in a report to the Berkeley City Council.
Coulter is still traveling to the Bay Area. She is scheduled to appear Friday at a sold-out fundraiser for the Republican Party of Stanislaus County.
Organizer Janice Keating said the party chose Coulter because of her ability to draw a crowd. Demonstrations were not expected, Keating said, but "we're prepared as best we can be."
The organization has hired private security to bolster the efforts of the Modesto Police Department.
Los Angeles Times staff writer Teresa Watanabe contributed to this report.
Twitter: @paigestjohn
ALSO:
Ann Coulter, free speech and UC Berkeley: How a talk became a political bombshell
Opinion: Berkeley has become the place where political extremists come to throw punches
Editorial: Let Ann Coulter speak
---
UPDATES:
7:35 p.m.: This article was updated with Coulter's decision to cancel her appearance and a comment from the ACLU.
11:35 a.m.: This article was updated with details about another student group withdrawing its invitation to commentator Ann Coulter and comments from Janice Keating of the Republican Party of Stanislaus County.
10:45 a.m.: This article was updated with comments from Pranav Jandhyala, president of the student group BridgeCal.
10 a.m.: This article was updated with comments from UC Berkeley spokesman Dan Mogulof and UC Berkeley Chancellor Nicholas Dirks.
This article was originally published at 9:30 a.m.
Sign up for Essential California for news, features and recommendations from the L.A. Times and beyond in your inbox six days a week.
You may occasionally receive promotional content from the Los Angeles Times.