After confronting a threat, Deputy Joseph Solano remembered for his courage and kindness
Joseph Gilbert Solano had just gotten off work around 5 p.m. when he stepped out of uniform and ran an errand for his mother.
Working in a profession known to be dangerous, he was trained to be alert to threats posed to sheriff's deputies like him.
But the 50-year-old's life was cut short after an attack that might have happened to anyone, when he was shot once in the head Monday at a fast-food restaurant while waiting in line in civilian clothing.
He died Wednesday afternoon, two days after being put on life support following the frighteningly random outburst by a gunman in a Jack in the Box in Alhambra, right next to the place where he was getting the oil changed in his mother's car.
The suspect, Rhett McKenzie Nelson, 30, was charged Thursday with two counts of murder in the deaths of Solano and another man, Dmitry Alekseyevich Kolstov, who was killed in a separate shooting earlier Monday that also seemed to be arbitrary.
Loved ones and co-workers recalled Solano, who served 13 years with the Los Angeles County Sheriff's Department, as a hero who died while confronting a threat.
L.A. County Sheriff Alex Villanueva said Solano was alerted in the restaurant that someone was following him, prompting him to face down the gunman just before he was shot.
It was Solano's mixture of courage and kindness that left an impression, people who knew him said. Assigned to a specialized unit within the department's Access to Care Bureau, his job required transporting particularly dangerous inmates or those who needed protection from themselves or others.
"He had that type of personality where he commanded respect but was also respectful. It takes that mild-mannered personality to gain cooperation from inmates," said his captain, Tania Plunkett. "He had that ability to de-escalate and not let every little thing get underneath his skin."
Another supervisor, Deputy Juan Rodriguez, said Solano's maturity factored into the decision to give him the special assignment, which also involved making sure that inmates got to their medical appointments at L.A. County-USC Medical Center, the same hospital where Solano was treated for his gunshot wound.
"His communication skills were phenomenal," Rodriguez said. "Every time I spoke to him, I got that vibe from him, that he had that knowledge of being a grown-up."
Prior to that assignment, Solano worked in court services and at Twin Towers Correctional Facility.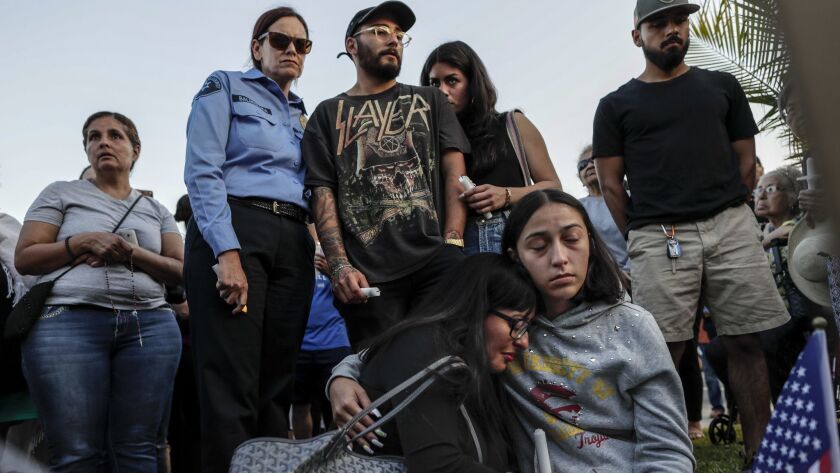 Solano's calm demeanor earned him a family nickname of "J.C.," which stands for "Joe Cool," inspired by the sunglasses-wearing alter-ego of Snoopy from the comic strip "Peanuts."
Julianna Loza, the deputy's longtime girlfriend, said his collected, sometimes reserved poise was a complement to her instinct for being outgoing and outspoken. The two met while working — her job, which she declined to identify, involves the criminal justice system — and bonded quickly.
"He just radiated positive energy. He was a genuine, caring, hardworking man," she said. "We met people that were with him during his last breath, and in the story they told us, they said there was still a sparkle in his eye, and they didn't even know him."
Loved ones said that when Solano was not at work, his life revolved around food and his family.
The Los Angeles-area native had a son and a stepdaughter, and was also the sole provider for his mother. He opened up during family gatherings, often goading others to dance and teasing that he could "cut a rug," though he never showed off his moves, relatives said.
Solano also kept a mental encyclopedia of restaurant suggestions. Plunkett, the captain, said his latest recommendation was a special ice cream joint in Koreatown.
"He loved to eat. Anything he could get his hands on. And in fact, I was wondering why the hell he was at Jack in the Box because we were supposed to go to dinner that night," Loza said, adding wryly that they had planned to eat salad.
But the deputy, whose father was a firefighter and uncle was a police officer, also stayed fit by running and swimming, Loza said. He was one of the first volunteers to run in a newly formed team representing the Access to Care Bureau in the Baker to Vegas footrace, a competition between law enforcement groups from all over the world.
"He inspired and encouraged other runners, and because of that, we were able to form a team," said Plunkett, adding that the bureau will run in its first Baker to Vegas race early next year.
"We are going to run in his honor," she said.
Twitter: @mayalau
---
The stories shaping California
Get up to speed with our Essential California newsletter, sent six days a week.
You may occasionally receive promotional content from the Los Angeles Times.