Utah man charged with murder in deaths of two men, including L.A. County deputy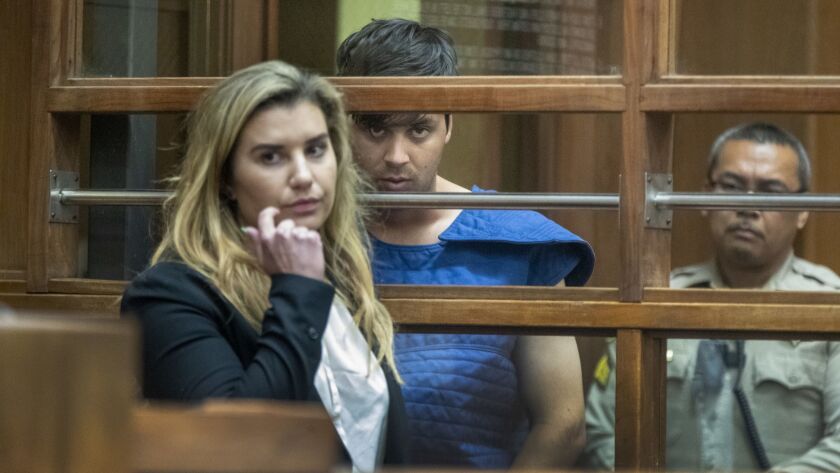 A Utah man suspected of gunning down a Los Angeles County sheriff's deputy and another man in a pair of seemingly random shootings was charged with two counts of murder Thursday, officials said.
Rhett McKenzie Nelson, 30, did not enter a plea during a brief court appearance Thursday after he was charged with the shooting deaths of veteran sheriff's Deputy Joseph Solano and 30-year-old Dmitry Alekseyevich Kolstov, according to a statement issued by the Los Angeles County district attorney's office.
Prosecutors say Nelson opened fire on Solano inside an Alhambra Jack in the Box restaurant at 5:45 p.m. Monday. Solano was shot in the back of the head and died Wednesday, officials said.
"He confronted a threat, not knowing what it was, and in a split second he lost his life, and that's what it is in law enforcement," said Los Angeles County Sheriff Alex Villanueva, who fought back tears when he announced Solano's death Wednesday.
An hour before the attack in Alhambra, prosecutors say, Nelson had shot and killed Kolstov while sitting in a car in the 1900 block of East 7th Place in downtown Los Angeles after a brief verbal exchange. Kolstov was shot at 4:50 p.m. and pronounced dead at the scene less than 20 minutes later, according to Sarah Ardalani, a spokeswoman for the Los Angeles County coroner's office.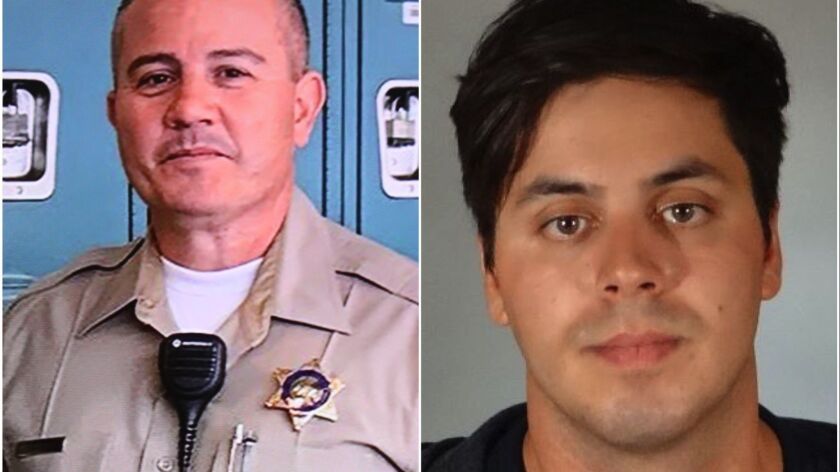 Nelson was also charged with one count of attempted murder for shooting at another man who was with Kolstov, according to Det. Meghan Aguilar, an LAPD spokeswoman. That man was not injured.
Investigators have not identified a motive in either killing. They said Nelson did not attempt to rob Solano or anyone else inside the Jack in the Box. Solano was not wearing his badge, gun holster or anything else that would have indicated he was a sheriff's deputy, and it does not appear that he was targeted because he was a law enforcement officer.
Prosecutors filed two additional robbery charges against Nelson on Thursday, alleging that he robbed a gas station and a 7-Eleven in Long Beach the same day as the shootings. Police in San Diego also consider him a suspect in five armed robberies in recent days.
It is not clear whether Nelson has retained counsel. A spokeswoman for the family did not immediately respond to a request for comment. His arraignment was continued until July 22 and he remains jailed without bail.
If convicted of murder with special circumstances, Nelson could face the death penalty, or life without parole. Prosecutors have yet to make a decision on whether to seek the death penalty.
Nelson was arrested Tuesday in Long Beach, after calling his father in Utah and making reference to having killed someone in Southern California, investigators have said.
A resident of St. George, Utah, Nelson was reported missing in late May. He left home with a gun and told his family that he planned to "make it on his own or die," according to St. George Police Department Capt. Mike Giles.
Nelson had a history of problems with drug abuse and his family was concerned about his mental state, according to Giles, who said Nelson did not have a diagnosed history of mental illness.
---
The stories shaping California
Get up to speed with our Essential California newsletter, sent six days a week.
You may occasionally receive promotional content from the Los Angeles Times.