Enrollment drops even more than expected in L.A. Unified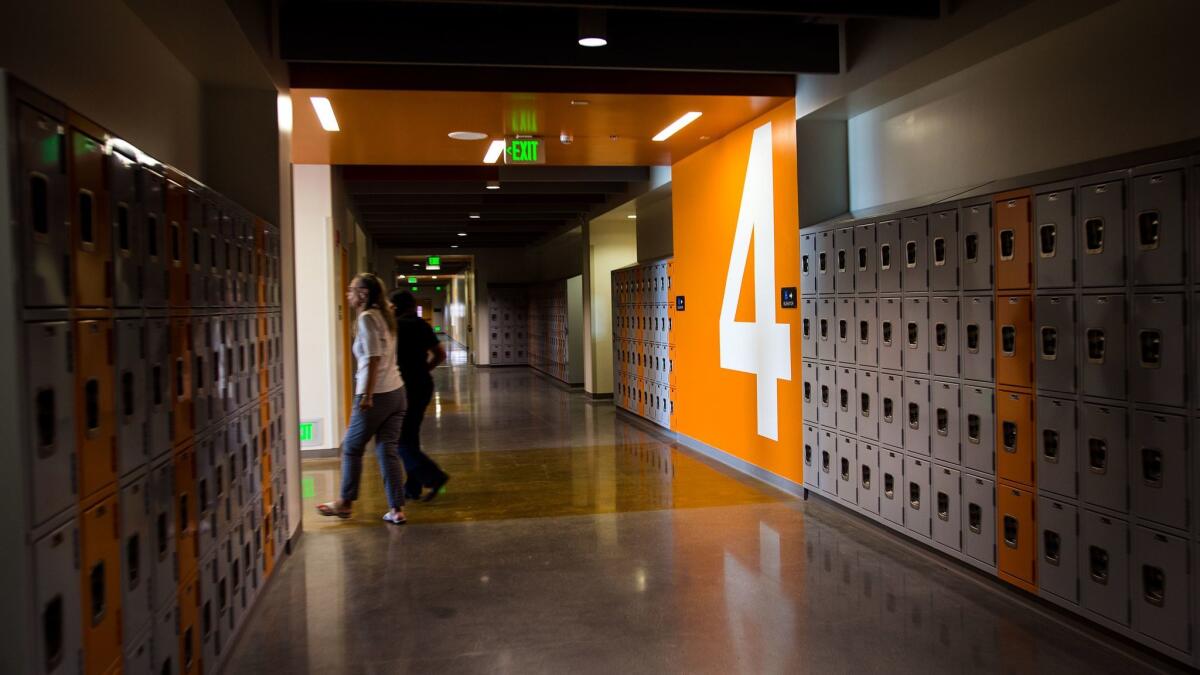 Enrollment has dropped even more than anticipated in the Los Angeles Unified School District, exacerbating budget problems and signaling that efforts to reverse the decline are falling short.
L.A. Unified had been expecting enrollment to shrink 2.1% but the actual drop has been 2.55%. That small percentage difference translates to about 5,400 students, said Scott Price, chief financial officer for L.A. Unified.
The faster decline represents an unexpected loss of $17 million in funding.
Total enrollment this year is 513,875, more than 13,000 fewer than last year.
The numbers are particularly discouraging because for the nation's second-largest school system has made increasing enrollment a priority. The district moved quickly to add more of its most popular programs, including magnet schools and dual-language immersion.
These efforts have not necessarily failed; enrollment might have been lower without them. But they didn't reverse the trend.
In recent years, Price told the Board of Education at its meeting Tuesday, "we have lost an average of [13,000] to 14,000 students each year… That's like a small school district every year that we're losing."
Board members said they needed more information about what efforts are working best and why. Board member Nick Melvoin predicted that improving student achievement would be the best way to bring more students in.
Acting Supt. Vivian Ekchian said that educators across the school system have "planted seeds" with new and improved programs that will attract more students over time.
She called a new online enrollment system that is currently in the works a "game changer" because it will give parents easy access to the information they need to make good educational choices for their children.
Ekchian is filling in for Supt. Michelle King, who is on medical leave at least through the end of October.
Fewer students means fewer teachers and other staff, but does not lower overhead costs to a corresponding degree. L.A. Unified still has to maintain campuses, pay increasing pension obligations and fund retiree health benefits.
The Maywood Center for Enriched Studies, which opened this fall, illustrates how much the district's enrollment issues have changed.
Years ago, the new campus was desperately needed to relieve overcrowding.
By the time it neared completion though, only one nearby school had overflow to send it, leaving plenty of room for other students.
So the district turned what was planned as a high school into a campus serving grades 6 through 12, and opened it up this fall as a regional magnet, accepting students from all over the area.
That pivot seemed to work.
The district's new enrollment figures do not include more than 110,000 students in 224 local charter schools because their funding does not come through L.A. Unified and they manage their own operations.
The district has estimated that about half the enrollment loss is due to the growth of these charters. The other half is a result of demographic trends: declining birth rates, reduced immigration and gentrification.
Sign up for Essential California for news, features and recommendations from the L.A. Times and beyond in your inbox six days a week.
You may occasionally receive promotional content from the Los Angeles Times.