L.A. Unified gives inspector general brief contract extension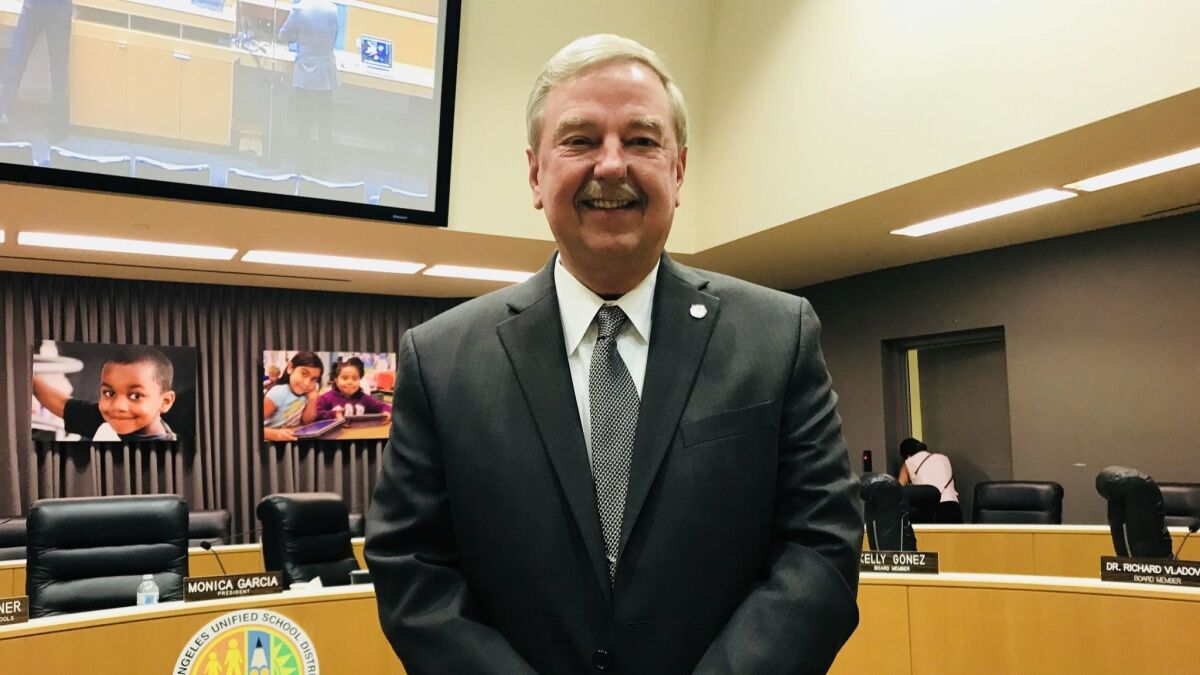 The Los Angeles school board on Tuesday extended the contract of Ken Bramlett, its inspector general, by three months, though his job is far from secure and questions remain about the future direction of his watchdog office.
Board members also unanimously promoted Vivian Ekchian, who had been the runner-up for the superintendent's job, to deputy superintendent — the district's No. 2 position.
Both moves had elements of peacemaking between different factions on the board.
Last week, in closed session, the board split 3-3 over rehiring Bramlett, whose current contract expires at the end of the month. The split denied him the four-vote majority he needed to get a new long-term contract.
Three board members who once were L.A. Unified administrators voted to keep Bramlett, who has held the job five years.
The votes against him came from the board's majority bloc for the past year, whose members were elected with substantial financial support from charter school advocates. Some of those advocates have sharply criticized the inspector general's lengthy investigations of charters, which are privately managed but authorized and overseen by the district.
Complicating the decision were complaints that the inspector general had failed to act quickly when his top deputy, Frank Cabibi — who recently resigned — was accused of making racially and sexually tinged remarks.
Board members Nick Melvoin and Kelly Gonez, who voted against Bramlett last week, have been especially outspoken about rooting out possible sexual harassment within the nation's second-largest school system.
Some of Bramlett's defenders had argued that giving him some more time on the job would allow for a fair assessment of whether he tolerated a hostile work environment. Tuesday's vote for a three-month extension was 6-0.
In both votes on the inspector general, board member Ref Rodriguez recused himself, presumably because he's been under investigation by the office for alleged conflicts of interest. Separately, Rodriguez faces criminal charges of political money laundering. He has denied wrongdoing.
The vote for Ekchian may help heal bad feelings left over from the superintendent selection process. Ekchian, who has spent her career in the district, had filled in for about eight months when Supt. Michelle King was on medical leave. Some hoped she'd be chosen to stay on when King announced that her leave would be permanent.
After the board selected businessman Austin Beutner to run the district last month, Ekchian returned to her former job as associate superintendent for support services.
The board also voted Tuesday to rename Harbor Teacher Preparation Academy in honor of longtime board member Richard Vladovic, who rose from teacher to senior administrator in the district.
The stories shaping California
Get up to speed with our Essential California newsletter, sent six days a week.
You may occasionally receive promotional content from the Los Angeles Times.