Charter backers win their first L.A. school board majority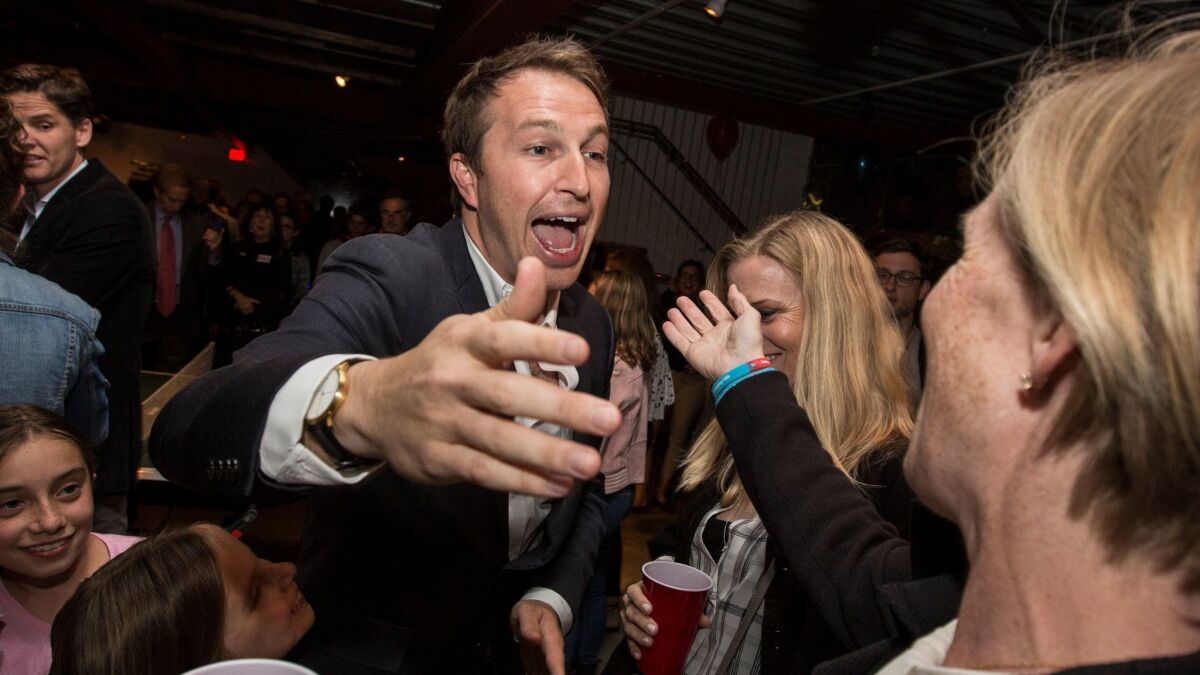 The Los Angeles Unified School District underwent a dramatic political shift Tuesday night, as the curtain dropped on what has been the most expensive school board election in the nation's history.
The election has been a proxy war between wealthy charter school advocates and public employee unions. Charter supporters appeared to secure their first-ever majority on the seven-member Los Angeles Board of Education, a move that could accelerate the already-rapid expansion of charter schools across the city.
Election day brought to an end a more than $14-million campaign fueled by outside spending. The latest figures show charter supporters outspent their union opponents. But union spending, mainly under the banner of United Teachers Los Angeles, also reached into the millions.
The president of the school board, Steve Zimmer, conceded his race. Addressing a crowd of supporters, Zimmer called his loss to candidate Nick Melvoin "devastating" and vowed never to run for office again. In a sign of how deeply polarizing this election has been, and how difficult it will be to forge consensus in the weeks and months to come, Zimmer said he would not call Melvoin.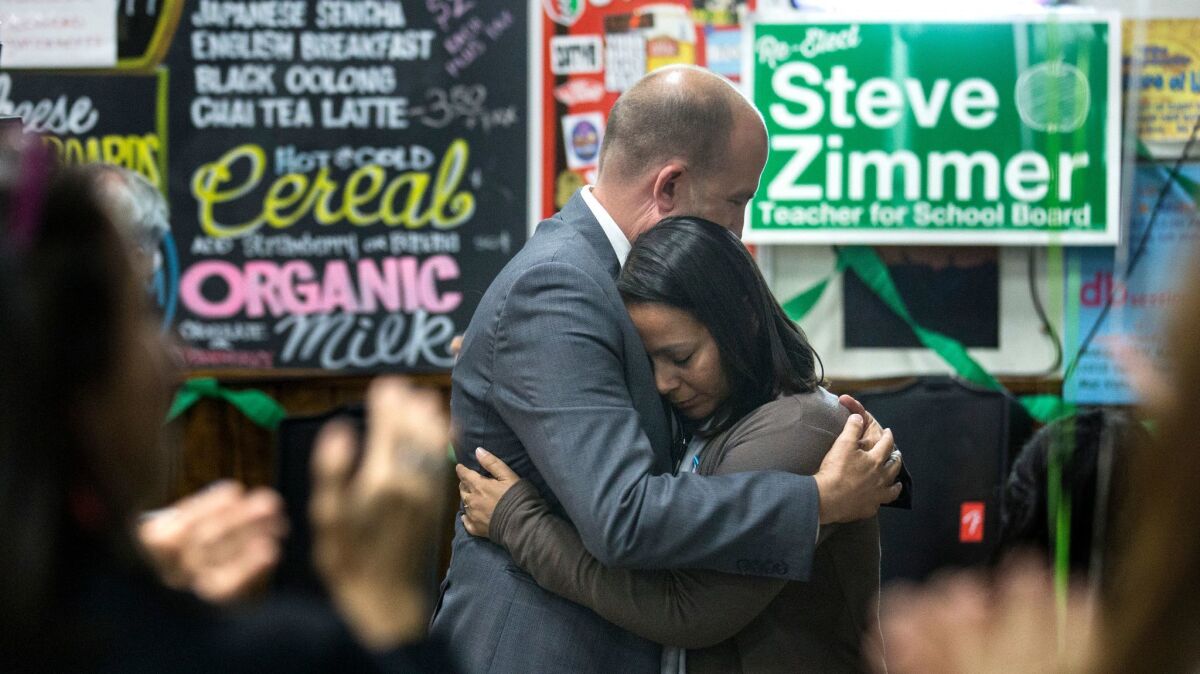 "I may have lost an election … but my soul is intact," he said. Of his opponent's supporters, he added darkly: "They know what they did."
Returns showed charter-backed Kelly Gonez, 28, leading against her union-supported opponent, Imelda Padilla, 29, in the race to fill a vacant seat in District 6. The district encompasses the east Valley. Both candidates were running to replace Monica Ratliff, who did not seek reelection.
Just after midnight, Gonez declared victory.
In District 4, where Zimmer faced a challenge from Melvoin, charter school advocates spent millions of dollars to unseat the incumbent. The district stretches from the Westside to the west San Fernando Valley.
The record level of cash contributed to the blistering campaigns, in which both sides sought to sow division among public school parents, teachers and advocates.
For residents who aren't devoted followers of district politics, discerning exactly who the candidates were was difficult.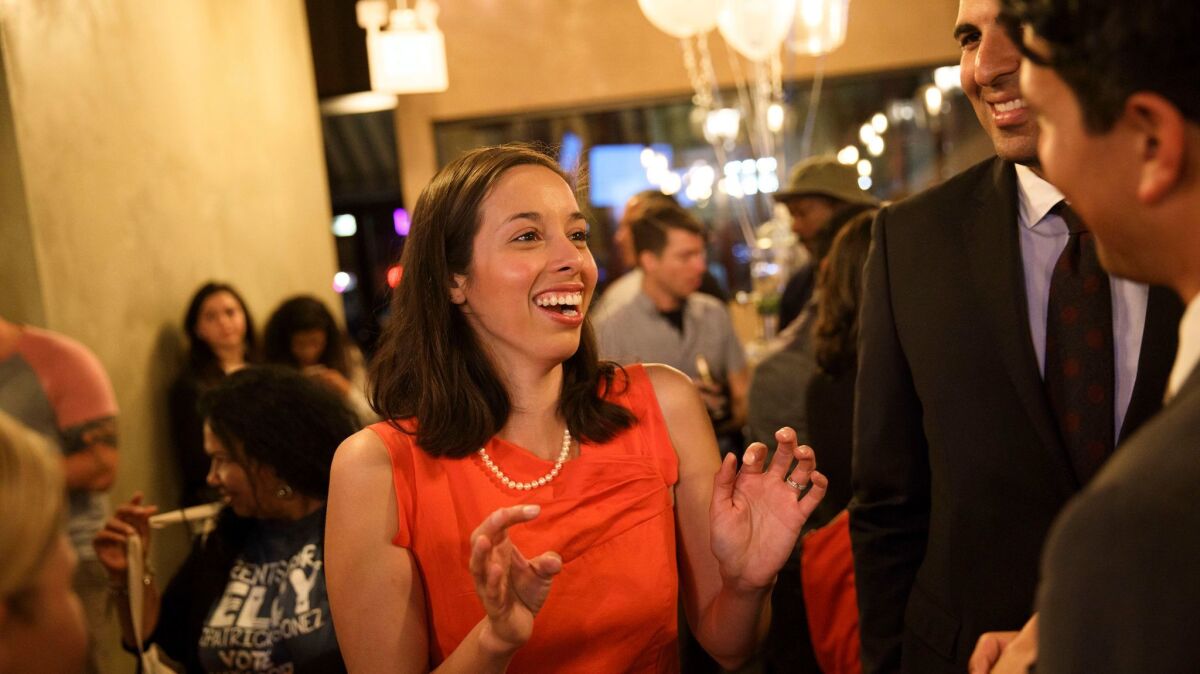 Outside groups funded by charter advocates painted Zimmer as a charter school foe. Anti-Zimmer mailers characterized him as a gun-happy militant, a protector of pedophiles and the mastermind of the school district's iPads-for-all debacle.
Groups bankrolled by public employee unions tried to link Melvoin, 31, to Secretary of Education Betsy DeVos and President Trump, both of whom are extremely unpopular in Los Angeles.
Neither of these portrayals were accurate. Zimmer has voted many times to approve new charter schools and Melvoin is a Democrat who has been critical of the Trump administration's education policies.
At times, even the candidates appeared frustrated by the spending and their inability to control the outside groups' messages. Amid the accusations and counterclaims, they sometimes were reduced to caricatures of themselves.
The historically high campaign spending levels are partly due to the fact that Los Angeles is the largest school system in the country with an elected Board of Education. And political spending seems to increase with each election. Both the teachers union and charter backers also are well entrenched in L.A. and have deep pockets, and both sides played hard to win, aware of the real and symbolic stakes.
"UTLA is probably one of your three most visible and prominent teacher unions in the country," said Frederick M. Hess, director of education policy studies at the American Enterprise Institute, a conservative think tank. "And they've chosen to make this a visible fight. Obviously, you've got a whole concentration of prominent progressive charter school supporters in the greater L.A. area. They see this as making a difference on their home turf."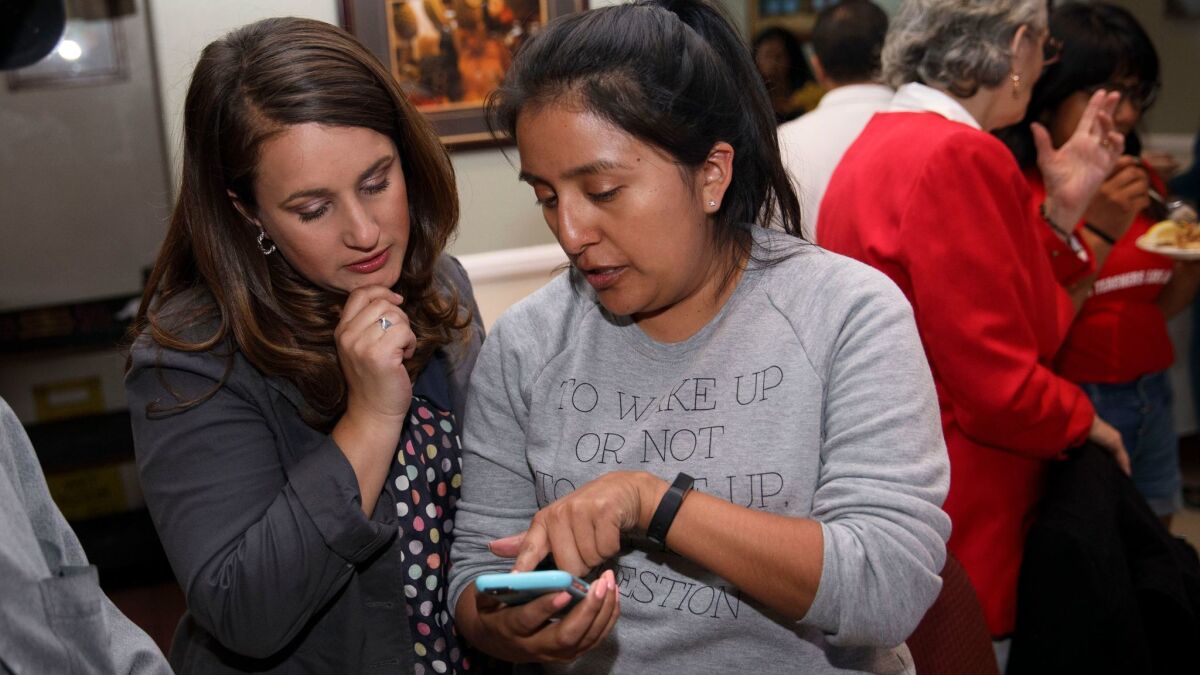 L.A. Unified has more charters and more charter students than any other school system, but they still account for only about 16% of enrollment. A clear dividing line in the campaign was the extent to which L.A. Unified would be willing to authorize additional charter schools, which receive the bulk of their funding from the state but are privately managed.
On this issue voters in District 4 had a clear choice.
Zimmer said that he would prefer to limit charter school expansion, when possible, to charters that bring real innovation. He said the district should focus on making sure that existing charters and district-operated schools offer high-quality programs.
Melvoin said he would not limit charter growth but would rely on the market forces of parent choice while also doing his best to make district schools a viable option.
Charter supporters see much room for growth, and they say low-income minorities in schools with low test scores should have more options.
This and other relevant differences between Zimmer and Melvoin frequently were obscured by the overblown campaign rhetoric.
The unions spent more than $2.5 million on behalf of Zimmer. Support came from labor groups across the county, with teachers unions spending the most. UTLA anchored this campaign, helped by the National Education Assn., American Federation of Teachers, California Teachers Assn., and California Federation of Teachers.
Melvoin's campaign was buoyed by more than $5.69 million from charter school advocates.
The spending in District 6 was more evenly matched. Outside spending on behalf of union-backed Imelda Padilla surpassed $2.34 million. For charter-backed Gonez, the outside spending was more than $3.3 million.
Netflix Chief Executive Reed Hastings, a longtime charter school backer, was particularly active, donating about $5 million since last September to California Charter Schools Assn. Advocates, which coordinated much of the pro-charter spending. Hastings is a Democrat and represents the wing of that party that is strongly pro-charter.
Other big donors to the pro-charter side were familiar names in Republican circles as well as conservative and anti-union causes. These backers have broad ideological overlap with the Trump administration and DeVos.
For that reason, union attack ads attempted to link Melvoin with Trump and DeVos and said he was their puppet — though Melvoin's allies spent plenty of money to remind voters of his Democratic credentials. They also tried to make voters think that Zimmer, a liberal, pro-union Democrat, was actually a Trump confederate.
The Zimmer versus Melvoin contest embodied real differences in part because a challenger, talking of the need for change, faced an incumbent, who focused on progress and the need for stability.
Gonez and Padilla, on the other hand, were both newcomers, battling for a seat that became available when incumbent Monica Ratliff decided not to run for reelection. They had similar messages and voiced support for all kinds of schools and for employee unions.
A victory by charter advocates could throw into doubt the job security of L.A. schools Supt. Michelle King, who took office about 14 months ago. New boards frequently want to pick new leadership because the ultimate job of a board is to select and evaluate the superintendent.
One of King's key aims is to increase enrollment to confront a looming budget crisis, which means competing with charter schools for students. To do this, she plans to launch an online enrollment system, which would help parents discover, find and apply for varied L.A. Unified programs. At present, there are no plans to include charters in that "unified" system.
It isn't clear that charters want to be part of it, but they do want faster and more complete access to district-owned campuses. And they'd like a larger share of school-construction bonds that are under L.A. Unified control.
Whatever their allegiance, the winners of the board seats will confront an ocean of challenges, including the seemingly inevitable growth of charters and the strain that places on the district's budget and its ability to serve students at its own schools.
To read the article in Spanish, click here
Staff writers Sonali Kohli, Joy Resmovits and Benjamin Oreskes contributed to this report.
---
UPDATES:
5:50 a.m.: This article was updated with later results.
May 17, 12:43 a.m.: This article was updated with Kelly Gonez declaring victory.
10:50 p.m.: This article was updated with quotes from Zimmer.
9:55 p.m.: This article was updated to report that Steve Zimmer had conceded.
9:30 p.m.: This article was updated throughout with mail-in returns and additional background.
This article was originally published on May 16 at 8:30 p.m.
The stories shaping California
Get up to speed with our Essential California newsletter, sent six days a week.
You may occasionally receive promotional content from the Los Angeles Times.