L.A. Unified approves a plan to reveal more information about its schools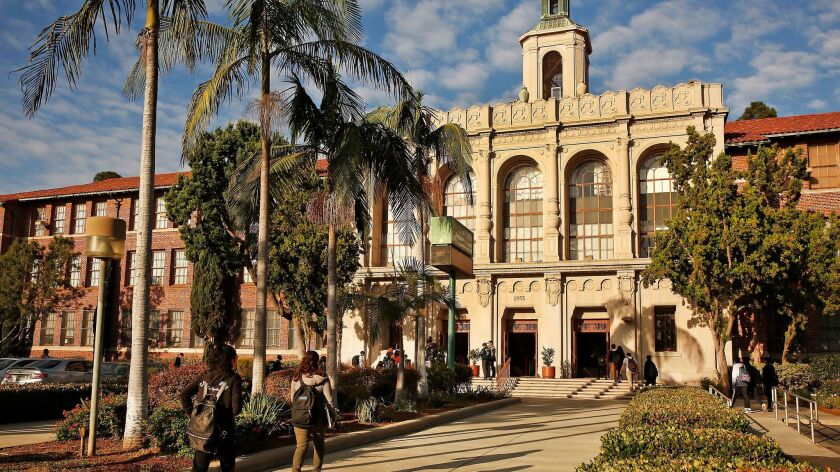 If you are a parent considering one of two special academic programs at Hamilton High School in Palms, you face something of a challenge: The Los Angeles school district provides no data to the public that allows for a direct comparison — even though it has this data.
On Tuesday, the Board of Education took a step toward making available its data, preferably in a form that the public can make sense of. The goal is to start with a single webpage that would lead to information that could be downloaded, sorted and searched.
The initial expense is estimated at $1.255 million, but whether the effort will cost much more or actually save money in the long run remains uncertain.
Limited access to L.A. Unified information has been an ongoing problem, even though district officials are getting better at sharing. Much data remain inaccessible or indecipherable. The district also has a history of choosing to showcase data that emphasizes its accomplishments.
"We need to be transparent with where our costs are and their impact on students," said board member Nick Melvoin, who wrote the resolution. "It's important therefore that we don't just release data that makes us look good — though some definitely will, given the wonderful things happening in our schools — but all data that doesn't compromise student privacy and security."
This system could help parents decide whether Hamilton's music-themed or humanities program is the right fit. It also could reveal how well district graduates fare in college, broken down by ethnicity, gender and family income. Tables also could show which schools are making the most and least progress. And data could show which spending is paying off and where more money seems to have no effect.
Melvoin is part of a new school board majority, which took control in July, elected with major financial support from charter schools. This proposal, however, stands as an example of a broader agenda. On such matters, pro- and anti-charter alliances break down or don't matter. Ironically perhaps, the district has little authority to compel equal transparency from charters, which are privately managed public schools.
Kelly Gonez, who is part of the new majority, voted against the data project. She questioned the cost estimate, which she considered imprecise.
George McKenna, who is not part of that new majority, nearly voted with her. He shared her concerns about costs and questioned who would benefit from this new information. As an example, he cited data about who is using a new online page with information for district parents. In his board district, five schools account for 55% of the parents who have signed up for the service. The four schools leading the pack serve families that are much more prosperous than the district norm.
"People of non-affluent means are not participating," McKenna said.
Melvoin acknowledged the point, but said McKenna was indirectly proving the need for open data. McKenna's data on unequal access, he said, should be used to focus efforts on reaching low-income families.
While McKenna retained reservations, he voted yes for the plan.
Board member Richard Vladovic was enthusiastic: "Once you share things publicly, you can't run and you can't hide."
L.A. Unified is vying to follow the lead of other agencies, including the city of Los Angeles.
"I believe in open data because I've seen it work," said City Controller Ron Galperin, who spoke Tuesday to the Board of Education. "We were able to do it in a brief period of time and we were able to do it affordably."
---
The stories shaping California
Get up to speed with our Essential California newsletter, sent six days a week.
You may occasionally receive promotional content from the Los Angeles Times.