Outside funders give L.A. Unified under new Supt. Beutner a $3 million vote of confidence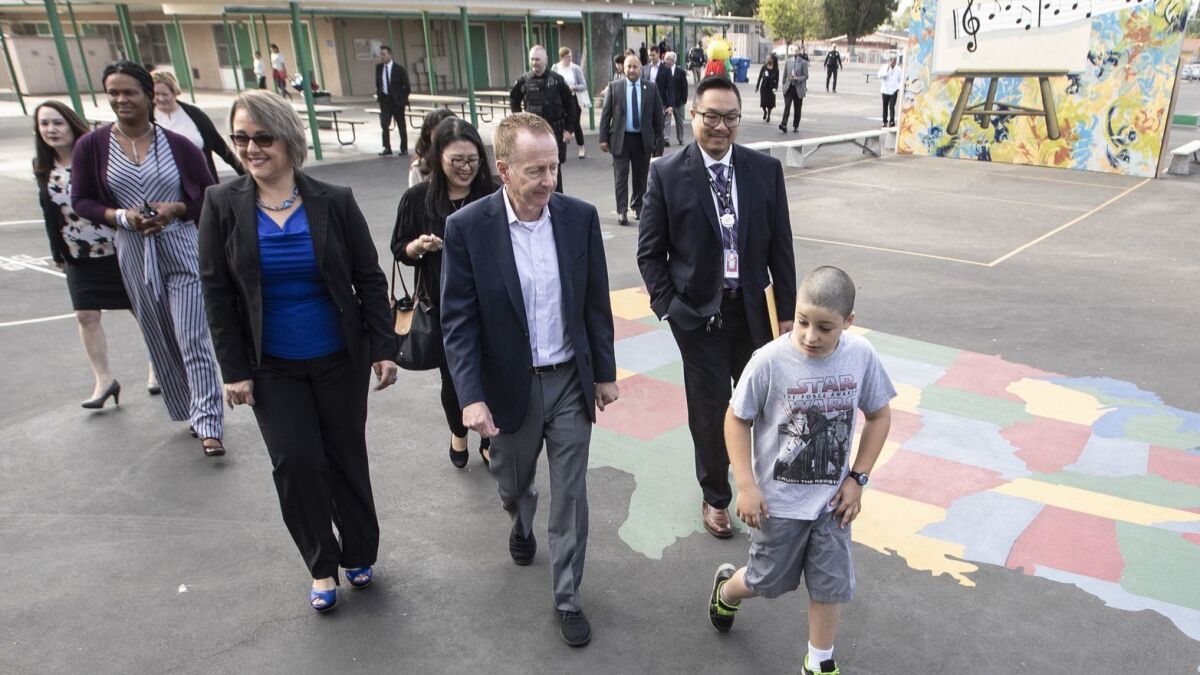 When it comes to his new job as Los Angeles schools chief, Austin Beutner is hoping to get by with a little help from his friends — tapping his peer group of the wealthy and well-connected to bring new resources into L.A. Unified.
The school district has announced an early dividend of Beutner's connections — and the trust they have in him: $3 million in donations from five organizations to create the Fund for Equity and Excellence. The donors include the Eli and Edythe Broad Foundation and the Ballmer Group, founded by L.A. Clippers owner Steve Ballmer.
The L.A. schools superintendent, who took charge in May, is not faring so well with the teachers union, which, days ago, announced it is seeking to declare an impasse in contract negotiations, a prelude to a possible strike.
Beutner, a local philanthropist and businessman who declines to disclose his net worth, has full standing among the civic elite, sitting on the same nonprofit boards and sharing business ties.
The influx of dollars is expected to pay for added senior leadership positions, an ongoing evaluation of district operations and better engagement with students and families.
"This is a tremendous step for Los Angeles and Los Angeles Unified," Beutner said in a statement. "All of us are working together for the same common objective."
The funds will be administered by the California Community Foundation, which is one of the donors, and the group Southern California Grantmakers. Each "substantial donor" will advise on how dollars are distributed.
Attracting meaningful donor support long has been a challenge for the nation's second-largest school system, in which the vast majority of students are from low-income minority families. Although $3 million is almost nothing compared with this year's $8.7-billion district spending plan, outside support could help with key initiatives. And the district has received little compared with the collective wealth of the region's foundations and richest residents.
District leaders have made previous attempts to attract much more local philanthropy. About seven years ago, then-Supt. John Deasy — also a favorite of foundations — pulled together the L.A. Fund for Education, whose board included Beutner. A selling point to donors was that the Fund's board — not L.A. Unified — would decide how to spend the donors' money.
The target was to raise $200 million in five years. Instead, the total reached $7 million to $20 million, according to records and estimates.
Notable projects included pushing for students to have breakfast during class rather than in the cafeteria before school. The Fund also organized advertising to promote arts education.
The Fund eventually merged with another group and segued into running privately managed charter schools, which compete with Los Angeles Unified for students. L.A. Unified tried unsuccessfully to block the group from opening charters.
The other donors announced last week are the California Endowment and the Weingart Foundation.
The Ballmer Group partnered with Beutner before he became superintendent. In that earlier collaboration, which began about a year ago, the Ballmer Group committed $3 million for Vision To Learn, which had been founded by Beutner and provides glasses to low-income students.
The Weingart and Broad foundations are not noted for providing funds directly to L.A. Unified, although they've invested in programs for local students, including those supporting charter schools.
"We believe the district is now presented with a compelling opportunity … to rally around a shared vision of a leading-edge Los Angeles Unified," said Antonia Hernandez, who heads the California Community Foundation.
The teachers union is not nearly so upbeat about the new superintendent, who will have to confront long-term budget problems. Union leaders predict Beutner will adopt harmful and unnecessary austerity measures and follow the lead of some of the new fund's donors in promoting the growth of non-union charter schools at the expense of traditional schools.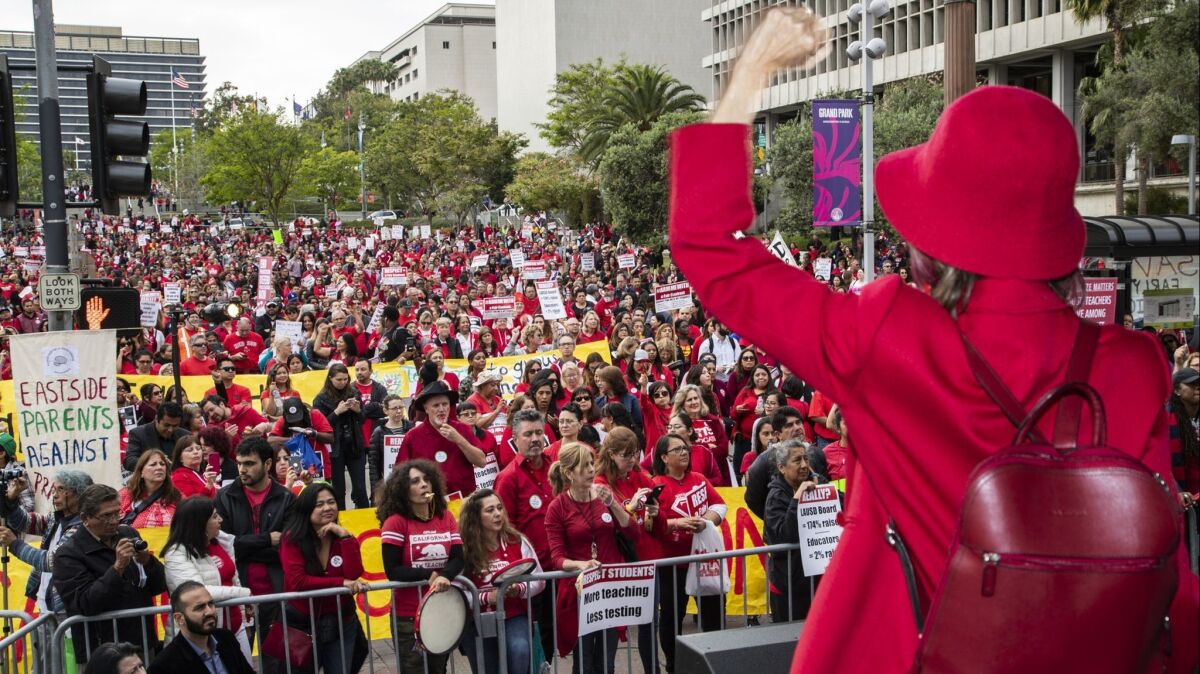 "For more than one year, we have attempted to engage our employer in a thoughtful and progressive bargaining process that paves the way toward a better future for our students," union leaders said in a statement. "But it's become increasingly clear that the charter lobby-backed school board majority, along with its handpicked superintendent, Austin Beutner, has a different goal."
The union defined this goal as to "starve" public schools rather than "fight for their survival."
Beutner has insisted that his top priority is to better manage the school district, which still serves the vast majority of local students.
His senior deputy, Vivian Ekchian, called the union's declaration of an impasse premature.
"The district has been engaged in a good-faith effort to reach agreement," Ekchian said. "Furthermore, the parties had scheduled a bargaining session for July 24, and neither had previously indicated there was no further room for movement."
The stories shaping California
Get up to speed with our Essential California newsletter, sent six days a week.
You may occasionally receive promotional content from the Los Angeles Times.