These L.A. school board candidates have a message, but little money to get it out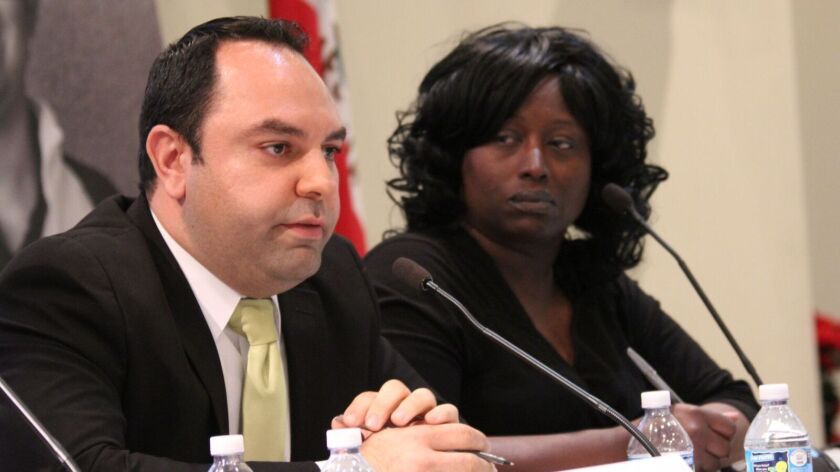 The three races for the Los Angeles Board of Education are the most expensive school board contests in the country because opposing special interests — charter-school advocates and the local teachers union — are spending millions to back favored candidates.
Other hopefuls for the seats are getting none of this money to get their messages out. But they'd like you to know about them, too.
In District 6, the east San Fernando Valley, charter school supporters are spending the most, on behalf of Kelly Gonez, while Imelda Padilla benefits from the other big-money backer, United Teachers Los Angeles.
But also in the race is Araz Parseghian, 37, who had raised $42,910 through the March 1 reporting period. His pitch is that he's the parent of young children — the oldest in kindergarten — so he has a stake in the district. He said he also comes with financial experience that would help the board. He's a bank loan officer and said he's trained employees for leadership positions in previous banking jobs.
His volunteer roles include a stint on his neighborhood council and on the 16-member board of the Los Angeles Valley College Foundation, which raises scholarship money.
Gwendolyn Posey, 47, who hadn't reported raising any money, has the business experience of managing an event-planning company.
She sent two children, now in their 20s, to a mix of traditional and charters schools. The youngest, 11, attends a charter. A longtime school volunteer, she's held leadership positions in community groups.
Posey stresses school safety and making sure money gets to where it's supposed to go at schools. She also wants to see more vocational education: "Right now, we're doing kids an injustice on every campus," she said, "because we're not preparing them for life."
Patty Lopez, 49, ran for the school board after a topsy-turvy turn in state government. First, she won an Assembly seat in an upset. Then, after one term, she lost it last November.
Even though Lopez reported no fundraising, California Charter Schools Assn. Advocates, a pro-charter political action committee, was concerned enough to send out negative mailers characterizing her as a "failed politician."
Lopez, who immigrated to the United States from Mexico at 12, speaks Spanish fluidly but more painstakingly in English. She earned a high school diploma in adult school and hopes to complete a higher degree. The mother of four worked 16 years in a government-funded position at schools to help other parents learn English and become more engaged in schools.
Lopez took part in two lawsuits against L.A. Unified: one over the alleged waste of federal funds; the other to ensure that all schools received adequate supplies and textbooks.
"I am concerned about the district wasting money like with the iPads," she said. "They have double positions where it is not needed. There should be more teachers in the classroom."
The last person on the ballot, Jose Sandoval, 38, did not appear at the highest-profile candidates' forum or reply to a request for information and reported no fundraising.
In filing papers, he described himself as an animal-rights educator. He has a web site that focuses on connecting Latino families with spaying and neutering services and other information on animal welfare.
In District 2, which includes downtown and nearby neighborhoods, veteran Roosevelt High teacher Lisa Alva, 56, proved to be a crowd favorite with an audience of mostly high school students during a recent campaign forum. She also successfully wooed the union representing district administrators, which endorsed her.
But her own union, United Teachers Los Angeles, held back, making no choice in the contest — possibly that's because Alva has been critical at times of the union. Labor sources said they feared it would be wasting money to take on incumbent Monica Garcia, who has funding from charter backers and deep community ties.
At the campaign forum, Alva talked about classroom issues such as a district discipline program. She said it's well-intentioned but poorly executed, sometimes making learning more difficult in the classroom. She's raised $13,212 for her campaign.
Also in that race is Carl J. Petersen, 49, a father of five, including children with special needs.
"The district made me fight for the services that my daughters' teachers agreed they required," he said.
Overall, his views probably align more closely with the teachers union than any other challenger. As a parent activist, he's repeatedly targeted alleged misconduct at charter schools, through blog posts and public records requests.
He is director of logistics at a company that makes high-definition security cameras.
Petersen ran unsuccessfully two years ago for the west San Fernando Valley board seat, then moved to District 2 to run again. He's raised $2,999.
Three of the four candidates in District 4, incumbent Steve Zimmer and challengers Allison Holdorff Polhill and Nick Melvoin, have considerable outside financial backing. Gregory Martayan, who's raised $71,475, is the other one.
A longtime police department volunteer who stresses school safety issues, Martayan, 33, owns a communications firm and has children who are not yet school age. He's a strong backer of charter schools but stresses his independence from the charter lobby as well as from unions. His outside-the-box ideas include providing kosher food at schools. He said doing so would attract enrollment from religious families — both Jewish and Muslim.
All the candidates without big-dollar donors expressed concerns similar to those articulated by District 6's Posey.
"I think it's crazy," Posey said. "With kids on campus needing so many resources, entities that claim they represent kids are using so much money to represent a candidate. It's sad and a waste of money. I think your life skills and everything you've implemented in that community should speak for you and ultimately that's who you're beholden to."
Twitter: @howardblume
---
The stories shaping California
Get up to speed with our Essential California newsletter, sent six days a week.
You may occasionally receive promotional content from the Los Angeles Times.