In race for California schools chief, candidates are buoyed by big money from charter supporters and unions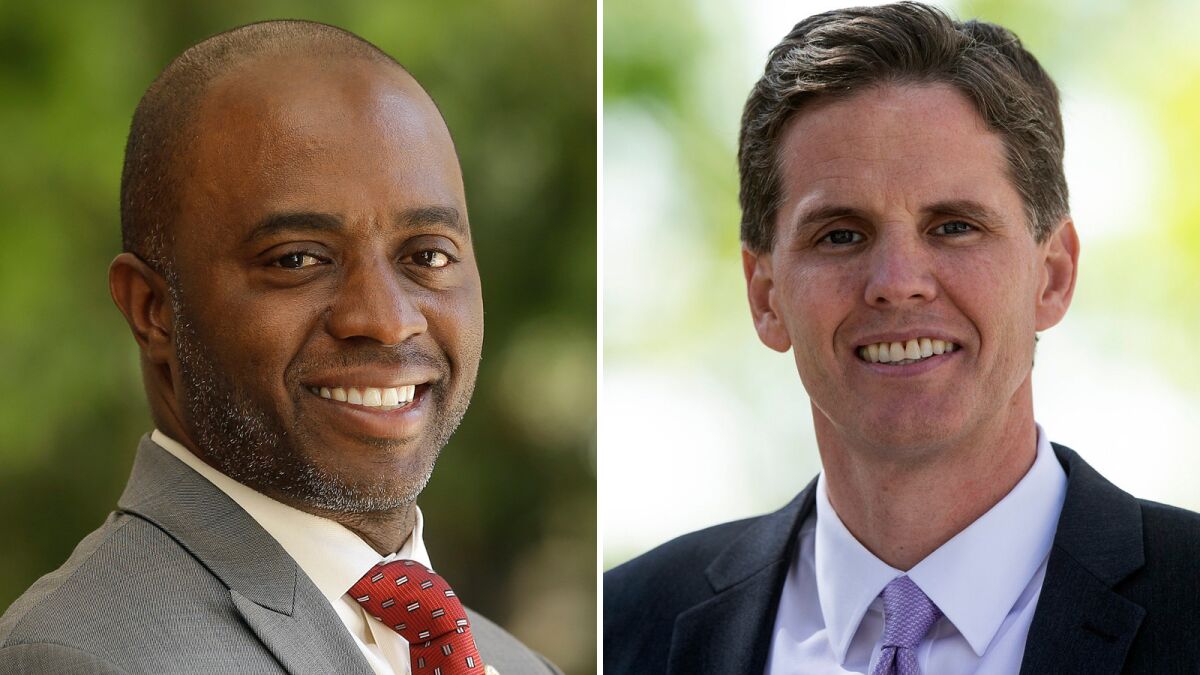 In the race for state superintendent of public instruction, standard party affiliations don't much matter. The two major players here are teachers unions and charter schools — and their big spending tends to blur a clear picture of the front-runners.
The charter camp supports Marshall Tuck, an education consultant and Democrat who formerly managed turnaround efforts at a group of low-performing Los Angeles public schools. The pick of the teachers unions is state Assemblyman Tony Thurmond, also a Democrat, who represents the Richmond area, north of Oakland.
Spending by outside groups has surpassed $10 million — even though California's schools mostly are managed by local school boards.
"With the superintendent's race comes a proxy for competing visions for what the education system ought to look like," said David Plank, a professor at the Stanford Graduate School of Education.
The state schools chief runs the California Department of Education, which oversees standardized testing, the collection of student data and the use of state and federal funds. The person in the job also manages the state accountability system, which is supposed to identify low-performing schools and districts and help them improve. Another duty of the post is to interpret new education laws and develop regulations, including those that affect charter schools.
Because this race is designated nonpartisan, election rules don't automatically require a November face-off between the top vote-getters. The contest will end Tuesday if one candidate claims more than half the vote.
The teachers unions have long been a powerhouse in state elections. Skilled at protecting their members, they also say they are looking out for students. The sheer number of dues-payers has sustained their clout, though the growth of mostly non-union charter schools has been a threat. Their vision of education includes putting the brakes on charter school growth as well as increased funding and limits on standardized testing.
The pro-charter money for Tuck — much of it collected through a political action committee called EdVoice for the Kids — has come from a relatively small group of wealthy donors, including philanthropist Eli Broad and former L.A. Mayor Richard Riordan, and was significantly greater than union spending through the latter part of May.
Some Tuck supporters are strongly anti-union, some more narrowly focused on weakening teachers unions or pushing for faster charter growth and less regulation. Charters are free from many of the regulations that govern traditional campuses. Their supporters say they provide families with badly needed options.
Two non-aligned candidates also want the job: Lily Espinoza Ploski, who teaches high school students in a program at Mills College, and Steven Ireland, a television producer and Los Angeles parent who served as PTA president at his children's elementary school.
Both Tuck and Thurmond present themselves as moderates. Both want more money for public schools, oppose for-profit charter schools and support some form of tenure for teachers.
Thurmond says the education system is failing some students. Tuck says simply that it is failing, even if some students are doing well.
"The school system doesn't work well and we have data to back it up," Tuck said in an interview with the Los Angeles Times.
Tuck, 44, puts more emphasis than Thurmond on accountability for performance and on extending the time required for teachers to earn tenure. He'd also like to see teachers receive higher pay if they agree to work at more challenging schools.
Thurmond, 49, wants all teachers to earn more money as part of a strategy to combat a teacher shortage. In the Legislature, he has focused on programs that provide more funding to children with special needs. He would consider limits on charter growth.
Both California natives have backgrounds that could help them in the job.
Thurmond's mother — a Panamanian immigrant who was raising him on her own — died when he was 6. He grew up with a foster parent in Pennsylvania.
"A great public education changed my life," he told The Times.
He went to Temple University and became student body president. He then worked for 20 years as a social worker and nonprofit manager, often in schools, trying to help the kind of at-risk student he once was. He entered politics and served on the Richmond City Council and the local school board before moving to the Legislature.
Tuck put aside a promising start in finance and a tech start-up to turn to education. In 2002, he was brought in to lead Green Dot Public Schools, a rare unionized charter group.
Then, for six years, Tuck was chief executive of fhe Partnership for Los Angeles Schools, which was set up to turn around a group of low-performing schools. The Partnership schools made progress under Tuck, although they could not catch up to state averages.
Tuck ran second behind incumbent Tom Torlackson four years ago, and since then has worked as a consultant for school districts.
Ploski, 44, a former Democrat not registered with a political party, said she identifies as a progressive. The state needs someone who understands and can unify the educational system's various parts, she said: "Neither of my opponents have been a teacher. … Neither have a formal education in education."
All four candidates have school-age children, but Ireland, 59, a Democrat, said his role as a parent leader is his distinguishing credential.
"I'm not opposed to anything that works," he said. "I'd like to see us shake things up."
howard.blume@latimes.com | Twitter: @howardblume
joy.resmovits@latimes.com | Twitter: @Joy_Resmovits
---
The stories shaping California
Get up to speed with our Essential California newsletter, sent six days a week.
You may occasionally receive promotional content from the Los Angeles Times.