LAUSD teachers' strike could disrupt a delicate life balance for some families
On his first day back from winter break, 11-year-old Merwinn Rojas got a taste of how his life could change during a teachers' strike. The after-school robotics league he participates in three days a week at Foshay Learning Center, about five miles south of downtown Los Angeles, was canceled Monday, so he walked home with his mom in near silence.
The shy sixth-grader knows some of the reasons why his teachers are poised to walk the picket line starting Thursday. They have told him their movement is akin to the civil rights crusades of Martin Luther King Jr. and Rosa Parks. He wants them to get paid more and be treated better.
But Merwinn, whose big brown eyes peek out from behind an overgrown bowl haircut, is concerned about what will happen to him and his mother if about 31,000 United Teachers Los Angeles union members go on strike.
Across the vast Los Angeles Unified School District, which encompasses some 900 schools and 500,000 students, families are beginning to consider all the ways that a teacher walkout would affect their daily lives. For many, school is about much more than formal education.
In a district in which 82% of students are low income and parents must work long hours, schools function not only as classrooms but as reliable day-care centers, walk-in medical clinics, no-cost tutoring academies and hubs of free extracurricular activities. Teachers serve not only as educators but as guidance counselors, mentors and confidants for students going through a crisis or learning to break out of their shells.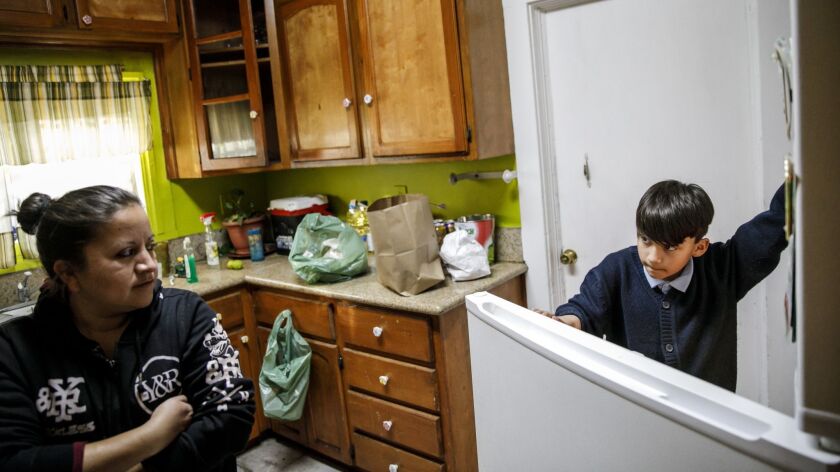 The growing likelihood of a strike has parents like Merwinn's mother, Angelica Valdovinos, 33, worrying whether their kids could regress academically and socially, and whether they'd be safe at school without the adults they've learned to respect and depend upon.
Apart from robotics, Merwinn gets after-school tutoring and takes Saturday morning classes through a college-prep program at USC, just a few blocks east of Foshay. School administrators confirmed that none of those programs will continue during the strike. His mother said the activities helped him raise his science grade from an F to a C this year and maintain A's, B's and C's in his other classes. They also helped her son learn to express his feelings and be more confident, she said.
Valdovinos said a strike of even a few days would take her son a step back. "He just started improving this year," she said.
L.A. Unified officials are taking measures to mitigate the disruption to students' normal schedules and their families' routines. The district is preparing to bring in highly paid substitutes, move students into large spaces such as auditoriums, where they can be more efficiently supervised, and ease background checks for parent volunteers.
Pictures in the News | Wednesday Jan. 9, 2019 »
District officials have said all schools would remain open during a strike and that students would be fed and able to attend some after-school programs, though not all extracurricular activities and sports would continue. The district also promises that students would receive instruction. But with the regular teachers gone and substitute staffing thin, some upheaval is unavoidable.
For the Valdovinos family, the strike adds another layer of stress to lives already out of balance. Valdovinos recently separated from Merwinn's father and, after he moved out, she was no longer able to afford rent at their home of the last five years. She said she has until the end of this month to move out and worries about finding a new place within the school boundary.
Merwinn's full schedule has served as a distraction from the uncertainty they are facing at home, she said.
If the strike takes place, Valdovinos plans to take Merwinn to school and stay as a volunteer so she can make sure he's safe. Because she gets home from work at 5 a.m., that would mean sleeping just a couple of hours before waking up Merwinn in time for the 7:50 a.m. start.
"My son is my priority," she said.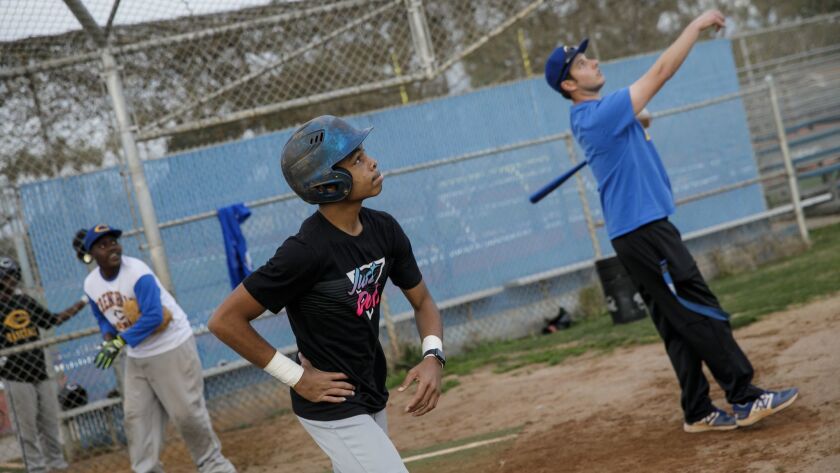 Monday afternoon, just before the last bell of the day, Valdovinos discussed the strike with another parent volunteer, Ana Carrion, who works part time as a parent activist with the nonprofit Community Coalition. Her son Joel is a seventh-grader at Foshay. Both women believe the strike is avoidable.
"I'm against all of it because the ones who are going to lose are the students," Carrion said. "I have the ability to support my son. But what about other families with parents who work?"
Carrion says the union and the school district shouldn't be battling each other but instead working together to get more money from state officials in Sacramento. "They should unite and go as allies to push the county so the county will push the governor to send funds to Los Angeles."
At nearby Crenshaw High School, Isreal Lee picked up her son Jasper Anderson after heavy rains forced his coach to cancel what could be one of his team's final baseball practices before the strike. In the event of a strike, Jasper, a 15-year-old sophomore, had planned to continue going to school, then stay on for extra tutoring. He's trying to raise his math grade from a D.
But his coach and math teacher Jordan Sigman, who was standing nearby, shook his head.
"That won't be open, buddy," he said.
Sigman said many parents don't understand that teachers are striking primarily for students' needs and not for a raise. Traditionally underserved students like Jasper are becoming more underserved by the school district, he said.
"He could easily get sucked into gang violence and stuff like that, especially if the education system continues to fail him," Sigman said, adding that less than 2% of Crenshaw students met math standards last year. "There's a systemic issue here when I have high school students who can't do second- or third-grade skills."
Sigman said talking things out with the district isn't an option anymore.
"If we have to sacrifice a couple of days of instruction to make up for the years of oppression that these students have had to deal with, I think it's worth the sacrifice," he said.
Lee asked Sigman what the students are supposed to do. "See, now you got me stressing," she said, revising her plan to keep Jasper home during the strike.
Lee holds a nuanced view of the strike. As a community health worker at Harbor-UCLA Medical Center in Torrance, she supported the thousands of nurses who were prepared to strike in late November before they reached an 11th-hour agreement with Los Angeles County that kept them on the job. Still, she said, the threatened strike had caused mayhem, forcing her to scramble to rearrange patients' appointments.
Lee feels similarly about the teachers' strike and worries about keeping her kids out of trouble. With a daughter in college and three boys at home, she depends on after-school sports to keep Jasper entertained and at school long enough so she can pick him up when she gets off work. She doesn't let her children take public transportation out of fear for their safety.
"This is like a safe haven," she said.
Though the baseball season hasn't yet started, Jasper lamented that he'd miss practice in the event of a strike.
"We're not going to be ready for any games," he said. "The only reason I play sports is because it motivates me to do better. I don't know what I would do after school every day if I wasn't playing sports."
For Merwinn, the cost of a prolonged strike could be just as great. Merwinn's mother enrolled her son this school year at Foshay in part because it is a top feeder to USC.
Valdovinos finished middle school in Mexico and works nights at McDonald's four days a week so that she can walk him to and from school during the week, to church classes on Friday nights and to USC on Saturdays. Merwinn wants to be the first person in his immediate family to attend college and become a detective.
"I want to work so I can help my mom," he said.
andrea.castillo@latimes.com | Twitter: @andreamcastillo
---
Life is stressful. Our weekly mental wellness newsletter can help.
You may occasionally receive promotional content from the Los Angeles Times.