Episcopal bishop could be suspended or defrocked over a plan to sell a Newport Beach church site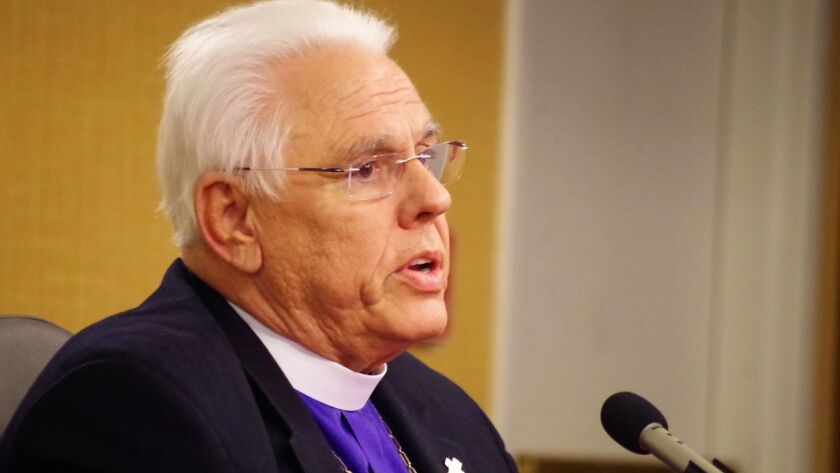 Whether the bishop of the Episcopal Diocese of Los Angeles sought a buyer for a Newport Beach church property was a key issue Thursday during a disciplinary hearing that could lead to his suspension or defrocking.
Bishop J. Jon Bruno faces allegations that he was deceptive and acted in a way unbecoming a clergyman when he tried to sell the St. James the Great site, locked congregants out and then kept the gates closed even after the sale fell apart.
As bishop, Bruno leads about 135 churches, 44 schools and 18 other organizations in California that stretch from San Clemente in the south to Santa Maria in the north.
Testifying in Pasadena on Wednesday before a five-member panel of Episcopal officials from around the country, he described the diocese as property-rich but cash-poor. Still, he said, he did not actively market St. James. On Thursday, the last day of the three-day hearing, Bruno's chief of staff and executive officer for operations also testified that the diocese did not seek out a buyer.
The Rev. Canon David Tumilty described a meeting in February 2015 with John Cushman, a broker involved in a separate real estate transaction with the diocese, who asked Bruno about his plans for the St. James site. According to Tumilty, Bruno said he had received some offers but rejected them because they weren't good enough — given the church's nearly $8-million appraised value.
A few weeks later, Cushman brought officials a $15-million cash offer from Legacy Partners, a developer that wanted to build luxury townhomes on the site.
"We did not request him [Cushman] to do anything," Tumilty said. "We did not sign a brokerage agreement with him. The bishop did not ask him to go find us offers."
Bruno signed an agreement in April 2015 to sell the property to Legacy, informed the congregation in May and locked the church doors in June.
Legacy dropped out of the deal when an investment partner decided not to proceed.
But St. James parishioners, stunned by the process and the church closure, fought back with an ecclesiastical complaint that led to this week's hearing, similar to a trial.
The congregation alleged that Bruno was not forthcoming about his plans and he didn't have permission from the diocese's governing body to sell the property. Parishioners contend he was untruthful about several issues, including his plans for the expected sale proceeds and the financial health of the church. They say his alleged misrepresentations and his locking up of the church were unbecoming a member of the clergy.
Bruno has countered that he didn't need permission and that, at any rate, the property didn't sell. He said he acted with information he had at the time about St. James' financial situation and that he did not intentionally obscure the truth.
The Right Rev. Herman Hollerith, the panel chairman and bishop of the Episcopal Diocese of Southern Virginia, said he doesn't expect a decision on Bruno to be issued before Easter, April 16.
Twitter: @DailyPilot_HD
Davis writes for Times Community News
---
UPDATES:
8:30 p.m.: This article was updated with details from the last day of the disciplinary hearing.
This article was originally published at 12:10 p.m.
---
The stories shaping California
Get up to speed with our Essential California newsletter, sent six days a week.
You may occasionally receive promotional content from the Los Angeles Times.